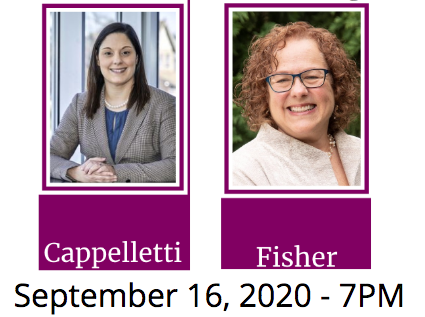 Wednesday, September 16, 2020 - 7:00pm
Join us for our VIRTUAL Candidate Forum - PA Senate 17th District on Wednesday, September 16, 2020 at 7:00 PM live streamed via YouTube.
Amanda Cappelletti (D) and Ellen Fisher (R) will answer questions from the public in this non-partisan League of Women Voters moderated forum.  This forum is being coordinated with the League of Women Voters of Central Delaware County, Radnor Township and Lower Merion & Narbeth.
The candidate forum is FREE and open to the public. Click here to register and submit questions.  Prior to the event we will email the live streaming link. Questions submitted by NOON the day before the forum are more likely to be reviewed and used. Forum viewers can also submit questions via the live stream which will be vetted by the question coordinator and shared with the moderator.
The PA Senate 17th District serves parts of Delaware County and Montgomery County. 
Delaware County - Haverford Township and Radnor Township 

Montgomery County - Bridgeport, East Norriton Township, Lower Merion Township, Narberth, Norristown, Plymouth Township, Upper Merion Township, West Conshohocken, Whitpain Township 
CLICK HERE for live streaming link
Candidate Forum Contact: rlwinters [at] comcast.net (Roberta Winters), LWV Radnor Township