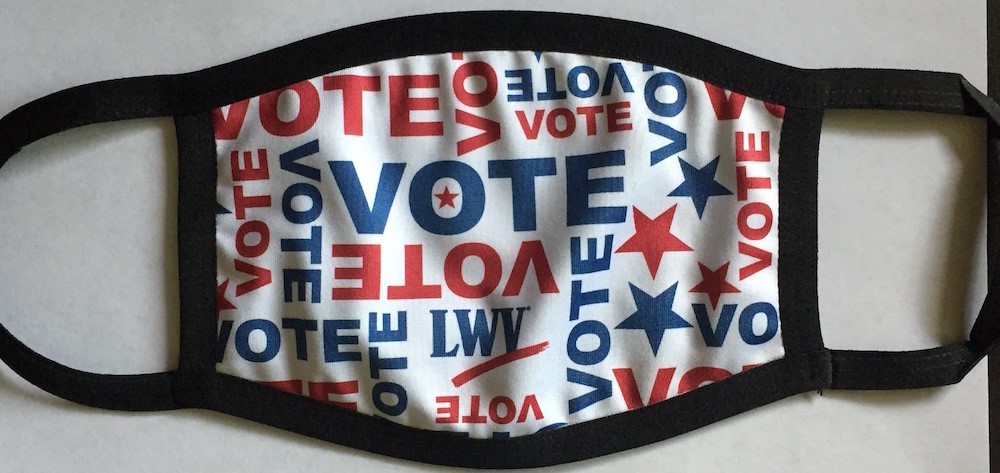 Voter Communications Bulletin
Issue No. 1

The League of Women Voters is a nonpartisan organization.

As the premier voter education, voter registration, and get-out-the-vote organization in Beaufort County, the League of Women Voters of Hilton Head Island-Bluffton Area (LWVHHI-BA) seeks to provide all voting-eligible citizens with the information needed to Empower Voters and Defend Democracy. This bulletin is the first of a series of League communications provided as service to our neighbors, friends, and families. 
Our VOTE411.org website provides voters with yet another resource with information about candidates and their positions at the federal, state, and local levels. 

Eight (8) Frequently Asked Questions:

1. How can I register to vote?
Update: The Beaufort County Board of Voter Registration and Elections (VR & E) main office and satellite offices in Bluffton and Hilton Head are open to the public. A Voter Registration application can also be requested by telephone (843) 255-6900 or by email to Vote.Beaufort [at] elections.sc.gov. Citizens with an SC driver's license or SC ID card issued by the SC Department of Motor Vehicles can register online at scvotes.gov.
2. I recently moved, how do I update my address on my voter registration record, or check my voter status?
You can check your status and change your address in person at the Voter Registration office or online at scvotes.gov.
3. I have always voted in-person, but given the coronavirus, I want to know how I can get an absentee ballot?
To request an absentee ballot, you must first complete an application. The application can be requested via phone (843) 255-6900, email (Vote.Beaufort [at] elections.sc.gov), or online at scvotes.gov. Currently, any registered voter is eligible to vote absentee with the Covid-19 State of Emergency as the criteria. There are more than a dozen other qualifying reasons for voting absentee, including being over 65 years of age, that you will be out of the area on Election Day, or that you will not be able to leave work to vote.
Complete and sign the application and return it to the Voter Registration office as soon as possible; the address is at the bottom right-hand corner of the application. Don't forget to put a stamp on the envelope. A ballot will then be mailed to you beginning the first week of October. Return your ballot in the pre-paid return ballot envelope that is provided for you in your absentee package, or drop it off at one of the three Board of Voter Registration and Elections locations: Beaufort, Bluffton, or Hilton Head Island. Be sure to sign the voter's oath on the ballot and have your signature witnessed. Anyone can witness your signature. A notary is not necessary. You will NOT have to put a stamp on the return ballot envelope to mail your completed ballot.
All ballots MUST BE RECEIVED BY THE VOTER REGISTRATION & ELECTION OFFICE NO LATER THAN 7 pm on Election Day (November 3 ). Apply now for an absentee ballot to ensure you have ample time to complete the absentee process and ensure that your ballot is counted.
4. Will my ballot be counted if I vote absentee?
You may have heard that absentee or mail-in ballots in other states have been lost or not counted. Some of this information is inaccurate, but more importantly, there is no evidence of this having happened in the June primary where expanded absentee voting was widely used for the first time in our state and county, largely because of COVID-19. The Beaufort County Board of Voter Registration and Elections and the regional and local USPS offices have a positive inter-agency relationship and are working together to keep our absentee voting safe for the General Election
5. Can I track my absentee ballot to be sure it gets to the Board of Elections on time?
If you go to scvotes.gov, you can also check your Voter Absentee Status through the Voters dropdown at the top left of the Home page. As with all mailings, you can pay extra when you mail in your ballot so that you can have a tracking number by the USPS to track your ballot from mailing to delivery. You can also call the Board of Elections at (843) 255-6900 after you have mailed your absentee ballot to check that it has been received. Wait about a week to check with the Board of Elections.
6. Can I drop my absentee ballot at the Board of Elections or at other community sites?
Absentee ballots can be dropped off in-person or by authorized representatives at the Board of Elections offices in Beaufort, Bluffton, and Hilton Head during normal operating hours.
7. I want to vote in-person but have not voted on the new voting machines. How can I know what to expect?
The instructional video of South Carolina's new voting system can be viewed at scvotes.gov.
8. I've heard that additional poll workers are needed for the General Election. How can I sign up?
If you are willing and able to serve, South Carolina needs you. The fact is that we must have poll managers in order to conduct elections. Unless new poll managers step up to serve, we expect counties will have to close and consolidate polling places, which can cause large crowds and longer lines for voters.
Due to Covid-19, the South Carolina Election Commission and county election officials are taking steps to help make polling places as safe as possible for voters and poll managers by providing masks, gloves, hand sanitizer, sanitizing wipes, and disposable cotton swabs for making touchscreen selections on voting machines.
To become a poll worker, sign up for the online Poll Manager Training at scvotes.gov using the Poll Workers drop down tab on the home page. Poll workers generally are paid $60 for training + $75 for working on election day = $135 total. There are online training videos that you must do to prepare you for this position.