Vote411.org | Absentee_Voting | Bluffton_Satellite_Office | Voter_Information_Sources | Volunteer
VOTE411.org
VOTE411.org is your source for info about your candidates and ballot questions! Enter your address in the bottom-left corner of the page to find your polling place, build your ballot with our online Voter Guide, and much more.
With our Voter Guide, you can see the races on your ballot, compare candidates' positions side-by-side, and print out a "ballot" indicating your preferences as a reminder and take it with you to the polls on Election Day. Candidates often respond to League questions at different rates, so check back periodically during the election season. 
Plus you can access:
voter registration forms and deadlines
voter qualification dates and ID requirements
absentee ballot information
absentee qualifications and in-person voting options
tools for overseas voters
contact information for your election officials "
wording of referendums and ballot questions, as applicable
How do you find and use VOTE411? It's easy. Enter your address into the VOTE411 box in the left column of this website, then get started. Importantly, get ready to vote! 
Absentee Voting
Note: For the most current information about absentee voting criteria and procedures go to SCVotes. 
Working? Out of town? At school? Caregiver role? Illness? Age 65+? Might not make it the polls? Don't chance it. Request your ballot by applying online or by phone. Your ballot will be mailed to you. You can also go to the Board of Elections office near you to apply for a ballot and vote on the same day. 
Beaufort County Board of Elections 
The Beaufort County Board of Elections 
includes the main office in Beaufort (15 Galt Drive, Beaufort) and satellite offices located at 61-B, Ulmer Road, Bluffton, and
the new 539 William Hilton Parkway, Hilton Head Island location
. Residents may use any of these locations to register, vote by absentee, or receive voting/election information. Physical ballot boxes are also available at these locations. 
Office Hours 
Beginning September 8, the Bluffton satellite office will be open Monday through Friday from 9 a.m. to 4 p.m. (closed for lunch from 1-2 p.m.). 
The Hilton Head satellite will be open from Oct 5th to November 2nd Monday through Friday from 9 a.m. to 4 p.m.
All offices will be open Saturday, Oct 31 from 9 a.m. to 1 p.m. 
Full service year-round is available at the main office located at 15 John Galt Road, Beaufort, SC  (Open Monday through Friday, 8 a.m.-5 p.m.,  except during Beaufort County Council Government recognized holidays).
 Directions to the Bluffton Satellite Office
To get to the Bluffton Office from Hilton Head

, take 278 W. Turn left onto Burnt Church Road, and then turn left onto Ulmer Rd.

From points west

, take 278 E or May River Rd/SC-46 (continue straight on Bruin at Nickle Pumpers) to Burnt Church. Turn right onto Burnt Church Rd. and then make a left turn onto Ulmer Rd. (If you reach Alljoy Rd. you have gone too far).
If you have any questions, please call the Beaufort County Board of Elections at 843-255-6900.
Sources of Voter Information
http://www.scvotes.org - Check your voter registration polling place or get election dates.  Also good reminders about what you must bring to the polls the first time you vote in South Carolina.
Particularly for Young Adults, General
http://www.rockthevote.com - Find information on youth and young adult activities, links to how to register, and information on voting as a student in your college town.
League of Women Voters of the US, National Information
http://www.lwv.org - League of Women Voters national website; nonpartisan political information
Help Register Voters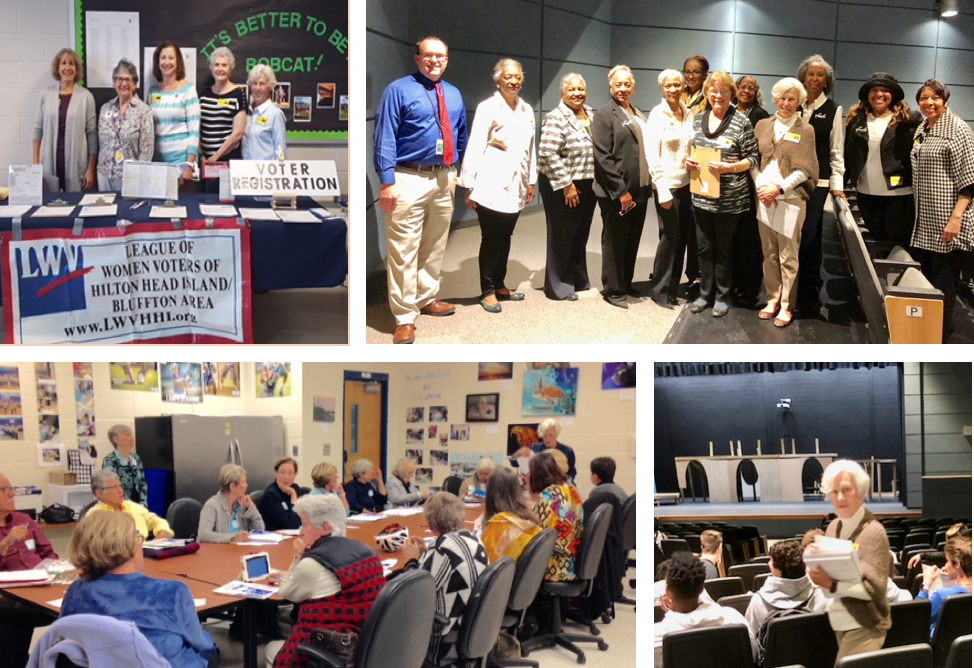 Voter registration is an ongoing priority. The League always needs volunteers! Contact 
Ruth_Wilwerding

[at]

yahoo.com

(Ruth Wilwerding)
.