WHAT WE DO--FOCUS FOR ACTION
The League of Women Voters takes action on an issue or advocates for a cause w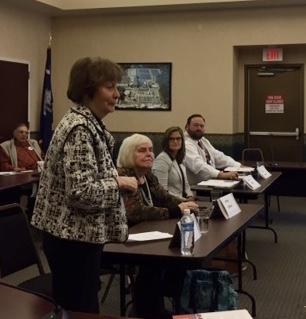 hen there is an existing League position that supports the issue or speaks to the cause.
Positions result from a process of study. Any given study, whether it be National, State, or Local, is thorough in its pursuit of facts and details. As the study progresses, a continuing discussion of the pros and cons of each situation occurs. Prior to the results of the study being presented to the general membership, study committee members fashion consensus questions that are then addressed by the membership.
Additional discussion, pro and con, takes place as members (not part of the study committee) learn the scope of the study. After the members reach consensus, the board forms positions based on that consensus.
It is the consensus statement — the statement resulting from the consensus questions — that becomes a position. Firm action or advocacy can then be taken on the particular issue addressed by the position. Without a position, action/advocacy cannot be taken.
LWVSC STATE PUBLIC POLICY POSITIONS

League of Women Voters of South Carolina Program and Action Priorities
LWVHHI-BA LOCAL POLICY AND PROGRAM PRIORITIES FOR 2021-2022
EFFECTIVE AND ACCOUNTABLE GOVERNMENT
We support all LWVSC positions on Effective and Accountable Government and we retain our local League position on Transparency in Government Decisions (Adopted 2015).

HUMAN RIGHTS AND HUMAN SERVICES RACIAL AND GENDER EQUITY
(These positions were approved by the LWVUS as part of our League's DEI Plan; all local and state Leagues are now required by National to have a DEI Plan.)
We support all LWVSC positions on Human Rights and Human services as well as Racial and Gender Equity. Our League is committed to building a League that:
Embraces and embodies diversity, equity, and inclusion as inextricable from the mission to empower voters and defend democracy;
Engages in purposeful action to advance diversity, equity, and inclusion beyond words;
Commits at the individual and collective level to being more self-aware and understanding of diverse perspectives and experiences; and
Is known for being relevant, diverse, equitable, and inclusive – inside and out.
We will model who we aim to be by:
Living the mission and values;
Paying attention to language;
Using images that reflect and promote the DEI vision;
Building relationships across differences; and
Using skills and practices from DEI training for the continued growth of our League.
We will promote individual learning by:
Deepening self-awareness;
Recognizing bias;
Asking curious questions of others;
Sitting with discomfort; and 
Checking our own individual assumptions and "truths".
We will align the organization:
By authorizing commitment through policy changes; and
Gathering data to establish a baseline for our League's DEI work.
EDUCATION
We support all LWVSC positions on Education inclusive of our League's recommendations submitted to LWVSC for changes to its Education positions, as follows:
LWVHHI-BA suggestions made by our Education Committee and approved by our LWVHHI-BA Board at our February 2021 Board Meeting.

EDUCATION GOVERNANCE – EARLY CHILDHOOD (EC) THROUGH GRADE 12

1. State Board of Education, appointed by the Governor with the advice and consent of the General Assembly, to include two members from each Congressional district, At least three appointees must be teachers, one each from the elementary, middle, and high school levels. (Recommended by Charleston, Greenville, Horry, and Hilton Head)
2. Gubernatorial appointment of the State Superintendent of Education, with the advice and consent of the General Assembly. The appointee must have substantial administrative and/or teaching experience of PK-12 public education. (Recommended by Charleston, Hilton Head)

3. Non-partisan election of the local board of education members for four-year terms with limited self-succession. (Recommended by Charleston, Hilton Head)
A question was raised about term limits, which the League supports in no other context.

HEALTH CARE
We support all LWVSC positions on Health Care.

PROTECTION OF CHILDREN'S RIGHTS
We support all LWVSC positions on the Protection of Children's Rights.

CRIMINAL JUSTICE
We support all LWVSC positions on the Reform of Criminal Justice Systems.

ENVIRONMENTAL POLICY
We support all LWVSC positions on Environmental Policy as well as our own League's continuing positions on Natural Resources as follows for the protection of an environment beneficial to life, and the public interest:
Land purchases with public funds. We support such purchases and use of rural and critical lands revenue approved by referendum (2015);
Transparent land use decision-making processes. We support transparent decision-making processes by planning commissions and town and country council (2015);
Comprehensive plan reviews. We support comprehensive reviews by planning commissions and town and country council with input from citizens (2015);
Beach management. We support beach management projects that are for the public good rather than for the benefit of private property (2003, 2004, 2018);
Drinking water and sewer service. We support the conservation and preservation of available drinking water and the availability of sewer service (2015); and 
Off-shore seismic drilling. We believe that seismic testing would severely endanger the ocean's living creatures and that any uncertain benefits that might be realized from off-shore drilling are far outweighed by the potential for great damage to the state's natural environment, its tourist-based economy, and the health and quality of life of its residents. (2018)
In addition, we support the protection of sensitive land areas (2015), waterways (2015), and wetlands (2003, 2004, 2015).

TRANSPORTATION We support all LWVSC positions on Transportation and our ongoing local League positions on:
Accommodations Tax Funding: Accommodations tax (A-Tax) monies may be an appropriate source of funding for regional public transportation (2003, 2004); and
Comprehensive Transportation Planning: County Council should put a comprehensive transportation plan in place within a reasonable time. (2003, 2004)
Finally, we support citizen's right to vote, fair and affordable housing, equal rights for women, and gun control.