Qualifying to vote Absentee by Mail or In-Person
Absentee voters can vote in person up to 30 days before election day at the Voter Registration Office or by mail if they meet 1 of these qualifying reasons: 
1. Active member of the service
2. Member of merchant marine
3. Spouse or dependent of service or merchant marine member
4. US citizen temporarily residing outside US due to employment
5. US citizen permanently residing outside the US
6. Physical disability
7. Student, spouse, or dependent residing with them outside their county of residence
8. Employment
9. Government employee, spouse or dependent who are outside county on election day
10. Vacation
11. Juror on election day
12. Admitted to hospital on election day or within 4-day period before the election
13. Death or funeral in the family within a 3 day period before election
14. Confined to jail awaiting trial
15. Attending sick or physically disabled person on election day
16. Poll watcher, poll manager, county board or staff working on election day
17. 65 years of age or older
18. State of Emergency (June 2020 elections only)
19. Persons who for religious reasons do not want to vote on a Saturday (Presidential Primaries Only)
Absentee Voting By Mail in Horry County
Forms to request an absentee ballot and further instructions are available online at scVotes.org or by calling the Horry County Voter Registration & Elections Office at 843-915-5440. Mailing of absentee ballots begins as early as 30 days prior to the election.
SC Election Commission warns that voters should apply at least one week prior to election day to allow adequate mail time.       Don't delay--soonest is better. 
The completed absentee ballot must be mailed or delivered in person by the voter, or someone the voter authorizes on the return form provided, by 7:00 pm the day of the election. Please follow all instructions in the Absentee Ballot packet, including a witness signataure as indicated on the ballot envelope. Do not return used or unused Absentee Ballots to a polling place other than the Voter Registration & Elections Office in Conway. 
Absentee Voting In-Person in Horry County
Absentee In-person voting begins on the Monday approximately 30 days prior to the election in the Horry County Voter Registration & Elections office in Conway. Present your Photo ID and the staff will complete the application with you. Sign the form and you will be able to vote using the voting machine and Ballot Scanner. 
Caution: There may be lines. Follow social distancing and CDC guidelines.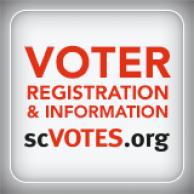 Print your Absentee Ballot application and check your Absentee Ballot status here >>>
More Questions?
Horry County Voters Registration and Elections
1515 Fourth Avenue, Conway SC 29526
Weekdays: 8:00 am - 5:00 pm
843-915-5440