Vital Issues to Horry County
ENERGY FORUM, MAY 30, 2017: WHERE IS MY NEXT KILOWATT COMING FROM?
Officials discuss current issues at energy forum by Viraj Naik, My Horry News Jun 10, 2017: An energy forum held by the League of Women Voters of Horry County debated the future of solar and nuclear energy as an answer to powering the world's expanding population. The forum was held last week in Christ the Servant Lutheran Church in Conway.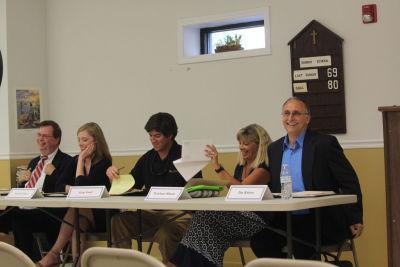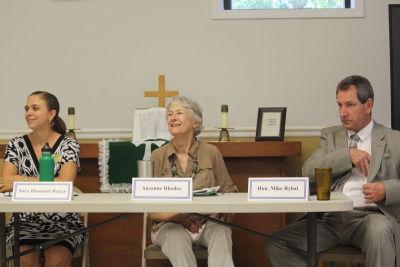 Pictured L to R: David Butler, Sarah Cohen, Jeep Ford, Penelope Hinson, Jim Rabon, Sara Rajca, Suzanne Rhodes, and Mike Ryhal 
David Butler, a member of the legal staff of the S.C. Public Service Commission, said nuclear plants should not be phased out until a suitable alternative becomes available. "Solar is an excellent choice for a number of reasons, but it's intermittent. It's not a base load product; it can't replace nuclear and it can't replace coal," he said. "Nuclear generation is some of the cheapest generation you can get...My thought is if you get rid of nuclear, what are you going to replace it with?"
The use of solar panels and solar energy and their impact and usage going forward continued to be a topic of discussion, with most officials on the panel agreeing that having a diverse amount of energy sources, from nuclear and coal to solar panels, is important.
Sara Rajca with the S.C. Solar Council said she is not against nuclear energy but that, despite panels not making sense for every single home, improvements in their technology would make it so that solar power would be a solid energy source going forward. "If we built 100-square-miles of solar [panels] in the Arizona desert it would power the United States...10-square-miles in South Carolina would do the same for the [state,]" she said.
One obvious setback of solar panels, as discussed by the panelists, was their inability to function at night. Recent improvements though, Rajca said, have been made toward solar panel batteries that are able to store energy, adding that the federal government often gives solar panel users a tax credit, which may make them worth considering.
But S.C. Representative Mike Ryhal, R-District 56, countered this by saying that people should take precautions when it comes to using solar panels, adding that the components used to make them are potentially dangerous. "What's in these solar panels is polysilicone [which is made from] silicon tetrachloride...it's poisonous, polluting [and] human beings can never touch it," he said.
Ryhal referenced the mass creation of solar panels in China and their exportation to the U.S. as an example of why such precautions should be taken. "How many times have you looked on TV and seen the smog in China? That's an area that doesn't have the concerns that we have for our environment," he said. "My concern is, are other people suffering because of that because we want this cheap product?"
Ryhal expanded upon his concern for what would happen in years following the use of solar panels, when they would be replaced with higher efficiency ones. "I want to know what you're going to do with the panels, can you put them in a landfill? The answer is no," he said. "The industry has to come up with a solution and they haven't done it."
The forum was set up as a panel discussion, wherein each speaker gave a short introduction as well as a brief closing. Questions were posed regarding energy where speakers were given a limited amount of time to respond. The panel included government officials and energy groups, including Santee Cooper and Horry Electric Cooperative, as well as others, who spoke on the history, economics and future of electric power.
------------------------------------
A PUBLIC FORUM ON SINGLE-USE PLASTIC BAGS, SEP 28, 2016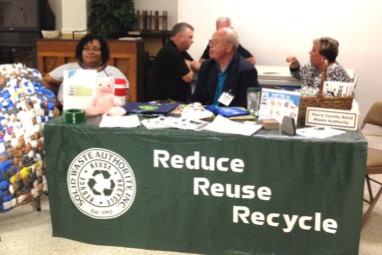 Horry County's Solid Waste Authority table with Mike Bessant, Esther Murphy and others. Mike reports that plastic bags slow operations and jam machinery costing SWA $40,000 a month in lost productivity.
Our panelists provided a range of views on Single Use Plastic Bags: Teresa Marshall, member of Folly Beach City Council who recently passed a city ordinance banning plastic bags; Greg Sponseller, HCS Sustainability Analyst; Bo Ives of Keep Horry Beautiful; Pam Creech, SWA Chair; Chirping Bird Society
Panel members agreed that single use plastic bags are an unnecessary product. Only 12% of plastic bags are recycled, and always into a lesser product with additional energy, manufacturing and labor costs. Best to be proactive, not reactive. "The best trash is trash that has not been created." Sara Lyles of Palmetto Pride added that a clean environment is good for economic development. The panel agreed that change will require loud and continuous public support -- a grassroots movement -- that allows local elected officials to garner business community support and take action.
Other invitees representing a wider range of interests sent regrets:
- SC House Speaker Jay Lucas and SC House Representative Eric Bedingfield, legislators who co-sponsored H. 4793, the "Auxilliary Container" bill that did not emerge out of Committee in the last General Assembly session.
- Kathleen Kent of Isle of Palms who was instrumental in the passage of the bag ordinance in her community.
- Lewis Dodson, of the Folly Association of Businesses.
- Folly Beach Councilman DJ Rich.
- Representatives from Bi-Lo, Target stores, Lowe's Foods, and Bay Naturals.
- Chamber of Commerce Directors Kelli James of Conway and Brad Dean of Myrtle Beach.
- Novolex, the bag manufacturer headquartered in Hartsville.
___________________
 ZERO WASTE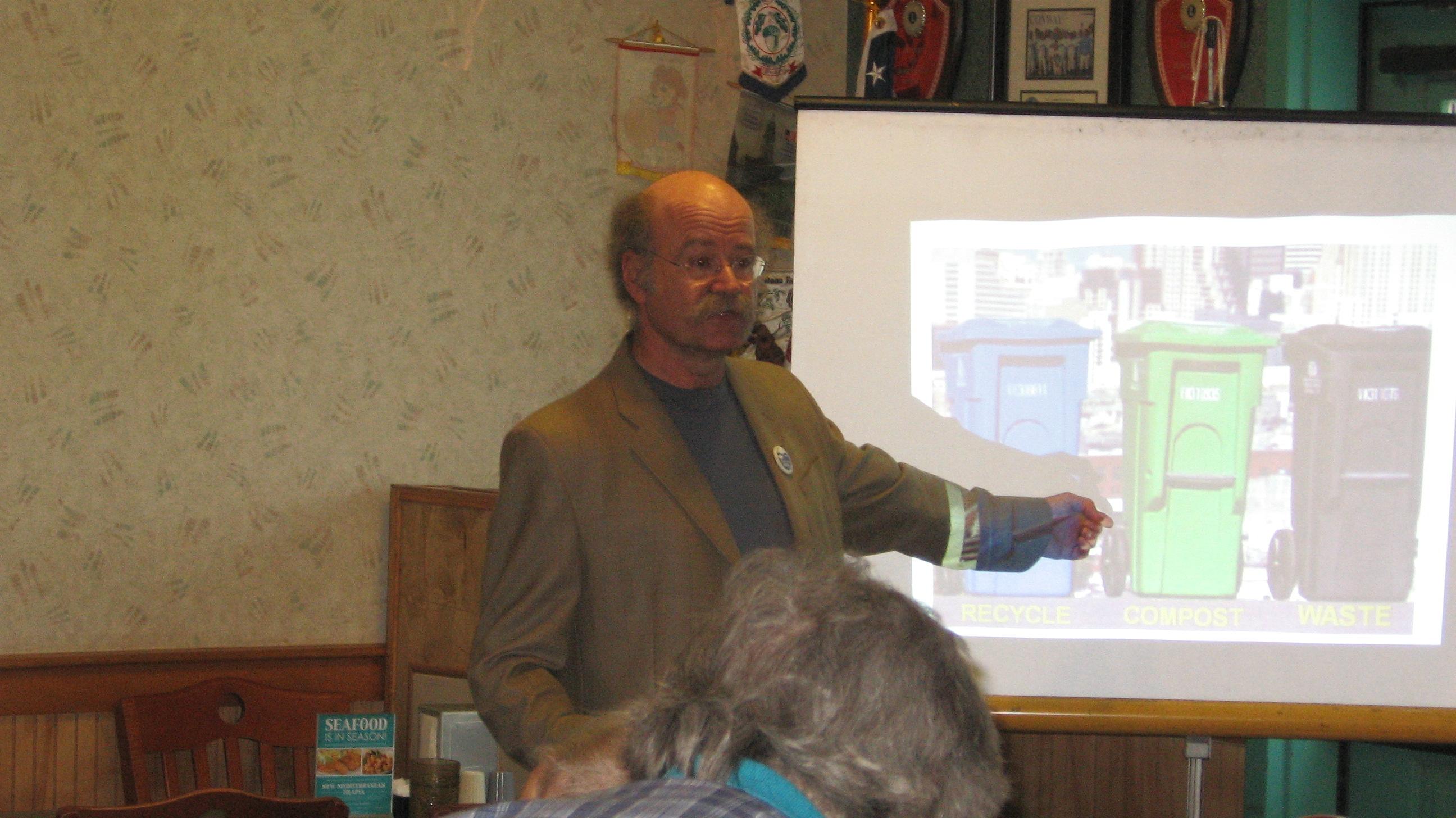 Lou Zeller of the Blue Ridge Environmental Defense League spoke at our Mar 2012 Chapter meeting. The grassroots nature of the organization was highlighted, with Lou reporting that BRZero Waste is environmentally sustainable, and economically viable where resources are kept in the recycling circle. The strategy is to design a way to eliminate every part of waste stream as a waste product, re-use it, or have it serve another purpose. It includes all of the elements, including changing the rules, shifting subsidies, designing for the environment, clean production, distribution systems, empowering the consumer, resource recovery centers, producer responsibility and jobs for the environment. Zero Waste means going beyond recycling.
QUEST FOR A DIVERSE JUDICIARY, 

May 16, 2011

A public forum on ensuring a diverse and impartial judiciary at CCU's Wall Auditorium. 
Keynote speaker is Justice Kaye Hearn, SC Supreme Court.