Advocate for Quality Public Education
Including funding equity, integration, high quality teachers and principals, increase in essential support personnel, smaller class size in poverty schools, and ensuring public tax dollars for public school education are used responsibly and transparently.
Meeting/Contact Information
Please contact Carolyn Bunker at publiceducation [at] lwvpt.org for more information.
Positions
Oppose vouchers to private schools and advocate capping Charter Schools at 100.
Advocate for high quality early childcare, health services, and Pre-K for all.
Advocate for Civics Education in all levels of public schools.
Participate in voter registration for high school students in collaboration with local high schools.
...........................................................
Under construction: former website content
The education roundtable is a group of several local organizations interested in public education in North Carolina. The LWVPT is the founding organization.
See the news release and new white paper from LWV-LCF concerning curriculum in some schools receiving vouchers.
February 2019 LWL Preparation
Kris Nordstrom from the NC Justice Center has provided the following links to information about public education in NC.
The Charter School Annual Report (February 2018) has info on

charter school closures
charter school operating requirements

Number of charter schools (page not found)
There are two virtual charter schools: NC Virtual Academy and North Carolina Connections Academy.
Fiscal impact of charter schools (page not found)
Charter impact on school segregation (page not found)
See Public Schools First for differences in operating requirements versus traditional schools.

Penn Griffin High School Program (February 2018)
On Feb. 20 the LWVPT met at Penn Griffin middle/high school in High Point, NC. The High Point Enterprise wrote a story about the meeting and permitted us to include here.
Double click on the image of the article - NOTE: does not work.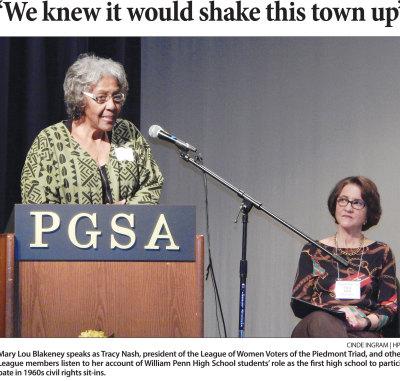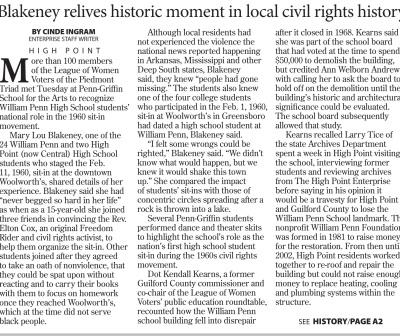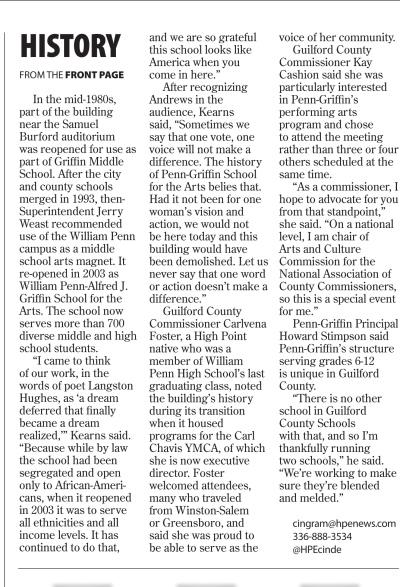 Impact of Poverty on Education

PERT Member Organizations
Representatives from the Guilford Education Alliance (GEA)
Guilford County Association of Educators
Parents Teachers' Association
Guilford County School Board Members
LWVPT members
Papers Issued by PERT
Resources & Articles of Interest
Download The Public Schools First Advocacy Guide 
Duke Study of Charter Schools in North Carolina (Washington Post article, 2015)
Top public schools in NY need diversity (New York Times op-ed, 2014)
Can Public School as We Know it Survive? (HuffPost, December, 2012)
All in for Public Education from the National School Public Relations Association, which offers advocacy resources for those seeking strategies and tactics to build more support for public education.
The 2014-2015 NC Budget and State Teacher Salaries (if this stays on the page, it needs to be pdfed)
The Case for Teacher Assistants in the K-3 Classroom by Alan Brown, Ph.D., Assistant Professor of English Education, Wake Forest University (no date)
If you have questions about why teachers need tenure, you must see this video by an experienced teacher. He makes the case! http://www.kdreeves.com/responding-to-whoopi/ (Page not found)
Teaching is Not a Business (New York Times Op-Ed, August 2014)
A Hidden, Drastic Change in NC School Funding! (News & Observer, 2014) Page not found