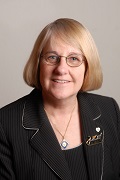 Leaders' Letters
From Martha Goralka, LWVDV Co-President:
This is my very last chance to do a president's message.  It has been such an honor to work with each of you during the past two years.  As I'm sure you've noticed, Suzan has done the heavy lifting.  The Diablo Valley League is so very lucky Suzan is continuing as our president with Shawn Gilbert assisting in the first vice president position.  
Many of you new to the League have filled in everywhere.  As those of us who have been around for a while age, we can be assured that our efforts weren't in vain and you will continue this essential work as we begin our next 100 years.  I so appreciate your stepping up and keeping democracy alive in our communities and our nation.  My turn is over, but I'm grateful that your turn is now!
From Suzan Requa, LWVDV Co-President:
It has been such a blessing to have Martha as Co-President these past two years.  Her League history of many years of activism has been an amazing record of achievement and this has been her second term as LWVDV President.  Her genuine and appealing openness and enthusiasm about the League and Voter Services have helped build a strong, local, respected presence for LWVDV. 
Though she is reducing her board presence, we are very appreciative that she will be a co-chair of Voter Services in our next term.  We wish her the very best in her travels with her husband and look forward to her leadership presence at election time again.  Thank you, Martha, for all your support and your leadership contributions in our shared Co-Presidency.