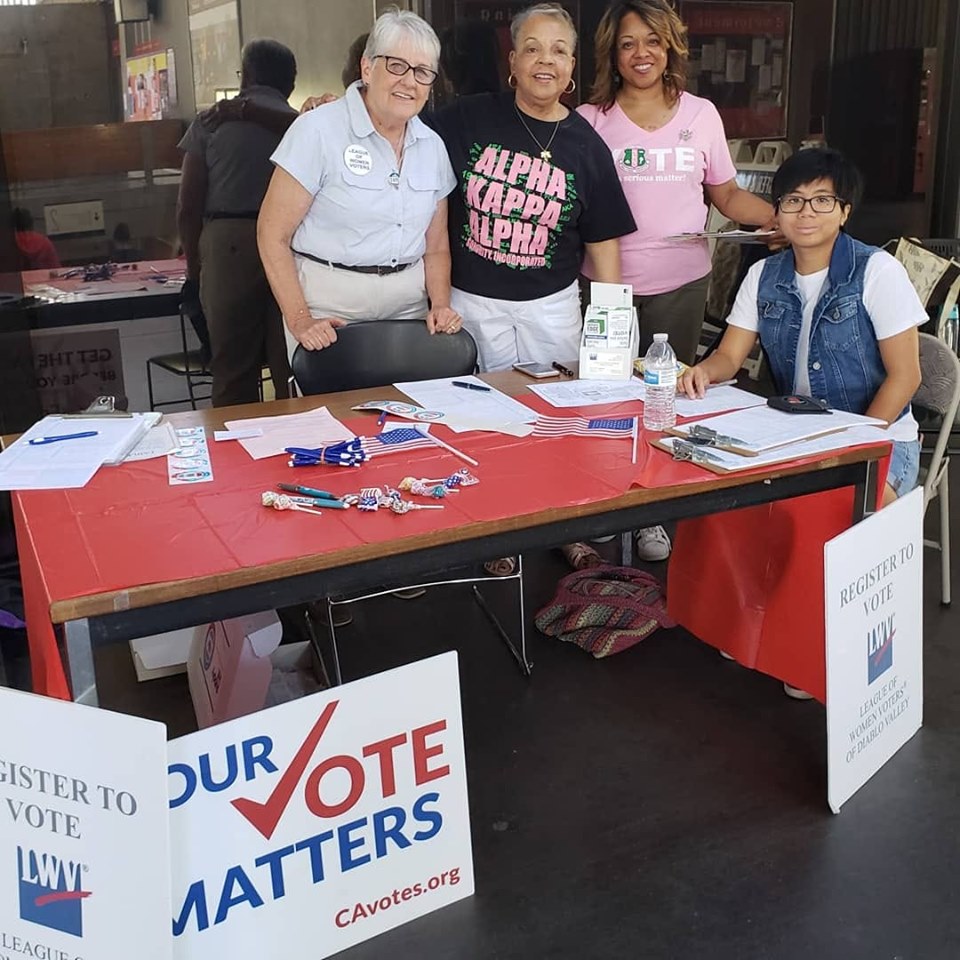 The League of Women Voters of Diablo Valley may have taken the lead on National Voter Registration Day – but our partners certainly made it successful!  
LWV joined with Your Voice Your Vote 2020 to organize the National Voter Registration Day event at Diablo Valley College. Twelve volunteers came together representing eight partnering organizations including League of Women Voters Diablo Valley, Alpha Kappa Alpha Sorority, NAACP, Planned Parenthood Northern California, DVC Student Council, Democratic Party of Contra Costa County, Organizing for Action (OFA) Contra Costa, and the Economic Opportunity Council of Contra Costa County. Your Voice Your Vote 2020 is a non-partisan program of OFA Contra Costa that provides an umbrella for Contra Costa organizations to power voter engagement and participation. Your Voice Your Vote 2020 organizes voter registration drives, trainings and outreach to disenfranchised groups.
The Diablo Valley College team, headed by Renee Zeimer and Marian Shostrom, had 22 paper registrations, 8 on-line registrations, 20 text voter file checks, 13 text conversions to vote-by-mail and two referrals to the elections office. Five new registered voters were under the age of 18, 26 newly registered voters were over the age of 18.   Seven were first time voters and one had moved. 
At Los Medanos College, we didn't keep our statistics as well as the DVC team.  The LMC team, headed by Shawn Gilbert and Martha Goralka, included LWVDV and Alpha Kappa Alpha.  There were 20 paper registrations, and about 8 online registrations – with some students taking photos of the website information or additional forms to fill out later after classes. 
Altogether we estimate both teams combined interacted with more than 500 students and others on campus asking about registration and voting.  It was encouraging to see that so many students were already registered to vote.  Both teams handed out Voter's Edge bookmarks for future reference.  What a success! and what fun to have this contribution of our newest partners!  We couldn't have been this successful without them.
Issues referenced by this article: