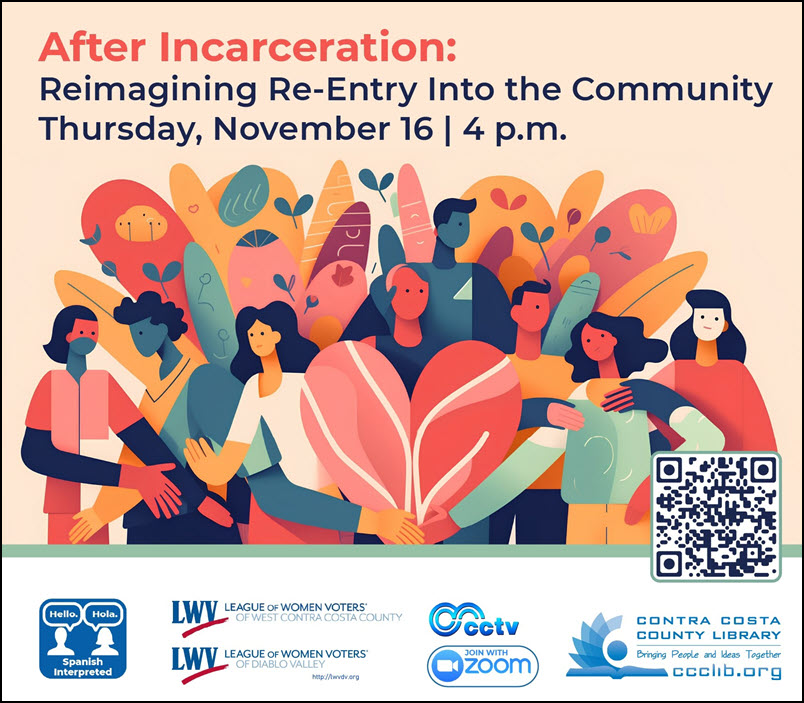 Thursday, November 16, 2023 - 4:00pm to 5:30pm
Click here to view a video of the 11/16/23 presentation. 
Formerly incarcerated persons, both adults and youth, face many challenges when they are released from incarceration and re-enter society. The stigma of incarceration follows them and makes their transition difficult. Many are not allowed to vote, find it challenging to secure a job, return to the school environment, or reintegrate into their families, and they can be ineligible for housing, public benefits, or student loans. 
Join us as we learn about the challenges these members of our communities encounter and the groups advocating and providing support services for them. The Library will provide closed captioning for this event, and LWVDV and the Library are underwriting simultaneous Spanish translation. 

This webinar will be moderated by Ashley Raveche, Deputy Area Director of Social Policy for LWVC. Panelists include:
Diana Becton, Contra Costa County District Attorney;  
Rachel Kinnon, Manager, Jail and Reentry Services, San Francisco Library;
Daniel Halpern, Roots & Rebound, Senior Paralegal;
Stephanie Thibodeaux Medley, Director of Youth Justice, RYSE Youth Center
Register for the Zoom webinar here.
Information on how to access the Zoom webinar will be sent to your email address 24 hours before the program.
Audience questions will be collected and answered through the Zoom chat.
Community Conversations are sponsored by the League of Women Voters of Diablo Valley, the League of Women Voters of West Contra Costa County, CCTV, and the Contra Costa County Library.  This program will be recorded and uploaded to the LWVDV and Contra Costa Library's YouTube channels after the event.

Contact programs [at] lwvdv.org for more information.