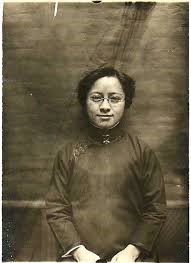 Tye Leung Schulze:
Leung was born in 1887 in S.F. Chinatown. As a young girl, she attended segregated schools for Chinese children only. At the age of 12, she ran away from her home to escape the arranged marriage her parents were planning for her in Montana. She found refuge in a Presbyterian Mission Home administered by Donaldina Cameron, a teacher and activist, who worked to rescue and protect Chinese women from sex trafficking. Cameron mentored Leung and encouraged her English learning. Leung joined Cameron in her work as an interpreter to young Chinese women rescued during police raids of Chinatown brothels. 
In 1910, Leung passed the Civil Service Exam and became the first Chinese-American woman to be hired by the federal government. Leung was assigned to be an interpreter for newly arrived Chinese immigrants at Angel Island's Immigration Station.
In 1913, following the successful passage in 1911 of the woman's suffrage bill in CA, Leung became the first Chinese-American woman to vote. That same year, Leung left California and traveled to Washington state in order to marry her newfound love, Charles Schulze. Inter-racial marriages were illegal in California at this time. Upon their return to California, both were forced to leave their government positions. Leung dedicated her life to combating bigotry and prejudice against women and immigrants.