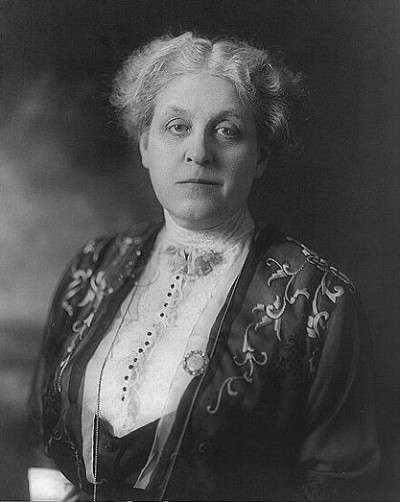 Carrie Chapman Catt was born January 9, 1859, in Ripon, Wisconsin. She completed her upper academic studies at Iowa State Agricultural College (now Iowa State University) where she was the only woman in her graduating class.  After graduation, Catt became a teacher and later Superintendent of Schools in Mason City, Iowa. It was during the late 1880s that she became involved in the woman's suffrage movement. 
Catt proved to be a skilled political activist and orator for peace and woman's suffrage. In 1900, she was chosen president of the National American Woman Suffrage Association (NAWSA), replacing the aged Susan B. Anthony.  In this role, Catt traveled the nation at the behest of many state women's suffrage groups, encouraging women's efforts and prompting men to support a woman's right to vote. Before long, Catt was traveling across the globe as an international speaker promoting the importance of woman's suffrage. She also created the International Woman Suffrage Alliance (IWSA) in 1902, as a body dedicated to spreading the ideas of democracy around the world.
Following the death of her husband in 1905, Catt stepped away from NAWSA for a while to mourn and travel. During that time, she served as president of the IWSA, traveling the world and speaking on behalf of women's rights, especially their right to vote.
Returning to the U.S. in 1907, Catt formed the Interurban Suffrage Council (ISC), which was an association of most of the smaller suffrage groups in New York City. The ISC held its first Convention of Disenfranchised Women at Carnegie Hall with over 800 delegates participating. It was then that Catt founded the Woman Suffrage Party (WSP) of New York.
The focus of the WSP was on winning women's right to vote in New York. As the chosen chairperson of the Party, Catt adeptly guided the efforts to raise awareness about  women's right to vote through meetings, flyers, parades, door-to-door campaigning, and unique fundraising tactics like "self-denial week", which encouraged women to walk instead of paying a fare for transportation and then donate the savings to the Party. While the WSP was inclusive and welcomed women of all backgrounds, many white society members still were not accepting of mixing with minorities or the poor.
Ultimately, New York women won the right to vote in 1917. Prior to New York women winning the vote, Catt had resumed being president of NAWSA in 1915. Under her "Winning Plan" leadership, which combined strategic state-by-state suffrage campaigns with skillful lobbying pressure for a constitutional amendment, suffragists were victorious when the 19th Amendment was ratified in August 1920.
True to her nature, Catt had already turned her thoughts to thinking about what would come next, now that the 19th Amendment was ratified. With her constant focus on raising awareness and educating women about politics, Catt founded the League of Women Voters in February, 1920.
The mission of the League of Women Voters, as a nonpartisan organization, continues to be protecting and promoting democracy. This February 14, we celebrate the League's centennial. Happy 100th Birthday, League of Women Voters!