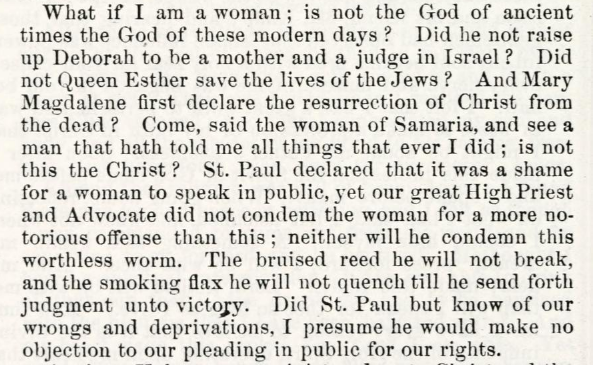 Maria W. Stewart
Maria W. Stewart was born in Connecticut in 1803.  She was orphaned at the age of five.  While she attended Sabbath School, she was basically self- educated.  At the age of fifteen, she was working as an indentured servant. Stewart later became a teacher, writer and activist.  In 1826, she was an important abolitionist speaker in Boston.  In 1831, Stewart became the first black woman to be published in The Liberator, William Lloyd Garrison's abolitionist newspaper.  Stewart began speaking for all women's rights by 1832.  Ultimately, she became the first woman to speak to a mixed gender and race audience about economic justice.  Maria W. Stewart died in 1879.  She is credited with being the first known American-born woman to lecture publicly on political issues.
An excellent summary of African-American women who participated in the suffrage movement can be found at https://www.nps.gov/articles/african-american-women-and-the-nineteenth-amendment.htm
Note: in the PDF November/December Voter, there is a photo of Maria W. Stewart. That photo is NOT Maria W. Stewart -- it is a mislabeled photo of Sarah Harris Fayerweather, an African American activist, abolitionist, and school integration pioneer, according to the webpage http://every-day-is-special.blogspot.com/2018/12/december-17-celebrating-maria-w-stewart.html (which has a charming summary of her life). Apparently there is no documented photograph of Maria W. Stewart.