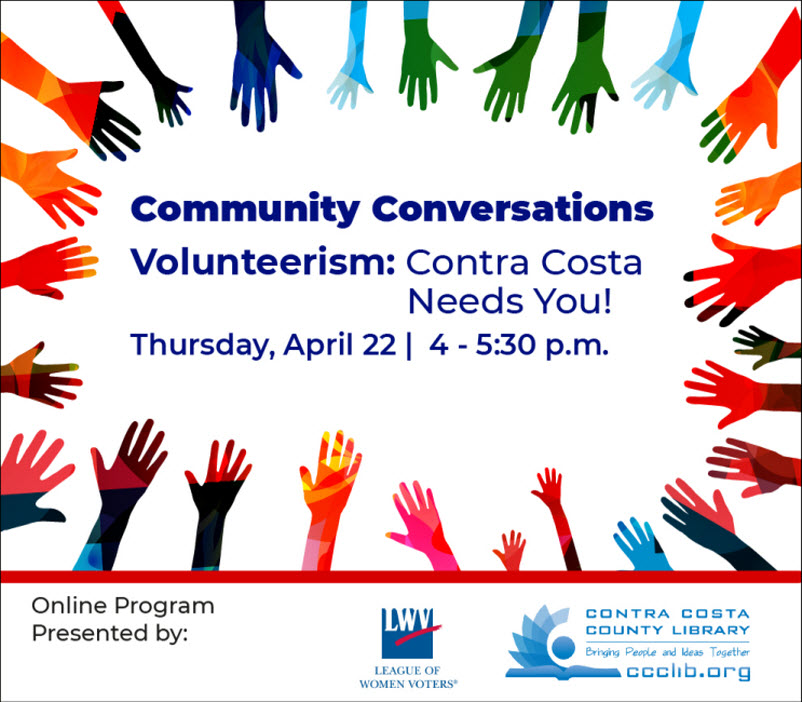 Location
This will be a virtual meeting on Zoom.
US
Thursday, April 22, 2021 - 4:00pm to 5:15pm
The Community Conversations panel "Volunteerism: Contra Costa Needs You" held on April 22, 2021 had a robust live attendance of about 110 people.  Click here to view a video of the discussion. It is an excellent resource for individuals, schools, clubs, churches and organizations seeking to reach out and encourage serving as a volunteer.
______________________________________________________________________
We have the ability to step up, work with others to address many of Contra Costa's open and pressing needs. Join in our next Community Conversation via Zoom to hear from a panel of experts about our communities' issues, learn how several organizations engage volunteers, and ask your questions on how you can help deliver important services in a post-Covid era.
The League of Women Voters of Diablo Valley and the Contra Costa County Library invite you to a Zoom presentation, "Volunteerism: Contra Costa Needs You" on Thursday, April 22 at 4:00 pm.
Kristin Connelly, president of the East Bay Leadership Council is the moderator. Panelists include Supervisor Diane Burgis, social and environmental justice activist Marti Roach, Sandra Scherer from the Monument Crisis Center, Elaine Kociolek from Project Second Chance, and Carla Lehn, who will explain the online Volunteer Match service.

Volunteers are important assets to our Contra Costa County communities.  During COVID, volunteers have been essential in helping our neighbors distribute and receive food, and in providing support and essential services.  Post-COVID, volunteers are critical to building trust, strengthening our neighborhoods, advancing climate justice and securing an equitable social safety net for everyone. This panel discussion will highlight volunteer opportunities and organizations that connect individuals with groups seeking volunteers as we endeavor to rebuild our communities and support our neighbors.

Questions from the audience will be taken early by email at Program [at] LWVDV.org.  During the presentation, questions may be submitted through the Zoom Q&A feature.
To register and receive your Zoom link, see: Volunteerism - Contra Costa Needs You!

The program will also be broadcast on Contra Costa Television on the following dates and times:
Thursday, April 22 at 4:00 PM - LIVE
Saturday, April 24 at 12:00 PM
Monday, April 26 at 9:00 PM
Wednesday, April 28 at 9:00 AM
Saturday, May 1 at 12:00 PM
Monday, May 3 at 9:00 PM
Wednesday, May 5 at 9:00 AM
The program will be recorded and posted on the following sites after the meeting: