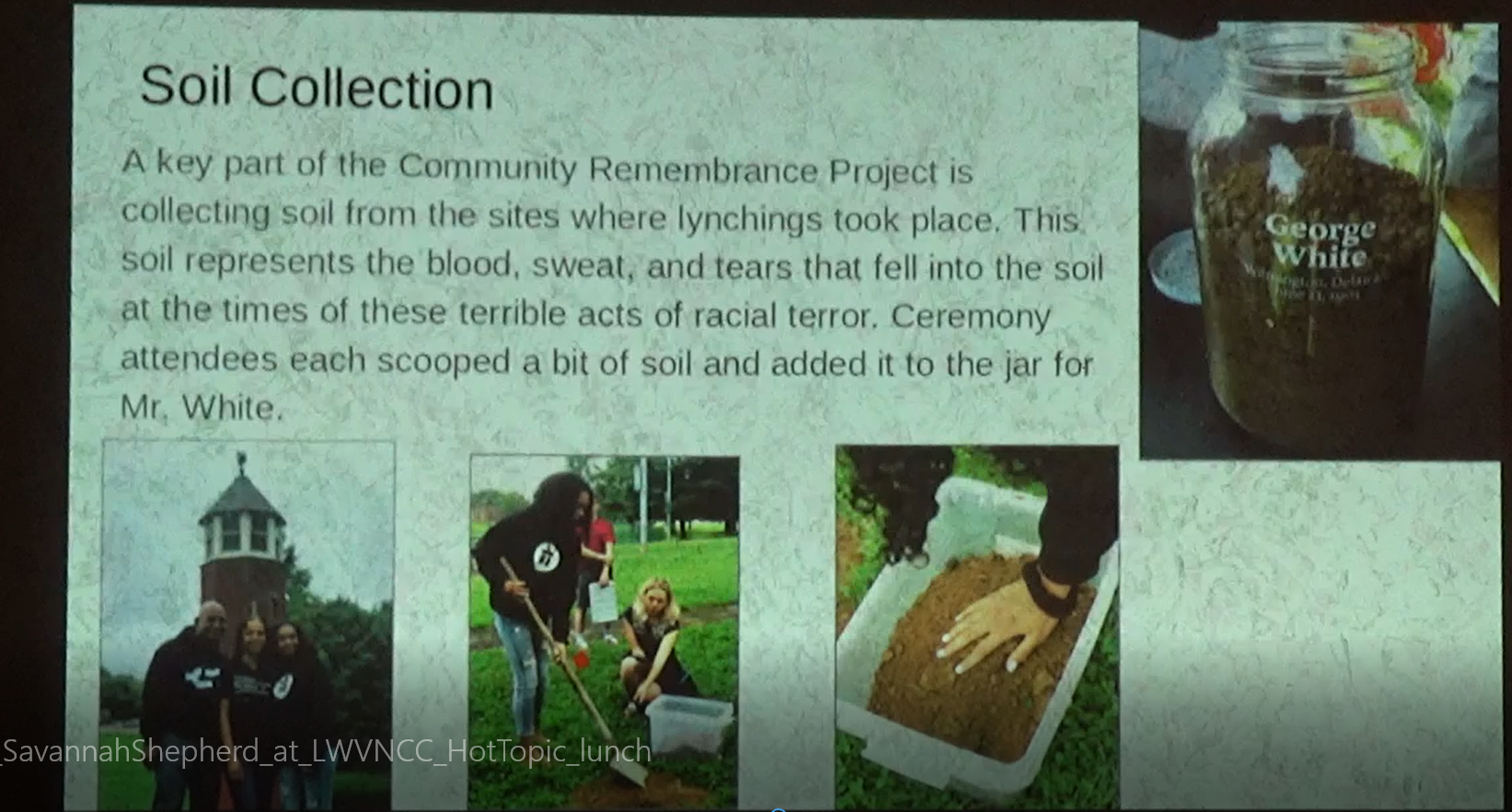 Location
Michaels Restaurant
Newark
Delaware
19713
Delaware US
Monday, October 28, 2019 -

11:30am

to

1:00pm
If you missed our October Hot Topic on the Delaware Social Justice Remembrance Coalition, you can watch Savannah Shepherd's full presentation here: 20191028 Hot Topic (DE Social Justice Remembrance Coalition).
Original Event Post:
The public is invited to all Hot Topic meetings to become informed on a wide variety of topics. It is a time to check in with members of The League of Women Voters, make new friends, and invite your neighbors and colleagues to experience the League in an informal setting.
The Delaware Social Justice Remembrance Coalition is an active group of community members interested in remembering the past in order to clear a path for a more positive and productive future. Our speaker Savannah Shepherd founded this group last year at the age of sixteen.
Savannah Shepherd is a 17-year-old senior at Sanford School. In April of 2018, she had the life-changing opportunity to attend the opening of the Legacy Museum and the National Memorial for Peace and Justice in Montgomery, Alabama. It was there that she learned of Delaware's first documented lynching, the lynching of George White in 1903. Savannah knew immediately that she wanted to participate in the Equal Justice Initiative's Community Remembrance Project and erect a historical marker in memoriam of Mr. White. Savannah is currently working to uncover other incidents of racial terror in our state in order to raise awareness and foster community conversations that could shed light on our current societal situation.
LWVNCC Hot Topic lunches are held at Michaels' Restaurant in Christiana.  $18.00 paid at time of the event covers buffet lunch, soft beverage and tip. Please pay in cash if at all possible.  If you don't wish to buy lunch, you may come around noon for the program only. (Presentation usually starts around 12:10 pm)
RSVP to the Office Manager by Saturday, Oct 26, so we can let the restaurant know how many to expect. If you need a ride, leave a message on the League Office phone or e-mail when you RSVP. If you have not made a reservation please come anyway.