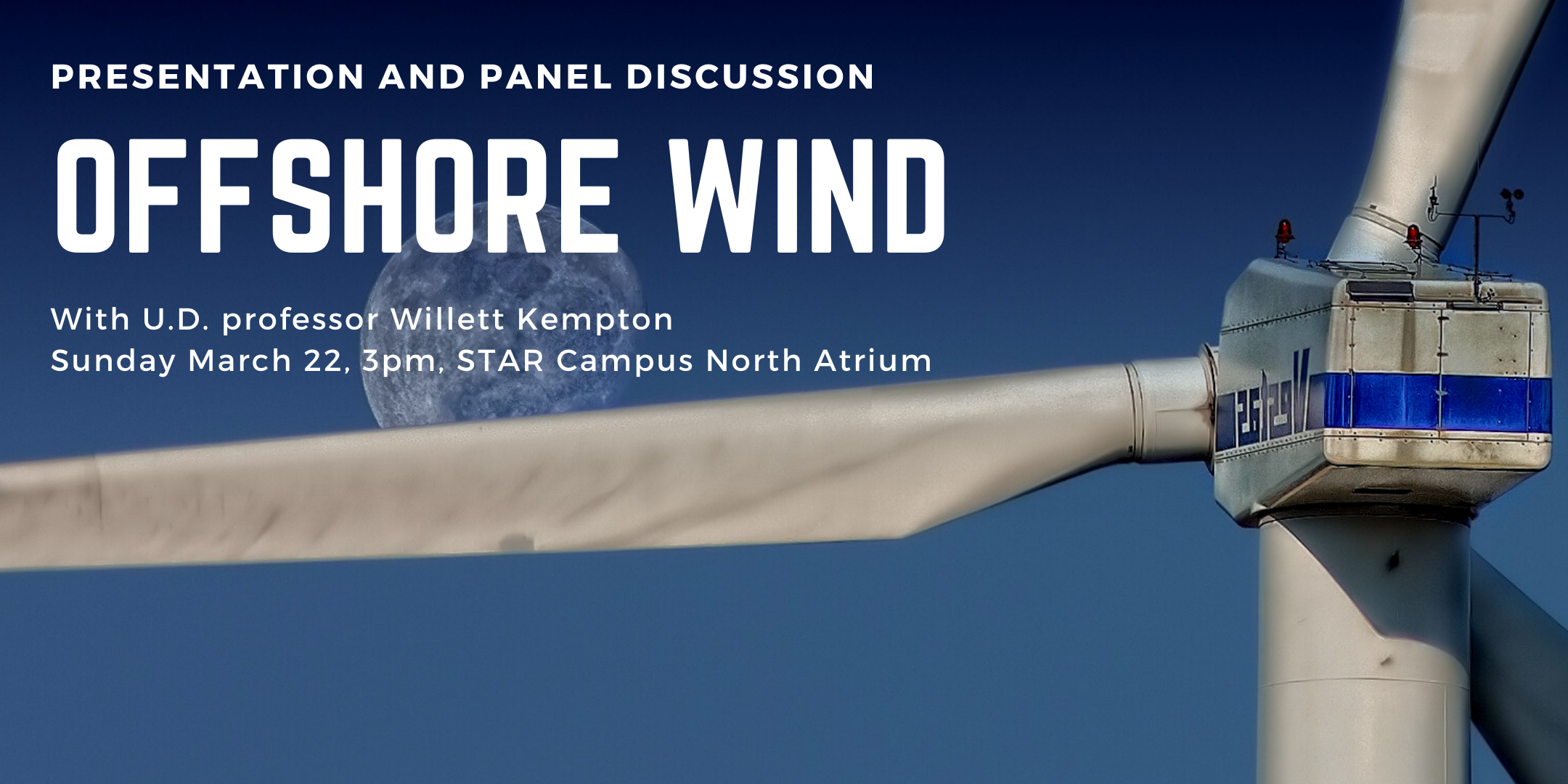 Location
UD STAR Campus Health Science Complex, North Atrium
Newark
Delaware
19713
Delaware US
Sunday, March 22, 2020 -

3:00pm

to

5:00pm
Update 3/12/2020: The March 22 Offshore Wind event at the UD STAR campus has been postponed due to concerns about the spread of the coronavirus (COVID-19).  While we believe this is an important topic for education and discussion, the health and safety of the public is of paramount concern. 
Along with UD Students for the Environment, the Delaware Sierra Club, and Delaware Interfaith Power & Light, LWVNCC will host an Offshore Wind Presentation and Panel Discussion featuring University of Delaware Professor Willett Kempton, at the U.D. STAR campus in Newark on Sunday March 22 at 3pm.
This event will take the place of our usual Monday Hot Topic Lunch; there will be no LWVNCC luncheon at Michael's Restaurant on Monday March 23.
WILLETT KEMPTON is Senior Policy Scientist at the University of Delaware's Center for Energy and Environmental Policy and Assistant Professor in the University's School of Urban Affairs and Public Policy. He received a Ph. D. in Anthropology from the University of Texas, Austin in 1977.
Dr. Kempton's areas of expertise include the following:
Nationally renowned expert in two renewable energy fields: offshore wind power and electric cars/vehicles.
Pioneered technology for vehicle-to-grid (V2G) vehicles, which are capable of absorbing excess energy when demand for power is low and returning some back to the electric grid when the demand for power is high.
Conducts research into offshore wind turbines as a source of energy. Focus includes the viability and efficiency of such offshore wind farms, as well as gauging public support and public opposition.
Stay tuned... panelists will be announced soon!