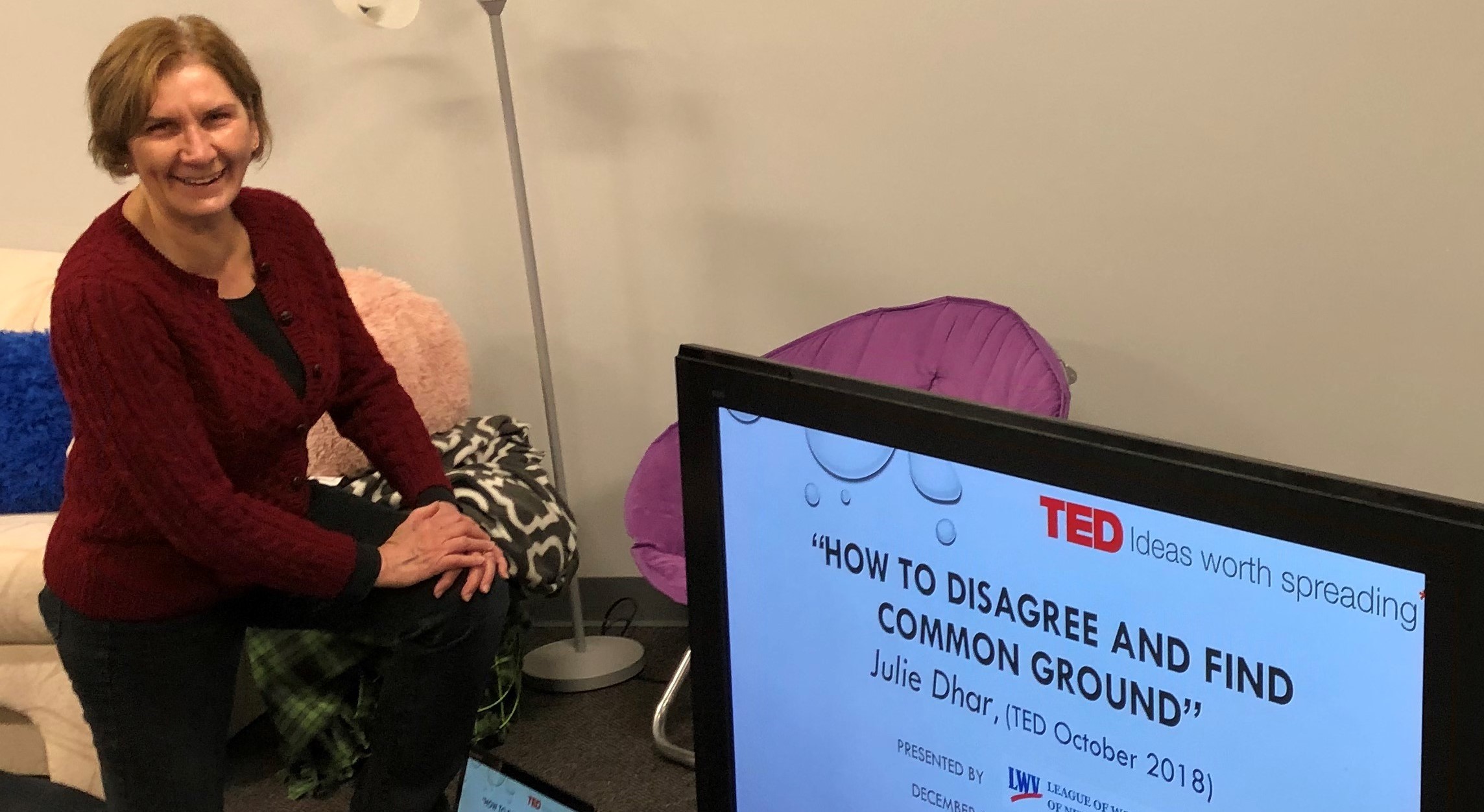 Location
St. Philips Lutheran Church
Wilmington
Delaware
19808
Delaware US
Saturday, December 14, 2019 -

1:00pm

to

3:00pm
If you missed our December TED discussion on Julie Dhar's "How to disagree productively and find common ground," you can pick up tips and watch the TED Talk here on ideas.ted.com).
Original Event Post:
The League of Women Voters of New Castle County invites you to its monthly TED Discussion, Saturday December 14th. The format is to watch the TED Talk and then discuss the "Ideas Worth Sharing." Contact Kay Palmer with questions or to RSVP.
Note the schedule change this month... moving up a week from the usual 3rd Saturday to avoid the holiday time period.
Cookies!
In the spirit of creating connections we are going to include an optional cookie exchange.  If interested in participating, please bring packages of three cookies to share with the other participating people.  That means that you will take home a variety of cookies to enjoy. 
December's Topic
In December we will view and discuss Julie Dhar's 2018 TED Talk entitled "How to disagree productively and find common ground." 
At this time of the year there is this sense that everything is happy and people like and even love each other. The Hallmark Channel shows families that are smiling and joyous. But this is not always the case.  As presenter Julie Dhar states: "Some days, it feels like the only thing we can agree on is that we can't agree -- on anything."  Ms. Dhar goes on to note that "public discourse is broken.". That "contempt has replaced conversation."  But it does not have to be this way.  In her TED Talk, How to Disagree and Find Common Ground, Ms. Dhar points out that it is possible to disagree productively as a means of bringing out new ideas.  In this TED Talk a process of starting a conversation by finding common ground is a pathway to a productive conversation, that a shared reality of the issue eliminates alternative facts. 
Julie Dhar is a world debate champion. She has also co-founded and Leads BeSmart, a Boston Consulting Group's initiative through their Behavioral Economics and Insights Division. This division is focused on building organizations globally that are more inclusive, generous and productive.
Join us at our LWVNCC TED viewings to engage in genuine small-group dialogue on important societal issues. Mark this on your calendar - recurring from 1 to 3 pm on the third Saturday of each month.
Links to Resources
If you would like to see the TED Talk but cannot make the discussion group, you can watch it online: www.ted.com/talks/julia_dhar_how_to_disagree_productively_and_find_common_ground 
A related article - 6 Tactics To Help You Turn Heated Dinner Arguments Into Real Conversations, by Lenora Houseworth-Weston can be found at: ideas.ted.com/6-strategies-to-help-you-turn-heated-dinner-arguments-into-real-conversations/