An exciting new committee of the League of Women Voters of Sussex County was formed this year to plan how to appropriately mark the 100th anniversary of the ratification of the 19th Amendment to the U.S. Constitution, granting women throughout the country the right to vote. The 19th Amendment Celebration planning committee has been hard at work developing multiple ways to celebrate this special milestone.  Many activities are in the works.
And look for this logo for all our 19th amendment celebrations in the coming year. Many thanks to Deb Quinton from It's a Snap Design, Lewes DE for her design.
Background:
The 19th Amendment was the culmination of a massive, peaceful civil rights movement by women that had its formal beginnings in 1848 at the world's first women's rights convention, in Seneca Falls, New York.  After years of struggle by women's movement advocates to gain the vote for women, the United States Congress passed the 19th Amendment granting women the right to vote in 1919. However, the amendment would not become part of the Constitution until it had been ratified by 36 states.  Delaware missed its opportunity to become the 36th state to ratify the amendment.  That honor went to Tennessee and on August 26, 1920, the 19th Amendment, was formally adopted into the U.S. Constitution.
Planned League Events:


"Dignity & Defiance: a Portrait of Mary Church Terrell" 
The League of Women Voters of Sussex County  and the Sussex County (DE) Alumnae Chapter of Delta Sigma Theta Sorority, Inc., will be presenting a compelling film documentary on the life of Mary Church Terrell, an African American suffragist and civil rights activist, on Sunday, October 13th at 2pm at the Rehoboth Beach Library.  A discussion will follow the 30 minute film.  For more details and a link to RSVP, go to our league event calendar page.
Mary Church Terrell (1863-1954) was an African American , educator, writer, suffragist and civil rights activist who championed racial equality and women's suffrage in the late 19th and early 20th century. 

For background information on Mary Church Terrell, check out these sources: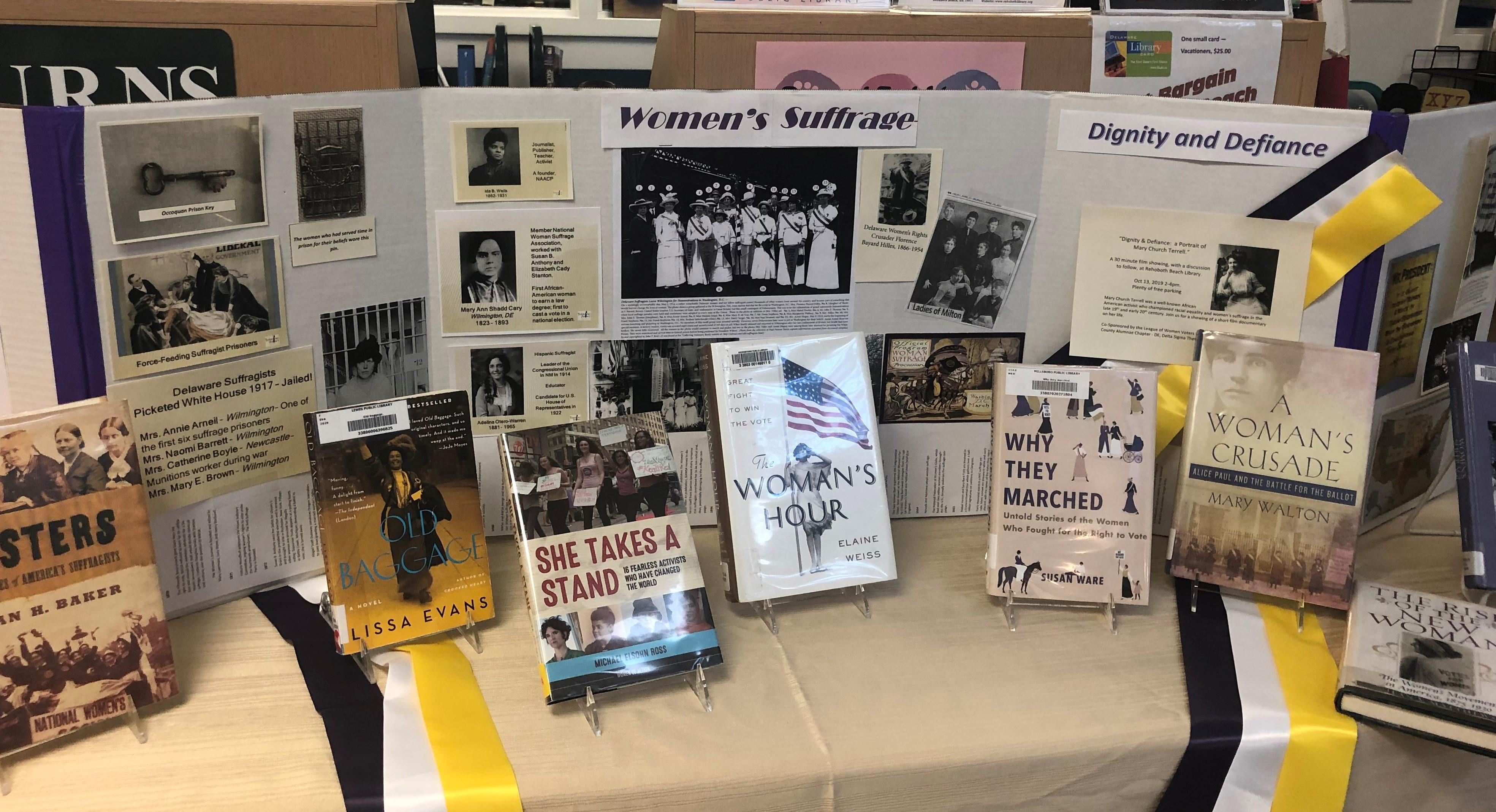 Centennial Resources:


Delaware-specific materials:
The Suffrage Struggle in Delaware:  A Brief Overview by Anne M. Boylan, University of Delaware

Delaware Women's Suffrage Timeline, by Anne M. Boylan, Delaware Humanities

Delaware Suffrage Leaders, by Anne M Boylan, University of Delaware

Delaware's Women Suffrage Campaign, by Carol E. Hoffecker in Delaware History journal
Exhibits and Events on the 19th Amendment in Washington, D.C. area:
National Events and Exhibits:
https://www.2020centennial.org/  2020 Women's Vote Centennial Initiative website

is a central  organizing and information sharing entity for programs,

projects and activities that commemorate the 100 year anniversary of the 19th amendment across the US. There is also a quiz to test your

suffrage knowledge and an online Suffrage 101 exhibit.
Suffragist Memorial:
https://suffragistmemorial.org/  The Turning Point Suffragist Memorial  in Occoquan VA will be breaking ground  November 14, 2019 and the dedication will be on August 26th 2020. This memorial is dedicated to honoring, memorializing and educating future generations about the Suffragists. 
Lists of Books on Women's Suffrage:
The

next meeting of the 19th Amendment Celebration Planning committee will be held on November 3rd at the home of Connie Jones. All interested league members are invited to attend.  Contact
Connie
for directions.
Minutes from Previous Meeting:
9/22/19 meeting