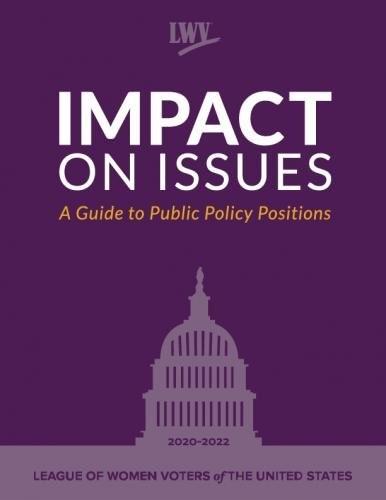 Impact on Issues is designed to help League members use LWVUS public policy positions effectively at the national, state, local, and regional levels. The intention is to inspire Leagues to use national positions to act in their own communities.
Impact on Issues has been organized so that "Taking Action" is front and center followed by the League Principles. Then, for quick reference, the LWVUS public policy Positions in Brief summarize the more detailed positions in the sections that follow. For each of the major issue areas, the listing gives the full official statements of positions in bold type. The history sections provide background for each position and trace significant actions and achievements.
Study and Action 2021-2023: A Guide to Public Policy Positions
by the League of Women Voters of Florida
Study and Action: The words capture the essence of the League of Women Voters. Every member of the League is encouraged to participate in the process of "study and action" in its entirety, from the adoption of a study, through the achievement of a consensus, to its ultimate conclusion with action.