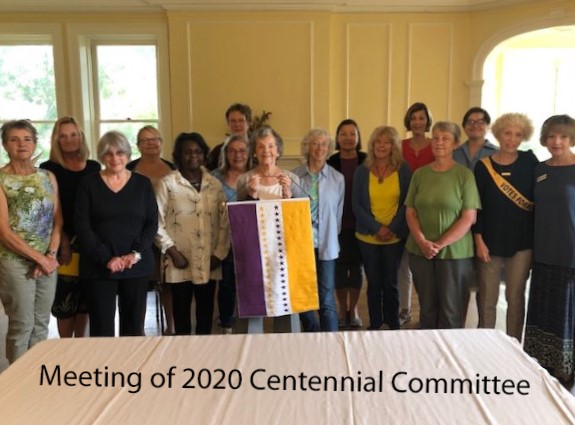 ******* POSTPONED  *******
The in-person Oxford celebration of the women's suffrage centennial is being POSTPONED until 2021, due to covid-19 concerns about large gatherings. We'll be posting online resources for celebrating, so stay tuned to our website and Facebook page!
Save the date! August 26, 2021!
Women's Suffrage Centennial (+1)
LWV Oxford will host a monumental celebration commemorating the 101st anniversary of ratification of the 19th amendment! This is a family-friendly event. Please come to all of the activities or whatever interests you. Free and open to everyone!
TIME*
ACTIVITY
5:00PM
Gather at Oxford's Uptown Memorial Park for music, community organization tables and children's activities
5:30PM
Program begins with welcome, historical enactments and surprises
6:00PM

Parade forms to begin march down High Street to Oxford Community Art Center (OCAC).

You are welcome to MARCH WITH US!!!

6:15PM
Arrive at OCAC (10 S. College Ave). There will be greetings from historical figures & a mayor's proclamation will be read.
6:30PM
Enter OCAC for refreshments, viewing of children's art exhibit in north parlor & viewing of Empowered Women art exhibit in south parlor and hallways
7:00PM
One-woman show on the life and work of Eleanor Roosevelt in OCAC ballroom (seating is limited to 200)
* All times are approximate.
Frequently Asked Questions:
Do I need to dress up for this event?
No! Definitely not. Some people will wear period clothing, others will wear white - a color worn by suffrage figures - others will wear casual or just-got-off-work clothes. Your attendance is more important than your clothing!
Why was August 26th chosen for this event?
August 26, 1920 is the day that U.S. Secretary of State Colby certified the passage of the 19th amendment. Tennessee was the last state to ratify the amendment on August 18 - the Tennessee package of docments arrived in Washington at 4AM on the 26th and the certification occurred that day. August 26th is now celebrated as Women's Equality Day.
Who are the historical figures that fought this battle for equal rights for women?
We'll be providing short biographies in this space to give some historical background. Check it out: