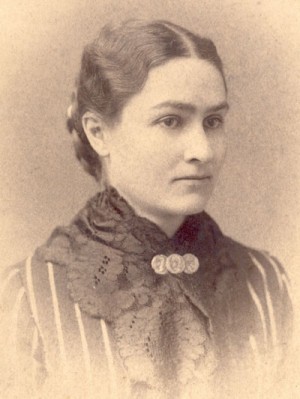 Eliza Calvert Obenchain (1856 -1935)
Are you aware that Oxford, Ohio has a connection to a famous women's suffrage author? Eliza Calvert Obenchain (Pen name: Eliza Calvert Hall) studied for a year at Western Female Seminary, which later became Western College. She was born in Bowling Green, KY. She initially wrote and sold poetry to help her family after her father experienced financial difficulties. At age 29, Eliza married a teacher in Bowling Green and gave birth to four children in eight years.
She began to write in support of women's rights, and worked for the Kentucky Equal Rights Association, serving as Press Superintendent from 1900-1909. Ms Obenchain published more than 500 suffrage articles in KY newspapers in one year. She also authored widely read short stories: "Sally Ann's Experience" in 1898, and "Aunt Jane of Kentucky" in 1907. Her stories advocated suffrage and women's rights.
President Theodore Roosevelt recommended the Aunt Jane stories stating, "I cordially recommend the first chapter of Aunt Jane of Kentucky as a tract in all families where the menfolk tend to selfish or thoughtless or overbearing disregard to the rights of their womenfolk." This looks like an interesting book to read, and is available through Amazon, Good Reads or your local library.
photo citation: Amy Roe, "Eliza Calvert Hall, 1856-1935," ExploreKYHistory, accessed November 13, 2020, https://explorekyhistory.ky.gov/items/show/381