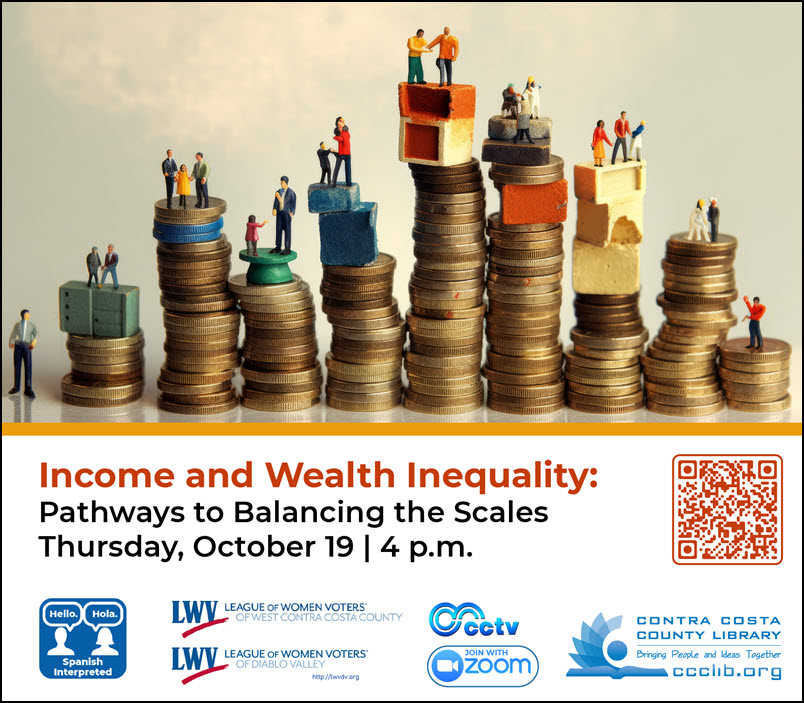 Thursday, October 19, 2023 - 4:00pm to 5:30pm
Click here to view a video of the 10/19/23 presentation. 
"As long as there is poverty in this world, no man can be totally rich even if he has a billion dollars." - Dr. King, "The American Dream" speech, 1961.
Income disparities are now so pronounced that the average income of America's richest 1 percent of households was more than 84 times the average income of the bottom 20 percent in 2019, according to the 
Congressional Budget Office
.  
Disparities in tax policy, challenges to families endeavoring to live on minimum wage jobs, and increasing costs of living are some of the factors contributing to wealth inequality in our nation.   
Two approaches to addressing this inequality
 will be featured in our October 19 webinar, including the Guaranteed Income Program employed by some cities and in Contra Costa County, and the Patriotic Millionaires, who focus on tax policy, increasing the minimum wage, and their hope to pass the Oligarch Act.   
Ann Flynn, past LWVDV president, will moderate. The panel will include: 
Julia Quintero, Elevate Concord Project Manager, Monument Impact
Emily McCloskey, Deputy Communications Director, Patriotic Millionaires
Kathrine Cagat, Mayors for Guaranteed Income
Local elected official TBA
LWVDV and the Contra Costa Library are underwriting simultaneous Spanish translation for this webinar and others in this year's series. Community Conversations webinars are co-sponsored by LWV Diablo Valley, LWV West Contra Costa County, the Contra Costa Library, and Contra Costa TV.
The webinar will be recorded and posted on the YouTube sites for the Contra Costa Library and LWVDV.