Connecticut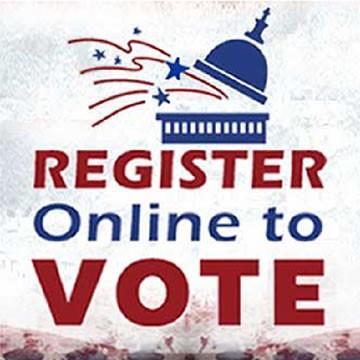 LWVCT is proud to work with the Secretary of the State's Office to provide a link to online voter registration. 
CENSUS 2020
LWVCT is working coalition with other organizations to make sure that Connecticut get the best Census count in 2020.  You can help too!  Here's how: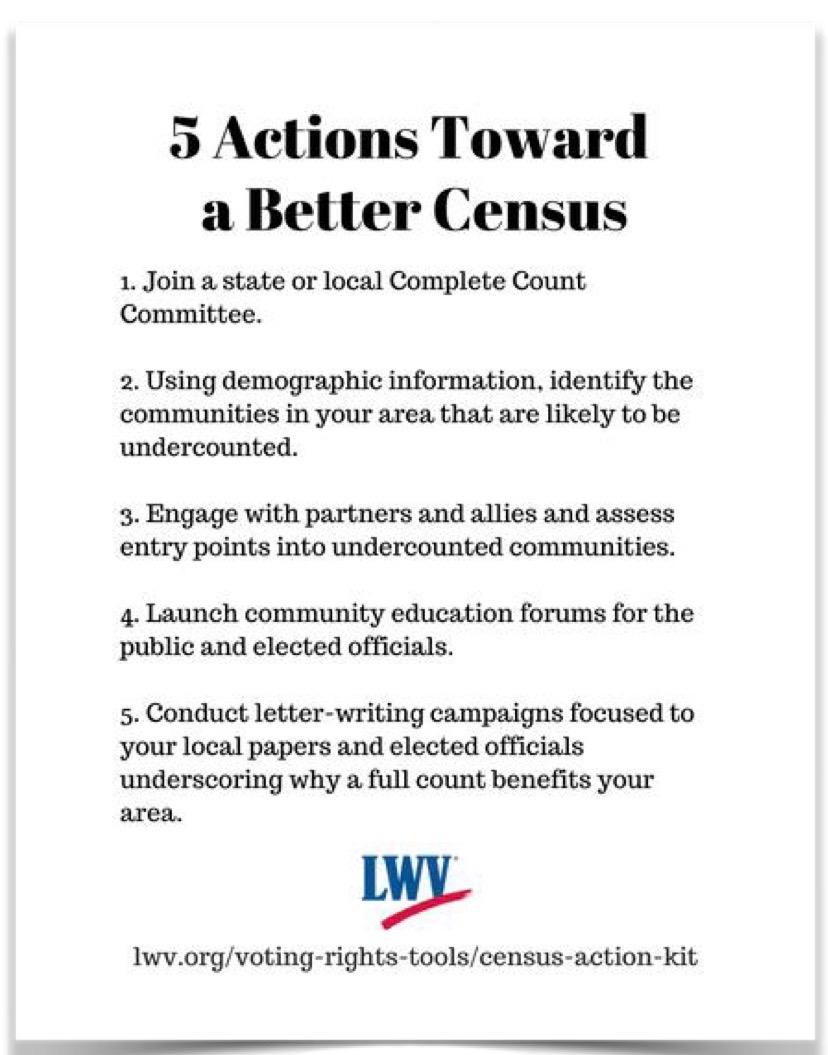 LWVCT ADVOCACY 2019      
LWVCT 2019 Legislative Priorities are:  Election Laws; Campaign Finance and Open Government and Ethics, including citizens' right to know and public access to government information.

What Happened during the 2019 General Assembly Session?
 We are proud of our hard working Public Issues Team who has prepared this report for you about what happened during the 2019 session to LWVCT issues.
What_Happened_Advocacy_2018-2019.pdf
For more information on what legislation passed and became law, you can read the Connecticut General Assembly 2019 Major Public Acts publication.
CGA_major_acts_for_2019.pdf
Early Voting Update 
While Early Voting failed to get the 75% needed in the CT Senate to get it on the ballot for 2020, we will continue to encourage the General Assembly to pass it.  The legislature needs to adopt a resolution by a simple majority of more than 50% in both the House and Senate in two successive legislative terms, which are two years each. 
 As we will need many of the same legislators to support Early Voting when it comes before them again, we urge you to THANK your legislators if they supported it this year.  It is important that they know you appreciate their vote.
If they did not vote for it, please talk to them and let them know you hope they will support it in the next bill.
House vote: https://www.cga.ct.gov/2019/VOTE/h/pdf/2019HV-00066-R00HJ00161-HV.pdf
Senate vote: https://www.cga.ct.gov/2019/VOTE/s/pdf/2019SV-00088-R00HJ00161-SV.pdf
 Help us pave the way for a successful majority support to get Early Voting on the ballot!
For Additional Details on Early Voting: 
Early Voting Background Information
AUTOMATIC VOTER REGISTRATION
LWVCT urged Governor Lamont to include automatic voter registration if there is a special session.  At this time, it appears that there will not be a General Assembly special session.    
For Details:  
Give_automatic_voter_registration_another_chance.pdf
 REDISTRICTING AND GERRYMANDERING 
Although the Supreme Court rulings were not favorable to key LWV gerrymandering cases, we will continue to keep Redistricting on the top of our issue list.  If you missed our recent forum on Redistricting, you can watch it here:
Voter information is what the League of Women Voters does best!  We designed VoteCT.net to help both new and experienced voters in Connecticut find information for all elections. It includes information for upcoming elections, access to info on registering to vote, who the candidates are, voting by absentee ballots, voting at the polls, and working at the polls. All in one spot!  votect.net     
CEProud is a three year commitment (2016-2019) by LWVCT to raise awareness of the Citizens' Election Program - Connecticut's model program for publicly financed campaigns. 
Why CEP is a successful campaign finance program:
Connecticut was the first state to develop and enact comprehensive campaign finance reform that provides public (but not tax-funded) financing for candidates for the General Assembly and state offices. The league is grateful that 86% of the current CT State House members ran using CEP funds, and 83% of the current Senate (as of Jan 8) used CEP funds.  
The LWVCT strongly believes that campaign finance reform and its oversight by adequately funded regulatory agencies and/or commissions is necessary to ensure the public's "right to know", combat corruption, prevent undue influence, and enable candidates to compete equitably and fairly in the pursuit of public office and/or service. 

AND:
 *In 2018, the number of women elected to serve in the CT General Assembly jumped nearly 6%, from 27.3% to 33.2% of our State Legislature/CGA.
*More women candidates received clean election grants in 2018 under CEP than in any time in the past, with 127 grants awarded. The previous high was in 2014, when 80 women candidates applied and were awarded grants. In other words, in 2018 there were 59% more clean election grants awarded to women candidates than ever before.
Campaign to increase voter participation in Elections 
The League of Women Voters of CT encourages informed and active participation in government, works to increase understanding of major public policy issues, and influences public policy through education and advocacy.