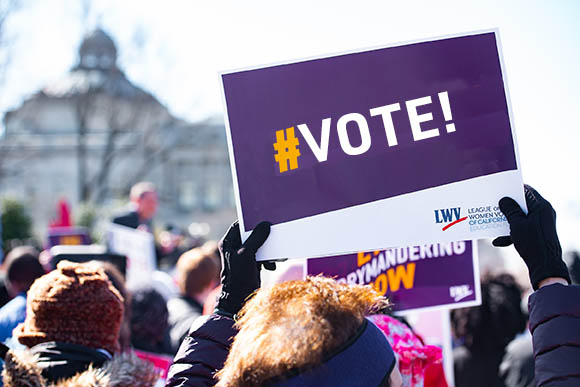 This is a comprehensive page provided by the LWVCT for members and Local League leaders to find resources that will assist them in organizing, advocacy, and voter education efforts. 
Looking for a Local League? 
For League Members
Summer 2022: The LWVUS League Management Page has been updated! Find resources to help you and your League succeed. This website is intended for League members engaged in all areas of League work.
LWVCT Offers many opportunities for members to be involved. Below is a brief outline of the events and programs that are held annually as well as valuable resources. 
Traditional League Programs
Meetings with Legislators
Educational Programs and Publications Distribution
Forums & Debates
Lectures
Members' Meetings
Studies
Voter Services
State League Events
Annual Convention
Advocacy Workshop
Debates and Forums Moderator Training
Voter Education Resources
Is your league educating and registering new voters in your area? 
Visit Voter Services page and download resources you can use to educate your community. 
Advocacy & Networking Opportunities
Local League Leaders
Resources:
Free Publications:
Helpful References:
LWVCT Bylaws and Policies:
WHAT THE LWVCT DOES FOR LOCAL LEAGUES
 WHAT THE LWVUS CAN DO FOR LOCAL LEAGUES 
The League of Women Voters of the United States (LWVUS) staff works to promote the League's mission and work at the national level, and to support over 750 state and local Leagues in their work on League priority issues. LWVUS staff can support state and local Leagues in the following areas:
Litigation
VOTE411.org
LWV Education Fund (LWVEF) manages VOTE411.org, the League's premier nationwide voter education resource. VOTE411.org serves millions of diverse voters every single year. National staff manage many aspects of VOTE411, including the technical needs, marketing the site, and promoting partnerships with other organizations and media partners. The VOTE411.org voters' guide program enables local and state Leagues to publish information on the candidates and issues in their area on the website. For more information on how your League can create candidate information on the website, contact Megan Brown at mbrown [at] lwv.org. National staff maintains the site's vast array of state-specific voting information (in partnership with key state and local Leagues) and provides training and technical support to the hundreds of Leagues who use VOTE411 to create voters' guides across the country. LWVEF also maintains a private listserv for League admins who participate in the voter guide system. If a League member is the admin for the VOTE411 program in their area, they can email VOTE411+subscribe [at] groups.io  to subscribe.
VOTE411 Logos and Brand Standards
Logos, colors, and requirements for VOTE411 branding are available for download. The red and blue VOTE411 logo with raised hands has been retired and should be replaced with the purple speech bubble logo.
With the League's mission to empower voters and defend democracy, we commit to equity for all voters and the recognition that democracy is strengthened by the inclusion of all the diverse voices within the community. Diversity, Equity, and Inclusion (DEI) are not buzzwords; they are commitments to our organizational mission and values. This starts with the organization's DEI policy, which applies to all levels of the League.  Resources are available for individual reflection/learning, for organizational change, and for wider community engagement. 
Brand and Image Assets
Digital Communications
Press
Organizing
Grants
Information Exchange
National Meetings
Inquiries?
Contact the LWVCT Administrator at lwvct [at] lwvct.org.