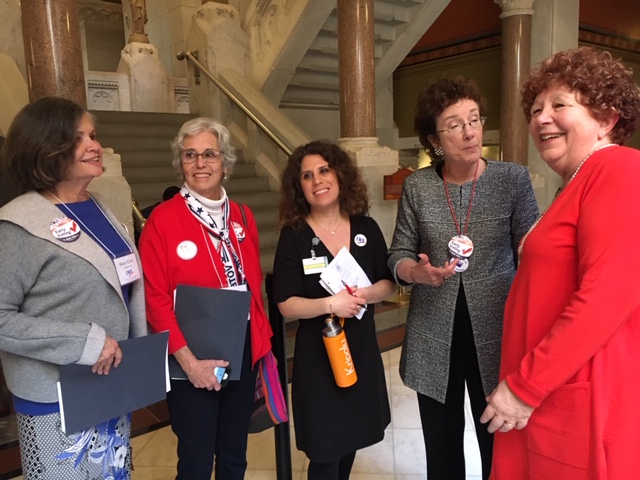 Overview of the 2019 Legislative Priorities
Election Laws
Campaign Finance
Open Government (including citizens' right to know and public access to government information).
As the 2019 General Assembly session got underway on January 9, 2019, the League was ready to launch our Advocacy efforts on our priority issues.  In addition, our Public Issues Team had been monitoring legislation in other LWVCT issue areas to keep us informed and up to date on any important new laws being proposed.
LWVCT LOBBY DAY was a success.  Representative Michael Winkler sponsored LWVCT and Secretary of the State Denise Merrill spoke to the activists assembled there.  Picture from Lobby Day with LWVCT Lobbyists Judy Blei and Mary Grace Peak and League members wait to speak to legislators about Early Voting.
CALLS TO ACTION 2019
AUTOMATIC VOTE REGISTRATION (AVR)
LWVCT urged Governor Lamont to include automatic voter registration when there was a special session of the General Assembly.  Unfortunately, the special session did not happen.
DEFEND THE CITIZENS ELECTION PROGRAM (CEP)
Legislative update:  SB641 was not brought up for a vote in the House after the Senate last minute passage.  CEP remains unchanged as of now.  The League of Women Voters in CT, Common Cause in CT and CT Citizen Action group call on the House of Representatives and the Governor to discard the 11th hour on June 4 attack on the integrity of the Citizens' Election Program. 
For full statement:  lwvct_ccag_ccct_june_5_2019.pdf
Call to Action on HB7160 - Increasing Voter Access and Bottle Bill HB 7294 Update
Call_to_Action_on_HB7160_and_Bottle_Bill.pdf
LWVCT PRIORITY ISSUES ACTION CALL
 The LWVCT Board established four priority areas for our legislative work this session.  Here is a summary of the bills our Legislative Specialists Yvonne Senturia, Pam Klem, Pua Ford, and Kathy Golas have been following. 
Call to Action on Priority Issues.pdf
EARLY VOTING CALL TO ACTION: Early Voting and No Excuse Absentee Ballot_apr_19.pdf
BOTTLE BILL CALL TO ACTION: Bottle Bill Substitute HB7294 information.pdf
We will be following up on our action from last year, particularly in some key areas:
Citizens Election Program (CEP): 
Early Voting: