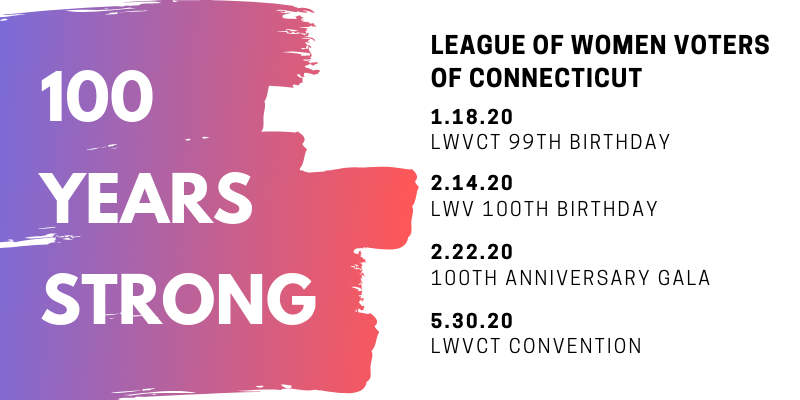 LWVCT Honored at CT Suffrage Centennial Kick Off Event
LWVCT received the CT Suffrage Centennial Award at the Capitol when the Connecticut passage of the 19th Amendment was celebrated as the 100th Anniversary is approaching. This event was led by Committee co-chairs Secretary of the State, Denise Merrill, Lieutenant Governor, Susan Bysiewicz and First Lady of the State of Connecticut, Annie Lamont. LWVCT is proud to accept this award on behalf of all the members who have contributed to our mission work for almost 100 years. League leaders joined President Carol Reimers and Secretary of the State Denise Merrill to mark this special day for LWVCT.
Suffrage Banners
LWVCT is cosponsoring—with the CT Women's Hall of Fame, the CT Historical Society and other women's organizations—the creation of 6 new suffrage banners. They will focus on Women of Color and their experience in winning the vote, anti-suffragists, and suffragists from CT, such as Alice Paul and Katherine Hepburn, and will be displayed at our Gala Dinner.