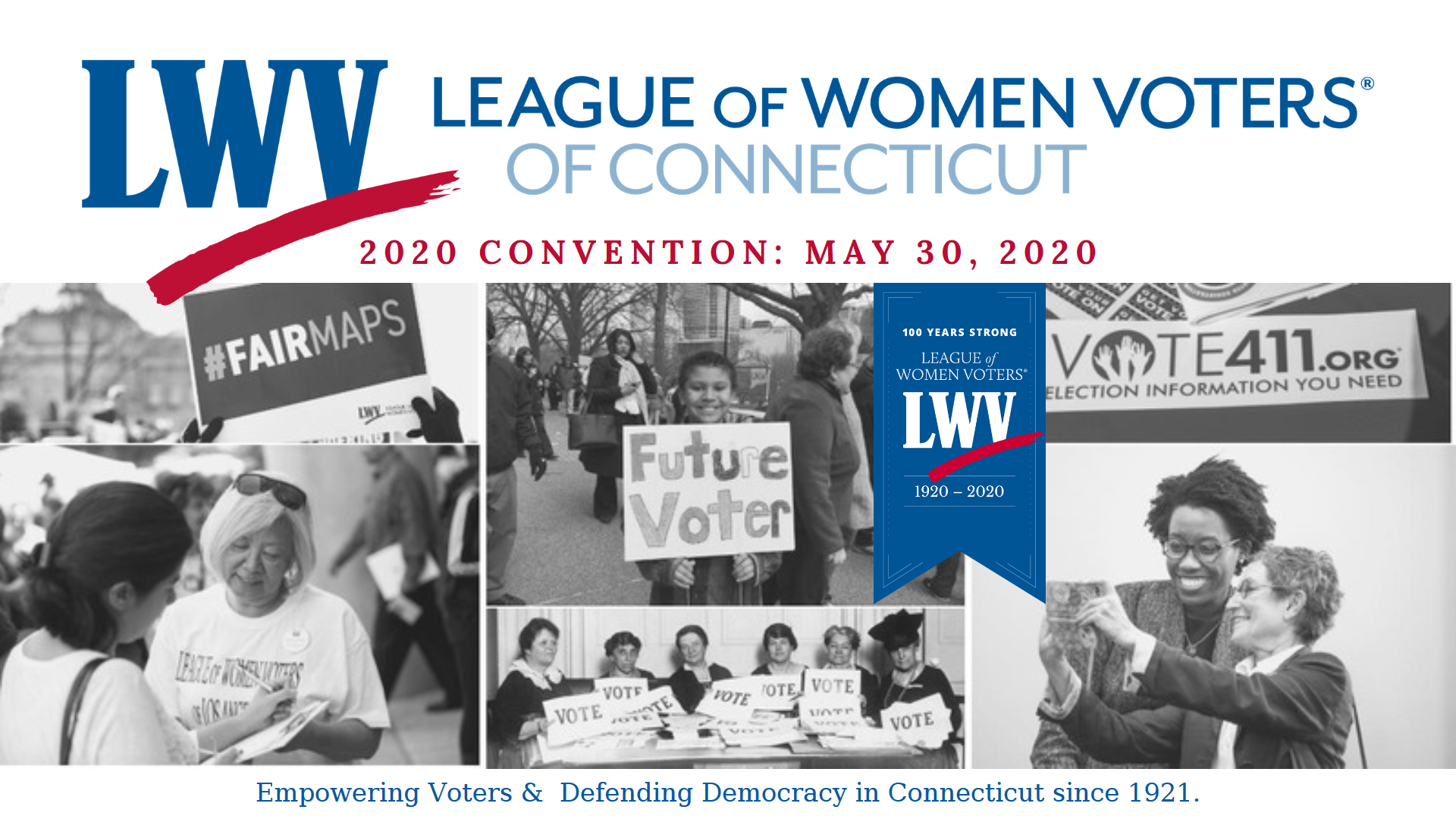 LWVCT

2020

Virtual Convention

The League of Women Voters is needed now more than ever
, as the world that we have known changes forever.
LWVCT had hoped to be celebrating the LWV 100th Anniversary in person this May 30th but the unexpected arose as our country and globe are facing the COVID-19 pandemic. To abide by the Governor's emergency orders for social distancing, we decided to hold our Convention virtually. We need YOU, LWV leaders, to help us as we look to the future of LWVCT through our Convention.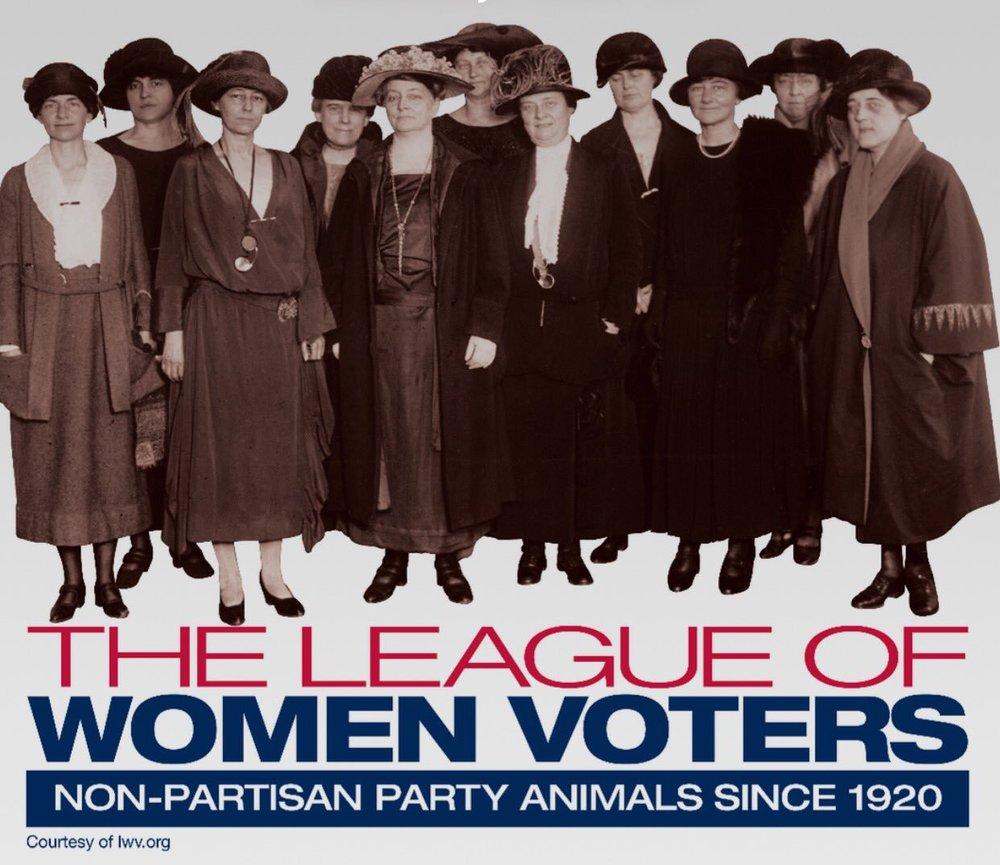 LWVCT 2020 Convention Speakers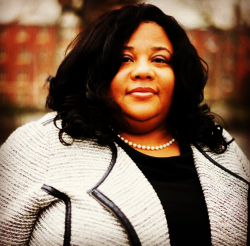 Brittney Yancy on Women of Color and Women's Suffrage
Brittney Yancy is an Assistant Professor of Humanities at Goodwin University. Her research focuses on 20th century US social movements, urban radicalism, critical race theory, women's activism, and black women's political and intellectual history. Professor Yancy has published with Oxford University Press and Greenwood Press, and her research has been supported by the National Endowment for the Humanities, Harvard University's Schlesinger Library Grant, Andrew W. Mellow Foundation, Social Science Research Council, the National Council of Black Studies, and the Connecticut Humanities. Her honors include being selected as one of the 100 Women of Color in Hartford, UConn Women of Color Award and a host of awards from the National Council of Black Studies and the University of Connecticut. She belongs to several professional organizations, including American Historians Association, National Council of Black Studies and the Association for the Study of African American History and Culture.
Professor Yancy is an intersectional scholar-activist and committed to fighting for a gender-inclusive movement for racial justice.  In 2018, she was appointed as the Greater Hartford Ambassador to the United State of Women, and recently chaired the state-wide summit on gender equity, Galvanize Connecticut.  In 2019, Professor Yancy was appointed to the Board of Connecticut's State Education Resource Center, and currently serves on Steering Committee for the Governor's Council on Women and Girls.  She is a member of Alpha Kappa Alpha Sorority, Inc., entering 19 years of service, and a member of several community-based organizations in the Greater Hartford area. Professor Yancy holds a B.A. in History from Hampton University and an M.A. in History from the University of Connecticut. This year, Professor Yancy will complete her doctoral degree in 20th century US History from the University of Connecticut.
For League Members Only: Contact us at marketing [at] lwvct.org to request Professor Yancy's Presentation
Cindy Wolfe Boynton on CT Women's Suffrage
Cindy Wolfe Boynton is a writer, teacher, empowerer and justice seeker. President of the Connecticut chapter of the National Organization for Women and the 2018 Democratic candidate for Connecticut's 117th District State House of Representative seat, she is a political activist and feminist organizer, as well as an award-winning journalist, playwright and college professor. Her background includes more than 15 years as a regular correspondent for The New York Times and nine years as the editor of Better Health magazine. An author of two books of non-fiction, Cindy is also the author and producer of two one-woman plays that both made their premieres in Manhattan, just steps off Broadway on 42nd Street. An English, Journalism and Communications professor, Cindy teaches at the Yale School of Medicine, University of New Haven, Quinnipiac University, Housatonic Community College, and the Paier College of Art. She is also owner/operator of the spooktacularly fun Spirits of Milford Ghost Walks.
In 2019, she was invited to become a member of the State of Connecticut's 2020 Suffrage Centennial Celebration Committee, as well as to sit on the Steering Committee of the Governor's Council on Women and Girls.
For League Members Only: Contact us at marketing [at] lwvct.org to request Cindy Wolfe Boynton's Presentation
                                          Post-Convention Materials and Evaluation
Post Convention Evaluation Form
LWVCT Advocacy Update Presentation by Judy Lhamon
LWVCT Advocacy Updates Slides PDF

LWVCT Voter Service Update Presentation by Laura Smits
LWVCT Voter Service Updates Slides


Political Courage Awards Slides PDF
Local League Highlights Slides PDF
                          Pre-Convention Emails to Local Leagues and Delegates                            

In case you missed an email about the upcoming convention, you can view them below:
April 30, 2020 Call to Convention 2020 - LWV: Now More Than Ever
                         Pre-Convention Virtual Meetings and Zoom How-To Resources                 

Zoom 5.0 Update Required by May 30, 2020
Information and Materials to Prepare for the Convention