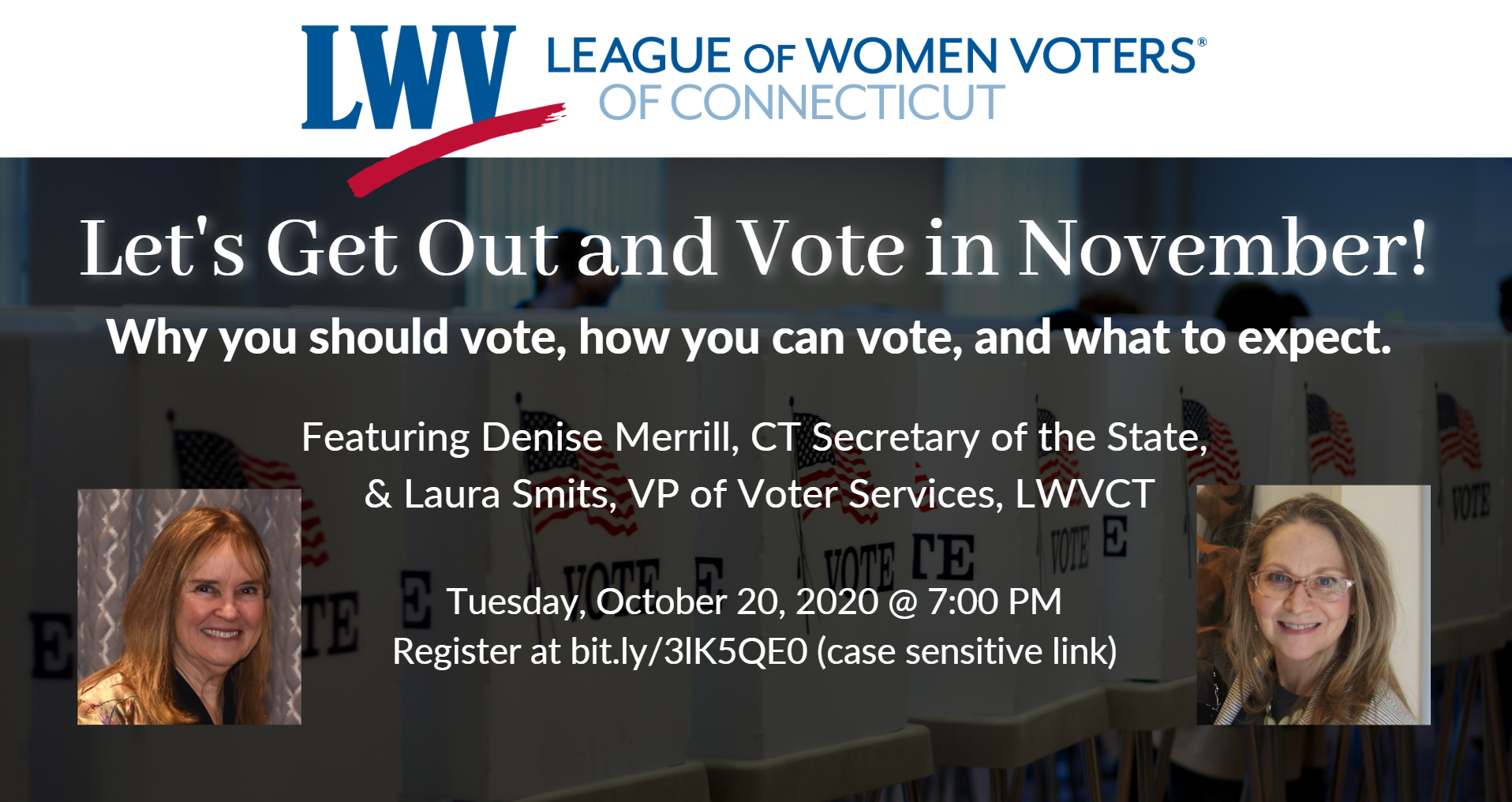 Tuesday, October 20, 2020 - 7:00pm
The League of Women Voters of Connecticut wants all eligible voters to be registered and vote this year.
Join LWVCT Voter Service VP, Laura Smits and Secretary of the State, Denise Merrill as they discuss this year's unique election.  Why you should vote, how you can vote and what to expect.  Hear from your fellow Connecticut voters as they share what voting means to them and why it is important to vote in the 2020 Election.
Our Voters Panel:
Valerie Gambrell - is a Tribal Councilor and member of the Eastern Pequot Tribal Nation, and retired Social worker of 23 years. She has worked hard and tireless for the State and Federal level in the Army to improve the lives of our community and Nation. She has voted in over 48 consecutive elections. 
Kimberly (Kim) Hart - is a founding member of Witnesses to Hunger: New Haven, Kim is an expert speaker and organizer around issues of food insecurity and criminal justice reform in the state of Connecticut.
Zareen Husain - is self-employed and a proud Stamford stay-at-home mom, having served as President (4 years) and VP (2 years) of her local elementary school's Parent Teacher Association. She is a graduate of the Parent Leadership Training Institute and is currently the Co-President of the Parent Teacher Council in Stamford.
La'Tasha Maddox - is the Program Coordinator for Teamworks at Reliance Health Inc, Vice-President of Wuttooantam Foundation, Board Director Member of Soroptimist, tribal member of the Eastern Pequot Tribal Nation and 2020 Nominee Tribal Council member.
Valeriano Ramos - is Director of Strategic Alliances and Partnerships at Everyday Democracy where, since 2010, he has developed and implemented a variety of outreach and partnership strategies to build alliances with national, regional and local organizations, groups, institutions, and foundations. 
The Right Reverend Doctor John L. Selders, Jr. - is an ordained minister serving in the United Church of Christ, the Organizing Pastor of Amistad United Church of Christ, Hartford, CT, former Associate College Chaplain and currently Assistant Dean of Students, Trinity College, Hartford, CT
Pamela Selders - is the  founder of CT Black Women which is for passionate and powerful Black Women to do the work of racial justice and Black liberation for Black women and girls.
Register and then submit your questions ahead of time via email at admin [at] lwvct.org.
OR
Read the October 15, 2020 LWVCT Press Release HERE.