Student groups at the fourth grade level and above are encouraged to book a tour anytime during the year. Tours for third grade students who are studying Connecticut history and/or government are offered before and after the legislative session. For more information on booking a tour visit our Request a Tour page. You can also take a virtual tour through a Matterport 3D model of the Capitol or our video tour series.
Check out our kids' quiz to assess what your students learned on the tour!
Online Quiz  Downloadable and Printable Quiz  Answer Key
And check out our many publications below:
"Come Inside" a Capitol Information and Tours Brochure
Learn what the Capitol building has to offer and print this out as a helpful guide for students when walking around the building. This is a trifold brochure.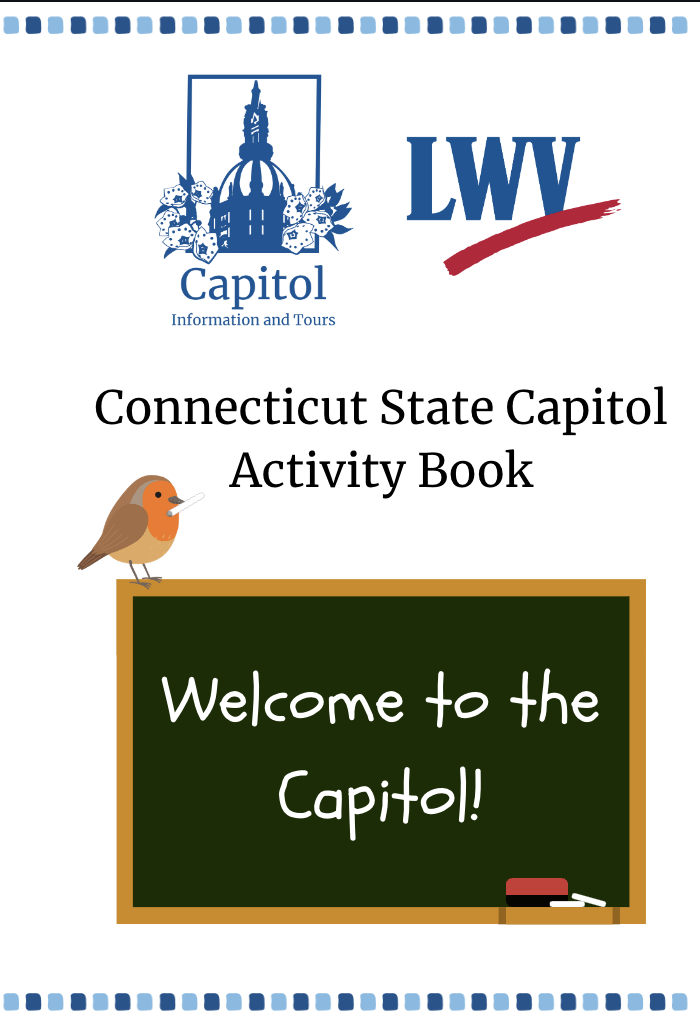 State Capitol Activity Book
A compilation of all the activity sheets offered by Capitol Information and Tours, including word puzzles, a scavenger hunt, Capitol facts, and more.
Capitol Scavenger Hunt (in-person)
Challenge your students to find important objects both inside and outside the building on their visit to the Capitol.
How a Bill Becomes a Law in Connecticut
Choose from two handouts that will teach your students about the lawmaking process from start to finish in Connecticut.  
Grades 3 - 5   Middle and High School

Did You Know? Capitol Facts
Discover fun facts about the Connecticut State Capitol.
Connecticut Fun Facts
Match Connecticut inventions to their picture and learn about famous firsts in Connecticut history.
Capitol Word Search
Search for words related to the Connecticut State Capitol in this classic word search puzzle.
Word Scramble
Unscramble the jumbled up legislative terms in our word scramble puzzle.
It Happened in 1878
The Connecticut State Capitol opened in 1878. Discover what other important events happened in Connecticut, the United States, and across the globe that year.
How Many Words Can You Make from Connecticut?
Challenge yourself to see how many words you can make by rearranging the letters in the word Connecticut.
Capitol Scavenger Hunt (virtual)
Have your students explore the Connecticut General Assembly (CGA) and Capitol Information and Tours websites to complete this scavenger hunt.
Contacting Your Legislator
Encourage your students to get involved in government by contacting their legislator.
Connecticut Coloring Book
A fun coloring storybook that will help your students learn about Connecticut's government and important symbols.
Appreciating Democracy
A lesson plan for high school teachers of Civics, Government, and U.S. History
Check out the extra resources below to use in your classroom!
Capitol Highlights Module: A powerpoint showcasing Connecticut's Capitol and its main features.