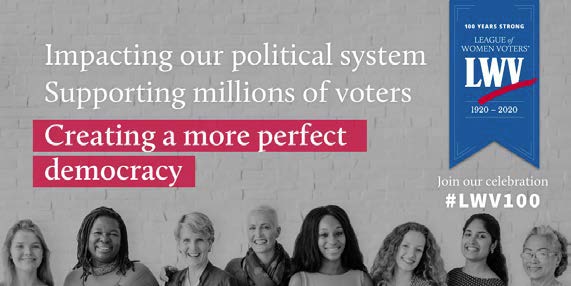 The League of Women Voters of the United States was officially formed on Feb 14, 2020. Happy 100th Birthday, LWV!
LWV is marking our centennial birthday with a nationwide "Day of Action" on Feb 14th. Action plans in Delaware include such varied activities as valentine cards thanking our legislators, voter registration/information tables, and perhaps even the debut of a special Dogfish Head beer in LWV's honor. Shhh! It's a secret. You didn't hear it from me!
After our day of action, we'll still have plenty of time to celebrate. Here, in fact, are three LWV birthday events in Delaware to which you are invited:
Prosecco and Pastries Reception, Friday Feb 14, 5-7 pm at the Rehoboth Beach Historical Society Museum in Rehoboth Beach. Dr. Cynthia Newton, Chair of the Political Science Department at Wesley College, will present "From Civil Disobedience to the Ballot Box," setting the stage for the state League's centennial theme, "Women Power the Vote."  Reception follows the presentation. Refer to the event flier or LWVSC website calendar item for more information, and reserve your seat on Eventbrite:

League of Women Voters of Delaware 100th Birthday Celebration

.
TED Discussion, Saturday Feb 15, 1-3 pm at St Philips Church on Limestone Rd. The LWVNCC February TED Talk is another opportunity to Celebrate the 100th Birthday of the League of Women Voters. This month's discussion will be centered around two beautifully crafted animations that depict important elements of the Women's Movement that led to the founding of the League. Refer to the NCC website calendar item for more information.
100th Birthday Party and Wine Tasting, Sunday Feb 16, 2-4 pm at Deerfield Wines in the Shoppes of Louviers north of Newark. Reserve your seat on Eventbrite, 100th Birthday Celebration - League of Women Voters of NCC, DE, or RSVP to our office manager.
Join us at the event of your choice to learn more about LWV and celebrate our 100th Birthday with us!