Raising Our Voices: League of Women Voters of Metro St. Louis 1960-2022 demonstrates how members of the League of Women Voters of Metro St. Louis advocated for change during more than six decades of tremendous upheaval. It picks up where Avis Carlson's early history of the St. Louis League (The First 40 Years) leaves off. It recounts the League's participation in controversial local and national issues such as desegregation, the Equal Rights Amendment, election and campaign finance reform, and attempts at voter suppression. The book chronicles by decade the everyday work of the League to improve the St. Louis community and protect the rights of Missouri citizens.
The foreword was written by Sydell Shayer who joined the League in 1957. Members who made a difference through the years are profiled, including Lt. Governor Harriett Woods, Rep. Sue Shear and League leaders such as Ida Perkins West, Janet Becker, Barbara Shull, K Wentzien, Lois Bliss, Janet Shipton, Carol Portman, Debby Waite Howard, Agnes Garino, Nancy Bowser, Mickey Croyle, Pat Rich, Linda McDaniel, Kathleen Farrell, Nancy J. Miller, and Louise Wilkerson.
Author Nicole Evelina is a League member and USA Today best-selling author. The project was generously funded by long-time League benefactors. The book is now available online at Barnes & Noble and Amazon for $28.95. A Kindle edition is now available for $2.99. The League office has a limited quantity available for a $20 donation.
Research for this 396-page paperback included oral histories of two dozen Leaguers. Anna Reynolds and Louise Wilkerson taped interviews that are being released as St. Louis Suffragists Today Podcasts with an introduction by LWVSTL President Angie Dunlap. More will be released soon.
Agnes Garino: https://youtu.be/Lt012lPhCfU
Sydell Shayer: https://youtu.be/GlbaB0nZtww
Esther Clark:  https://youtu.be/patH7EUE0q0
Debby Waite Howard: https://youtu.be/wBX4nqPRfKw
K Wentzien: (49) K Wentzien - YouTube
Linda McDaniel: https://youtu.be/ZsN8RCsUt30
Nancy Thompson: https://youtu.be/zQGEGgIrJdE
Click here for the extensive list of sources used for this new history. For a closer look at the images in the book, click here.
Click here for a PDF of the booklet from the League's 65th Anniversary and here for the booklet from the 75th Anniversary.
The book received publicity before a Feb. 5 launch event at the Novel Neighbor. Click here for a post by Don Corrigan about the League's work on the environment. Check out this article about Sydell Shayer and other prominent Jewish members profiled in the book in the St. Louis Jewish Light.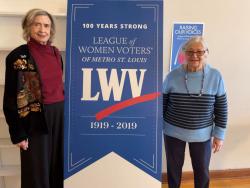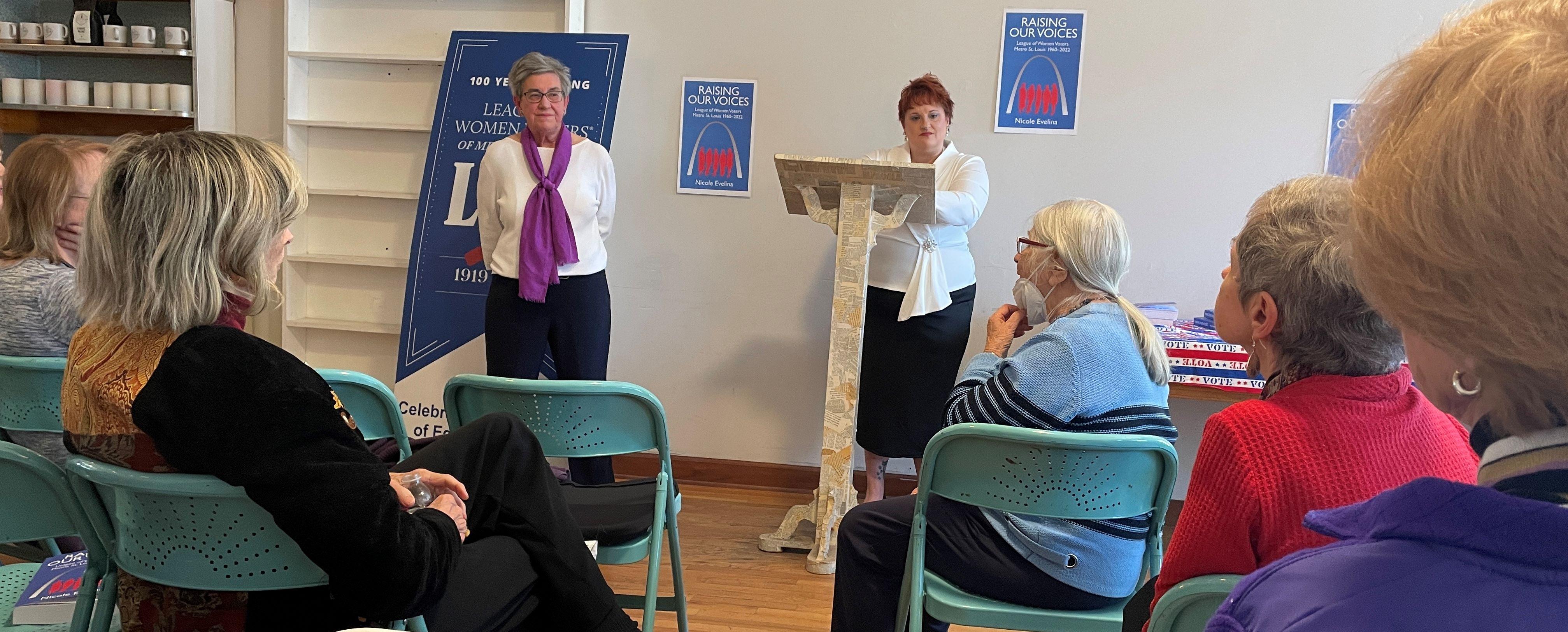 Click here to read an interesting article on Black suffragist Victoria Clay Haley by Tayler Bertelsman, an associate attorney at Sandberg Phoenix and von Gontard. It was printed in the Spring 2023 issues of the St. Louis Bar Journal. Thanks to the Bar Association of Metropolitan St. Louis for allowing us to share Tayler's article.LWV Products
Contact the office at 314-961-6869 if you're interested in a suffragist coloring book or bookmarks. For other League and Suffragist items, go to lwvmo.org.