Girl Scouts at July 4 Reverse Parade in Webster Groves
Beyond the Balloot exhibit at Missouri History Museum
Notarizing Ballots
Registering New Citizens During Pandemic
Advocating for Voters
An eight-person delegation went to the Capitol on March 11 to share our views on fair maps, voter ID, initiative petition rules and several pro-voter bills.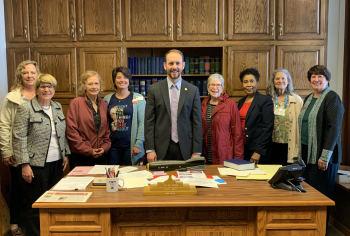 Women's March
 Member Events
  Members approve gun policy, fight voter suppression
 Litigation to Protect Voter Rights
State President Evelyn Maddox with Nancy Miller, Jean Dugan, Nancy Price and lawyers in the League's suit against the Secretary of State's implementation of the photo ID law. On Aug. 20, Maddox testified in Cole County Court that voters are confused about the ID requirements and that they can present a barrier to voting.