Redistricting

Are you in a different district because of redistricting?
Check out the maps for Missouri's new district boundaries here

St. Louis City reduces wards from 28 to 14. The League and 27 other community groups were pleased that community members were allowed to have a meaningful and accessible opportunity to provide input.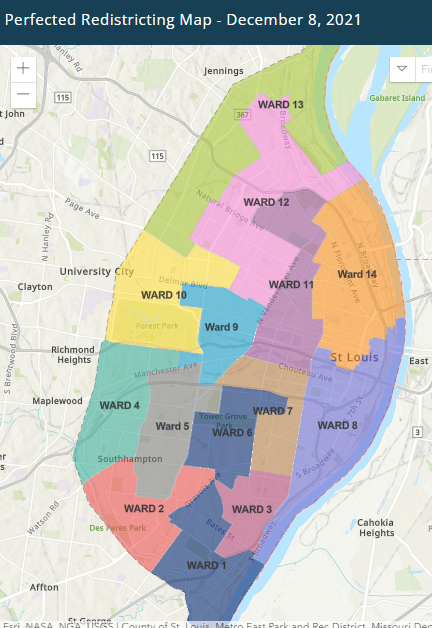 Click here for information on the League's national redistricting program.
League Supports Fair Maps
The League's top legislative priority in 2021 and 2022 was to promote a  fair and a transparent redistricting process.
In written testimony to the St. Louis County Bipartisan Reapportionment Board on Nov. 8, LWVSTL President Angie Dunlap said:
"We believe an effective democracy represents all citizens and this is necessary for government to work for everyone. Every voter matters and deserves the opportunity to be heard by their representatives at every level of government.
"When the power of the vote in a particular community is unfairly diminished due to how maps are drawn, it is likely that the concerns of that community will not be addressed. If citizens do not see their issues being tackled by their county officials, citizens may give up on voting. That would be a tragedy for democracy!  Please draw maps to give voters the power and encourage voters to see that democracy can work for them. 
"The League wants all voices considered and equitably represented. We must ensure that all communities, no matter race, background, zip code, or income, are fairly represented in the county's map drawing process." 
Reform St. Louis: "People Over Politics"
In April 2022 Prop R was passed by a majority of St. Louis City voters.  The LWVSTL was a supporter of Prop R for it's ethics and redistricting reforms.
The goal of Prop R is to reform St. Louis City Government to be more ethical, equitable, effective, fair and accountable.  Some ways that Prop R works to do this:

● Immediately stop alderpersons from drawing their own district lines by creating an open, transparent, independent redistricting process with citizen input 
● Create more transparency and accountability when alderpersons have conflicts of interest
● Explore potential future reform initiatives in line with core values