Redistricting

League Supports Fair Maps, Opposes Amendment 3
Voters in every state senate district approved Clean Missouri's reforms in 2018. Two years later, the Missouri General Assembly put Amendment 3 on the Nov. 3 ballot to undo its redistricting reforms and allow unprecedented gerrymandering. Red flags in this Constitutional Amendment include:
more secrecy
more partisanship
new loopholes
weaker protections for communities of color
new rules that limit citizens' ability to challenge unfair maps
Amendment 3 would eliminate most lobbyist gifts (Clean Missouri capped these gifts at $5) and limit campaign contributions (only for state senate candidates and by just $100). Courts said the ballot language drafted by the General Assembly was misleading. Experts say the measure would permit a level of gerrymandering at twice the level typically described as "severe." 
In 2018, voters approved having a non-partisan demographer draft legislative district maps with a high priority on districts being fair and competitive. Clean Missouri also added strong language to protect minority communities from vote dilution.
Hidden in Amendment 3 is language that could make Missouri the only state not using the total population count when drawing legislative districts. Instead, maps could be based on the number of eligible voters. That would leave out 1.5 million Missouri children, as well as immigrants and international students.
The League supported Amendment 1 in 2018 which passed with a majority of the vote in every State Senate district. This constitutional amendment included reforms to clean up Missouri politics, including a better system of redistricting to ensure fairness after each U.S. Census.
LWVMO Secretary Louise Wilkerson says, "Instead of improving our redistricting process after the 2020 Census, Amendment 3 would give political parties more power and allow an unprecedented level of racial and political gerrymandering."
The image below illustrates partisan gerrymandering.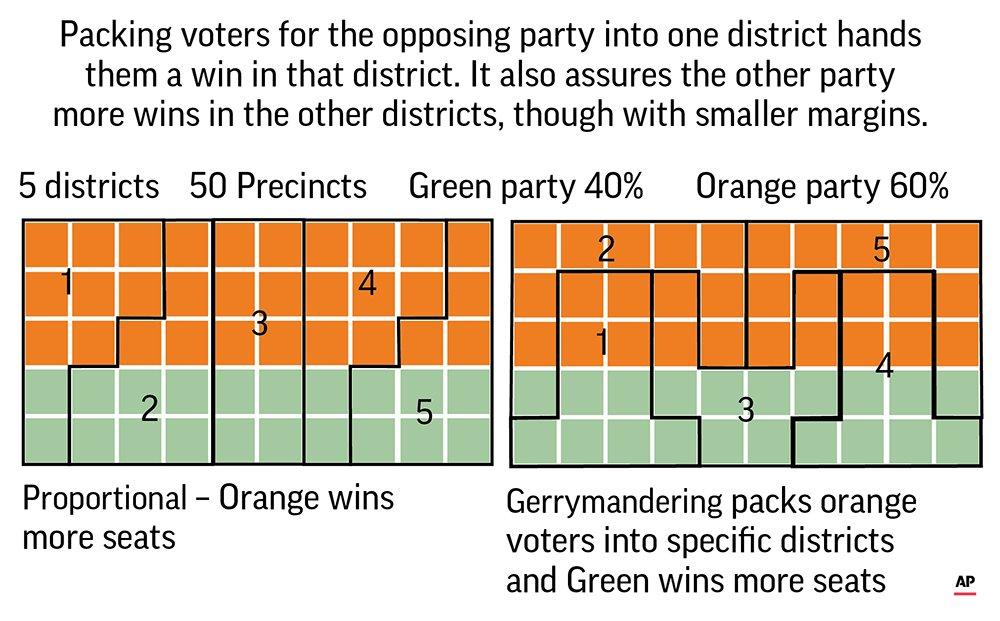 All Posts Related to this Committee