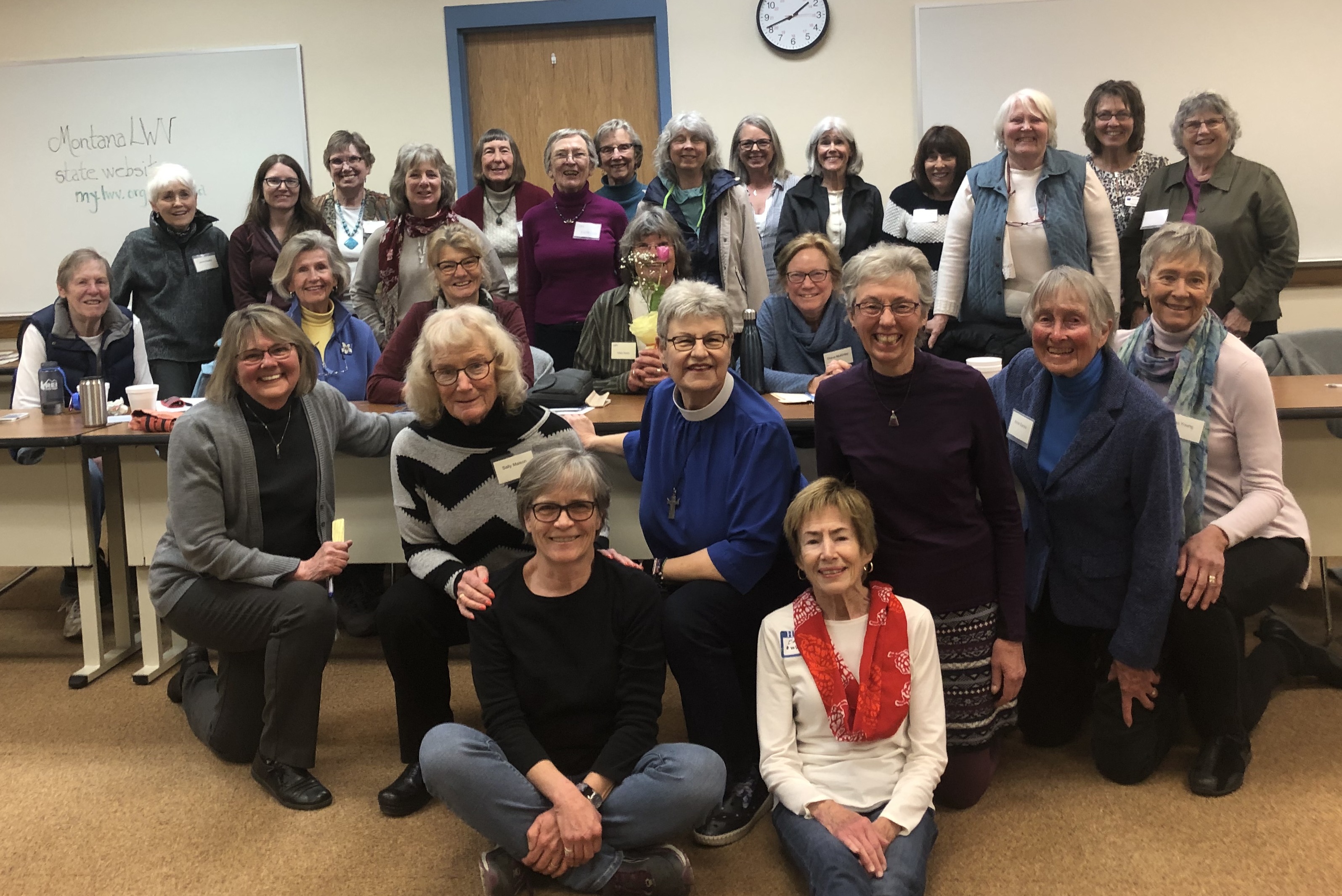 About the Bozeman League 
The Bozeman League publishes the Citizen's Guide to Government which lists Bozeman and Gallatin County officials and committees along with their contact information; publishes a Voter's Guide which offers information about the candidates in their own words; registers voters; and holds public candidate forums before elections. Aside from "election work" we look at and advocate for issues that members have studied and agreed upon. Many of our issues are the basis for fair and democratic government practices.
The Bozeman League meets at 11:45 on the 2nd and 4th Mondays of each month from September through May. Programs are typically on a local, state or national topic of concern to League members. Some past topics included: the Affordable Care Act, coal trains going through Bozeman and a legislative wrap-up after the conclusion of the legislative session.
Click this link to see a History of the Bozeman League:  Brief History of Bozeman League
Bozeman Board Members:
President: Rosanne Nash
Vice-President: Sally Maison
First Vice-President: Judy Mathre
Secretary: Beth Sirr
Treasurer: Priscilla Dysart
Membership: Faye Boom
Board Members:
   Teri Ball, Anne Banks, Jan Benham, Susan Ewing, Sally Foster, Jane Hawks, Charlene Krygier,
   Judi Maloney, Diana McKinley, Barbara Worthen, Jan Young
Bozeman - Becky Franks Chair of Gallatin County Health

For our Monday, October 26, meeting, Becky Franks will be speaking to us from noon to 1:00 p.m. via Zoom.  She is the chair of the Gallatin City-County Board of Health.  Becky will be speaking on the ramifications of Covid19 in our community from her front-row seat perspective.  Zoom sign in information
Bozeman 2020 Voter Guide: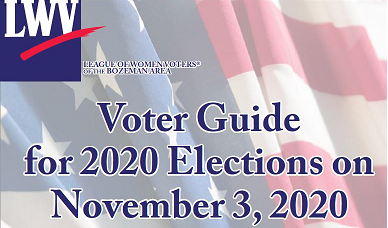 The fall 2020 Voter Guide covers elections for the U.S. Senate, U.S. House, Montana Governor, Secretary of State, Attorney General, Auditor, Superintendent of Public Instruction, Montana Supreme Court Justices, Public Service Commission, Montana Senate, Montana House, Gallatin County Commissioner, and Clerk of District Court. Candidates are listed in alphabetical order and their responses are presented exactly as submitted.
Candidates running for uncontested seats are listed but were not asked to submit information. The League of Women Voters presents this guide a part of its Voter Education mission. The League does not endorse candidates and we are not affiliated with political parties. We thank the Bozeman Daily Chronicle for its assistance with this Voter Guide. We hope this information is helpful
to you in determining which candidates will best represent you in the coming term and we urge you to exercise your right and your civic duty to vote on November 3.
 Bozeman - Recordings of the candidate and ballot issues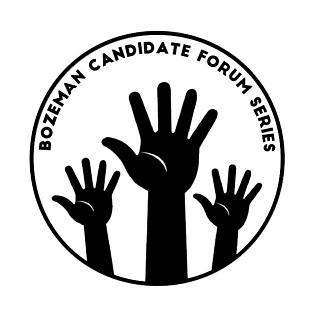 Here is a link to YouTube recordings of the candidate and ballot issue forums:
Upcoming Events:
For more information about upcoming events for the Bozeman League, click on the links in Red below  to go to the state League calendar for a more detailed description,
Look for other events in the State League Calendar at this link:  Montana State League Calendar  

Voter Service:
The League of Women Voters of the Bozeman Area has a number of voter service projects that we participate in. These guides will be updated over the coming months in preparaton for the 2018 mid-term elections.  These include 
Voter Registration Drives
Voter Guide--information about candidates in their own words
Guide to Government for citizens--listing of elected officials, contact information, meeting dates, etc.
Please Join the Bozeman League! 
We meet at Pilgrim Congregational Church, 2118 South 3rd Avenue, Bozeman.   Members receive newsletters from LWVUS (electronic), LWVMT and LWV of the Bozeman Area (electronic or print).  When you join the Bozeman League, you automatically also join the Montana and National League of Women Voters.   
Dues are $50/individual or $80/household (two members). Membership grants are available.  To join online,  click on the link below:
For more information, contact: Faye Boom, Membership Director, fdboom [at] gmail.com (Membership Email) or P.O. Box 371, Bozeman, MT 59771.