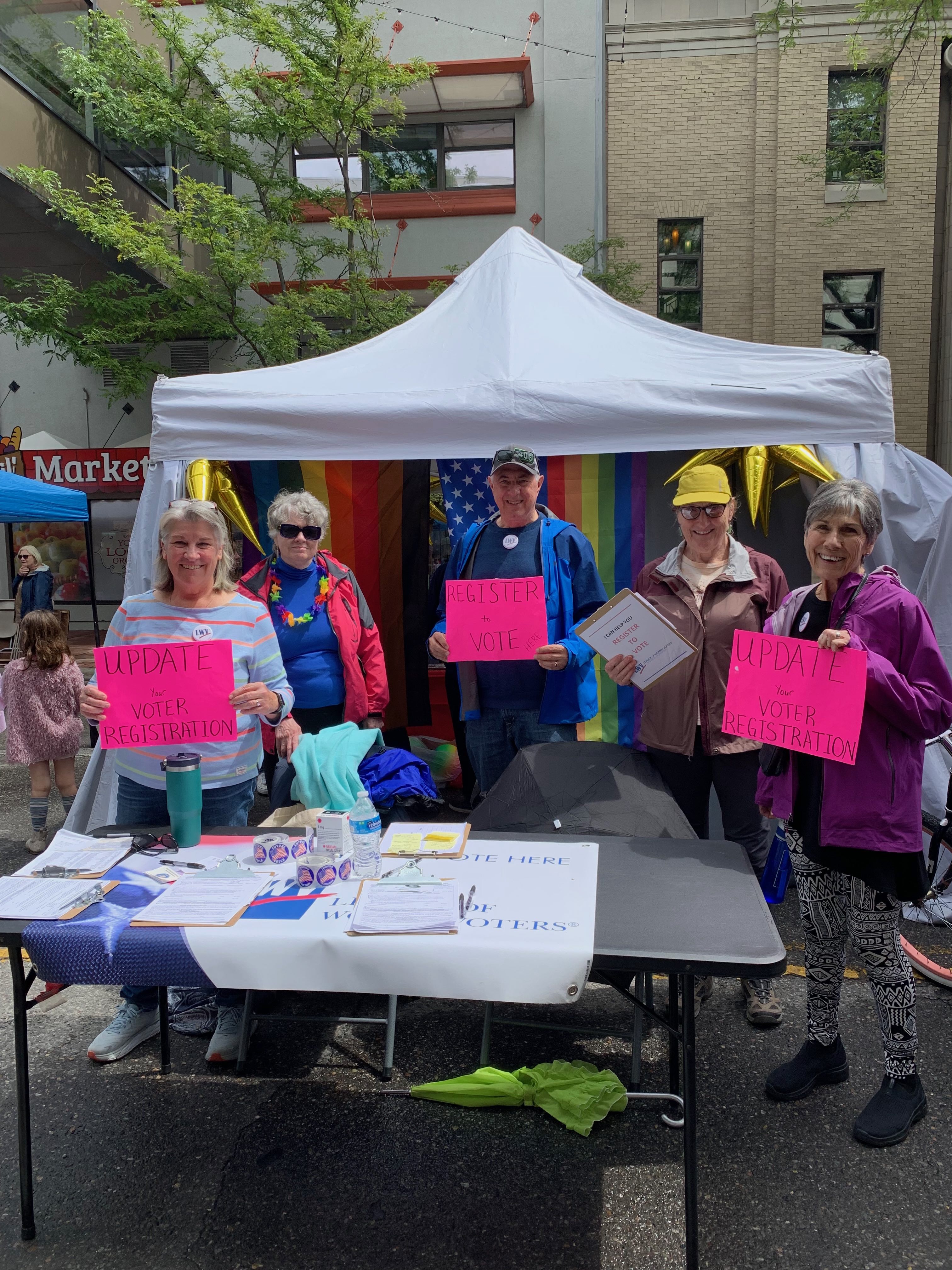 Who we are...
The League of Women Voters of Billings serves the people of south-central Montana.  
Throughout the year, the League of Women Voters of Billings registers voters at naturalization ceremonies, community events, through the high schools to reach newly eligible voters, and conducts widespread voter registration drives on National Voter Registration Day, which is always the fourth Tuesday of every September.  Public education continues with monthly presentations, and when needed, candidate forums and voter guides are formed. League members are observers at city and county meetings, and collaborate with other local organizations on efforts such as the Billings Energy & Conservation Commission. The League of Women Voters of Billings participates with the national and state League advocacy programs.
Read more about our history, and the history of the League of Women Voters here: 

history_of_the_league_of_women_voters_of_billings.pdf
Contact:
E-mail:  lwv.billings [at] gmail.com
Mail:
League of Women Voters of Billings
PO Box 21631
Billings, MT  59104
Membership Meetings
The Billings League of Women Voters holds monthy membership meetings with guest speakers, except during the summer months.  These meetings are open to the public and typically held via ZOOM.  Membership meetings will resume again in the fall, but stay tuned for special events this summer.  
Committee Work
Voter Services Committee

Our Voter Services Committee organizes Voter Registration opportunities throughout the year.  We are presently registering voters at Naturalization ceremonies and other community events, such as the Pride Fest and March for Reproductive Rights.  We also have a banner downtown every fall to celebrate National Voter Registration day.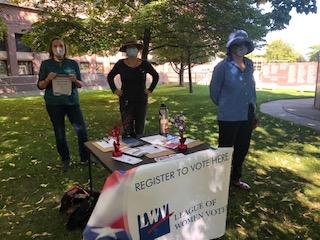 We are looking for volunteers for voter registration who can be on our email list when we have upcoming events.  Contact us to get on the volunteer list!
Climate Action Committee
In 2017, the LWV-Billings Board approved forming a Climate Action Committee to see how the League could help reduce the effects of climate change. The board then approved forming a coalition with Yellowstone Valley Citizens Council and Eco-Angela's in order to find ways to reduce our city's effect on climate change.  The coalition promoted the formation of a citizens' advisory board to the city.
In 2019, The Billings City Council approved on a 10-1 vote the formation of the Energy & Conservation Commission made up of citizens and city staff.  The goal of the Commission is to create a baseline study of the city's current energy use and make recommendations to the City Council and City Administrator for future action on conservation and alternative energy sources, for example.
On September 14th, after its first year (out of three) of exploration, the Energy Conservation Commission gave a report at the City Council's work session.  During the year with the work of staff member, Louis Engels, the Commission has put together an inventory of Billings' energy consumption and resource usage, as well as highlighting progress in energy efficiency thus far. 
Contact us if you are interested in working with the Climate Action Committee! 
Development Committee - Latinx Scholarship at MSUB
The League of Women Voters of Billings approved funding a yearly $1,000 scholarship at MSUB for an incoming Latinx student.
The LWVB Board and membership felt that this was a good opportunity for the League to fulfill the League's Diversity, Equity & Inclusion Initiative.  It is our hope that this also provides the League the opportunity to mentor a new generation of youth in civic duty.
You can help make this scholarship happen by sending a tax-deductible donation to the LWV Education Fund at P.O. Box 21631, Billings MT 59104, specifying your wish for the donation to go to the Latinx Scholarship or e-mail us.lwvbillings [at] gmail.com (
)
Archives
Presentations
The League regularly hosts speakers to join us for a discussion of relevant topics.  Many of these presentations can be viewed online by following the links below.  
The Constitutional Right of Privacy in the United States and Montana After Hobbs v. Jackson Women's Health
Susan Dana, J.D., spoke to the League of Women Voters of Billings about the implications of Dobbs for the future of the right of privacy under the US Constitution, the right of privacy in the Montana Constitution, and the current legal status of abortion in Montana. Susan Dana, J.D., is Professor Emerita at MSU-Bozeman's Jake Jabs College of Business and Entrepreneurship. She has served in numerous roles over her 25-year career, including Associate Professor, Associate Dean and Interim Dean. She taught a variety of business and law-related courses at MSU, including an Honors College seminar on the First Amendment and free speech. She holds a B.A. in Classics from Brown University and a J.D. from Stanford Law School.  You can watch the presentation at:  https://youtu.be/BYfu7Di-VPk

Saving Water & Money in Your Yard: In May, the League hosted a panel of speakers on the topic of water conservation.   Learn more about sustainability and available water saving products and techniques in this discussion:  https://youtu.be/JICNgmslEkI 
Martha Kohl, Historian at Montana Historical Society, speaks to the League of Women Voters about Civics in Education.
Shawn Reagor, Montana Human Rights Network, talks about the impact of recent anti-LGBTQ+ legislation.
Where We Stand
Diversity, Equity, and Inclusion
LWV is fully committed to diversity, equity, and inclusion.  You can read the full DEI Policy at: https://www.lwv.org/league-management/policies-guidelines/diversity-equity-and-inclusion-policy
Consensus Positions
A 'position' is a statement of the League's point of view on an issue.  Positions exist at the national, state, and local League levels, and likewise, may address issues of national or local concern.  The League arrives at positions following a study, member agreement, and board approval.  The position serves as a basis for League action, which may include public education, lobbying efforts, media releases, and participation in community events such as marches or rallies. 
The League of Women Voters of Billings has consensus positions on Local Government, Alternative Sources of Revenue, Consolidation, Incarceration, Public Education, Land Use Planning, and Transportation.
You can read the Billings League positions in this document:  

lwvb_positions.pdf
Join the League!
To join the Billings League of Women Voters, you can fill out the online membership form at: https://my.lwv.org/montana/join-local-league-0 or print, fill out and mail in the form below with a check.