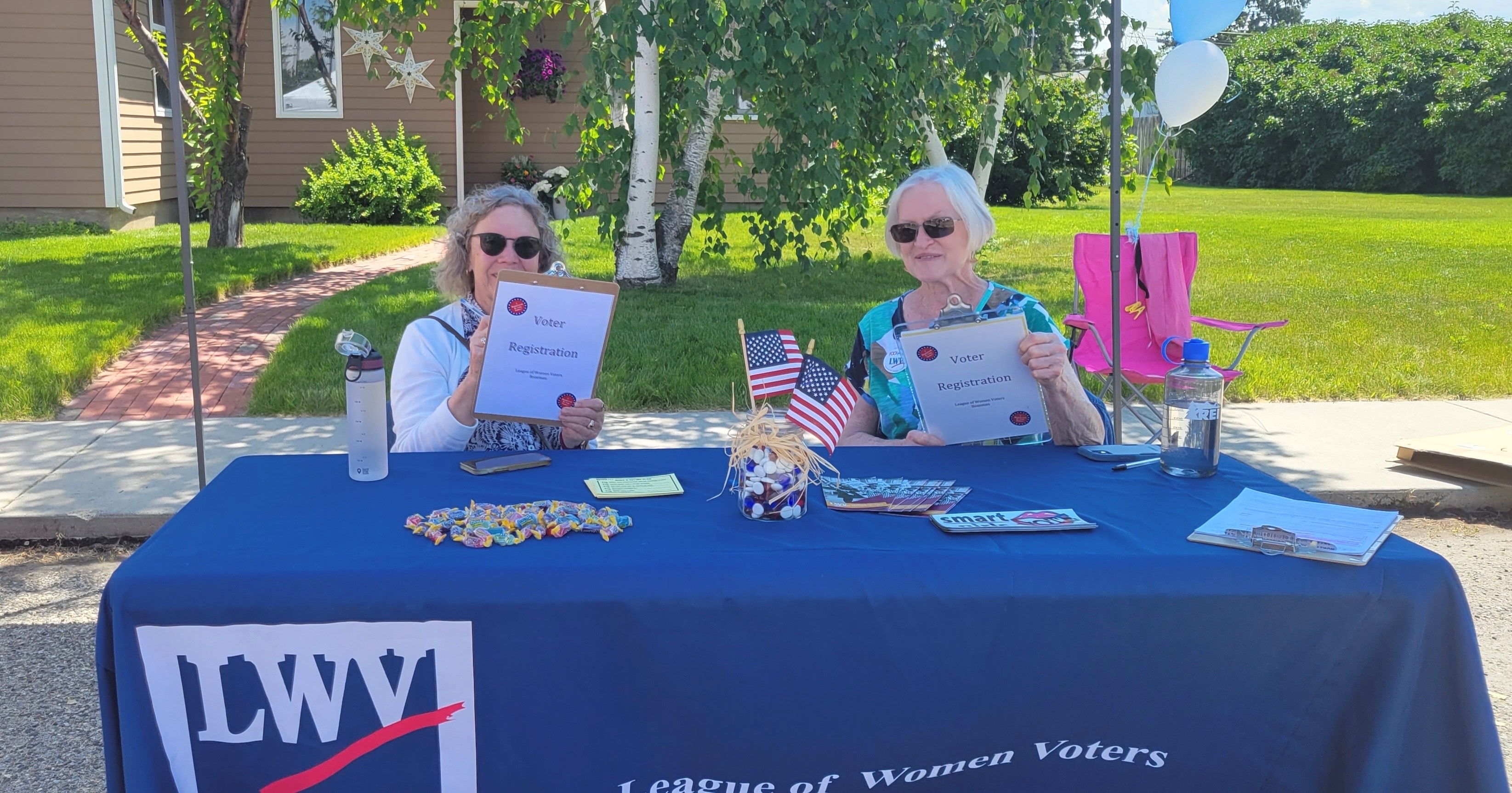 About the Bozeman League 
The Bozeman League of Women Voters works to encourage active and informed participation in government. The Bozeman League conducts candidate forums for local Montana Legislative seats, Gallatin County elected offices, Bozeman and Belgrade City Commission positions, and Bozeman and Belgrade school trustee positions.  We also produce a Voter Guide for even year fall general elections that covers statewide and local races.
Our Voter Registration Committee provides New Voter Bags to high school seniors at Bozeman, Gallatin, Belgrade, Three Forks, Lone Peak and Browning High Schools.  The New Voter Bags contain snacks and voter registration forms.  This project is very popular with teachers and students and many students complete the registration forms.  We also do Voter Registration at naturalization ceremonies in Butte and at public events around Bozeman and Belgrade.
The Bozeman League has an active Observer Corps.  Members attend and observe Gallatin County Commission meetings, Bozeman City Commission meetings and Bozeman School Board meetings.  Members then write articles about the meetings for the monthly Voter.
Aside from "election work" we look at and advocate for issues that members have studied and agreed upon. Many of our issues are the basis for fair and democratic government practices. The Bozeman positions on issues is here:

bozeman_positions.pdf
Click this link to see a History of the Bozeman League:  Brief History of Bozeman League
The Bozeman By-Laws are here:

bozeman_by-laws.pdf

Bozeman Meetings:
The Bozeman League meets at 11:45 on the second and forth Monday of each month from September through May at Pilgrim Congregational Church, 2118 South Third Ave. Programs are typically on a local, state or national topics of concern to League members.  Recent programs have addressed changes in election laws, the constitutional right to privacy in Montana, and the need for inpatient mental health care services in Bozeman.
Nov. and Dec. Meetings:
Nov. 13 -Casey Bertram, Superintendent of the Bozeman Public Schools will give an update on issues in our Bozeman schools.  

Dec. 11 - Suffrage Timeline
The Suffrage Timeline is a League project tracing the history of the right to vote.  It is a slide show requiring some participation from the audience, and it is directed at high school (and possibly 8th grade) classes as part of voter education. League members Pat, Patti, Jane, and Jan will be presenting it and hoping for feedback from the group concerning the presentation.

Bozeman Board Members:
President: Gerrie Beck
First Vice-President: Rosanne Nash
Second Vice-President: Diana McKinlay
Secretary: Patti Steinmuller
Treasurer: Priscilla Dysart
Membership: Rosanne Nash
Board Members:
    Pat Purvis, Linda Thomson, Anne Christensen, Yvonne Rudman, Jane Arntzen Schumacher,
    Debbie Blackburn, Jan Benham, Faye Boom, Sally Maison, Judy Mathre, Jan Young, Beth Sirr
The Bozeman League Marched in the Sweet Pea Parade in 2023!

Bozeman Candidate Forums: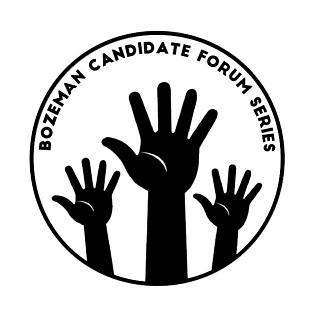 Bozeman 2022 Voter Guide: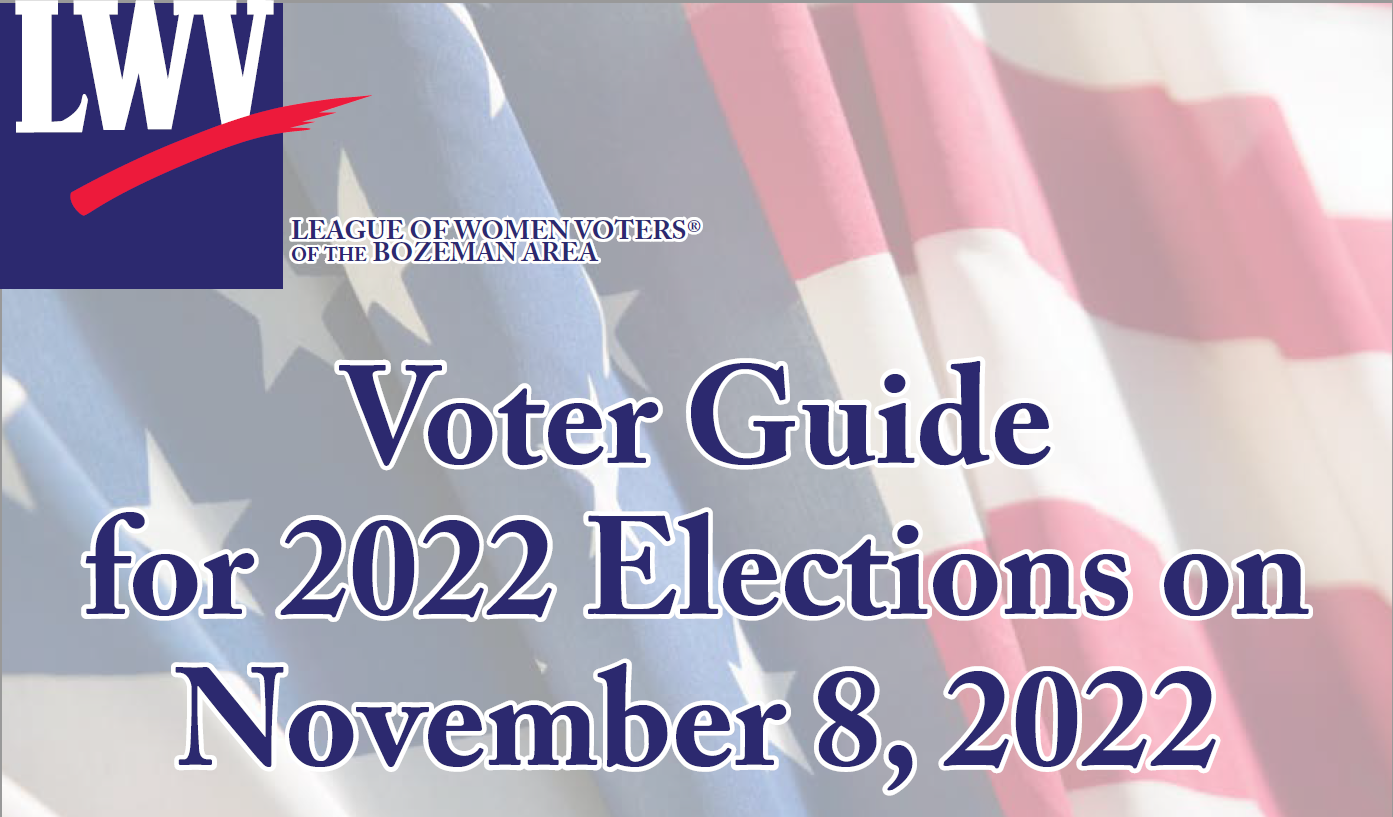 The League of Women Voters presents this guide as part of its Voter Education mission. The League does not endorse candidates and we are not affiliated with political parties. We thank the Bozeman Daily Chronicle for its assistance with this Voter Guide. We hope this information is helpful to you in determining which candidates will best represent you in the coming term and we urge you to exercise your right and your civic duty to vote on November 8.
  Bozeman Facebook Page 
Please Join the Bozeman League! 
We meet at Pilgrim Congregational Church, 2118 South 3rd Avenue, Bozeman.   Members receive newsletters from LWVUS (electronic), LWVMT and LWV of the Bozeman Area (electronic or print).  When you join the Bozeman League, you automatically also join the Montana and National League of Women Voters.   
Dues are $50/individual or $80/household (two members). Membership grants are available.  To join online,  click on the link below:
For more information, contact: Rosanne Nash, Membership Director, bozemanlwv [at] gmail.com or P.O. Box 371, Bozeman, MT 59771.