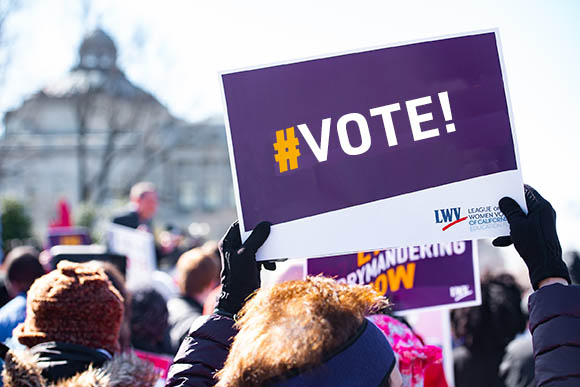 Volunteer Opportunities I Vote411 IReports of Note I Sourced Information
Team Leaders
Volunteer Opportunities
Voter Education/Information/Registration
The municipal election season is upon us and we need volunteers to help at various voter education and/or registration events. With the new voter id requirement and other election changes pending, it is especially important that we get out and help inform the public about the new rules for in person and absentee voting. Please contact Maureen Galvin  if you want to volunteer or would like more information about upcoming events. 

Voting Info/Voter Registration Training (recording of 9/26 zoom call)
Vote411
Our team is gearing up for fall elections, and need help! For the uninitiated, Vote411.org is a nationwide, nonpartisan website that generates a personalized voter guide for voters who enter their address. League volunteers contact candidates in their area to invite them to share information about their campaign. The candidates' unedited information is then publized in Vote411 to help spread the word to voters in their community about their candidacy for local, state, or national office. We especially need people in Orange County, but Durham and Chatham also need volunteers to help contact candidates and distribute Vote411 road signs, flyers, etc. Contact Susan Case, lwv.susancase [at] gmail.com, if you can help!
Local Boards of Election Observers
Having one or more League members at the monthly meetings of the county Boards of Elections is easy. Meetings are open to the public and Boards are pleased to have observers. There is a time for public comment, but it is also fine just to go listen. You will learn a great deal about how the Board does its work of making elections fair, secure, and accessible. And developing an ongoing relationship between the local Board and the local League is a excellent foundation for substantive two-way communication. If you are interested in volunteering to attend BOE meetings, contact Maureen Galvin
The Chatham team is well-established but would be delighted to have other members join to 'learn the ropes.

The Chatham Board meets on the 3rd Tuesday of each month at 5:30pm at the Board office (80 East St # D, Pittsboro, NC 27312) Website

In Orange and Durham it would be great if a League member brought a friend to share the fun!

The Orange Board meets on the 1st Tuesday of each month at 4pm at the Board office (208 S Cameron St, Hillsborough, NC 27278) Website

The Durham Board typically meets on the 2nd Thursday of each month at 5pm. Location and meeting time occasionally vary; information is available on their website.

It is critical that we have volunteers to attend the local boards of election meetings to advocate for the following issues:
Protect Sunday voting, with a special emphasis on religious accommodation. Orthodox Jews will not drive or participate in a Saturday voting day, so for those who work, Sunday is the only day for them to vote during early voting.
Ensure that locations for early voting are easy for college students, the elderly, rural citizens, etc. to use. Ensure that parking is available. Consider the needs of the handicapped.
Consider geographical location. How many miles and how long will it take for a person to get to the nearest early voting sites?
Advocacy
The League of Women Voters is dedicated to keeping the polls open and accessible to all citizens. We work to protect voting rights at the both the state and federal level. Here are some actions you can take, and/or information you can share with friends,colleagues, and family members to encourage voter access and participation. 

Contact Information for your Senators and Representatives
Voter ID in North Carolina

July 14, 2023 News & Observer Op-Ed by Jennifer Rubin, LWVNC President: "These 7 changes to NC voting laws will confuse and alienate voters."PDF of N&O Op-ed
Help to clear up confusion by becoming familiar with the new requirements and spreading the word to help voters be prepared to vote. See this info sheet from the NCSBE or visit the Voter Information page on our website. 

Share this link with your contacts. 
Voter turnout information

Analysis of Voter Turn Out in 2022 November Midterm Elections in NC: Catawba College professor of politics and history Michael Bitzer published an analysis of voter turnout data in North Carolina's midterm election. It's interesting and worth reading in its entirety, but here are some highlights from the post.

Election Security information

Know the 10 facts about Election Security in NC
LWVNC has released a video that explains the post-election process to further voters' understanding of how ballots are counted and how election results become official in the days after the polls close. The objective of the video – as well as a YouTube playlist consisting of excerpts from the longer video – is to help citizens feel confident in the election process and to counter messaging that causes voters to doubt the integrity of the elections process