Voting Resources | Contact Your Representatives | Vote411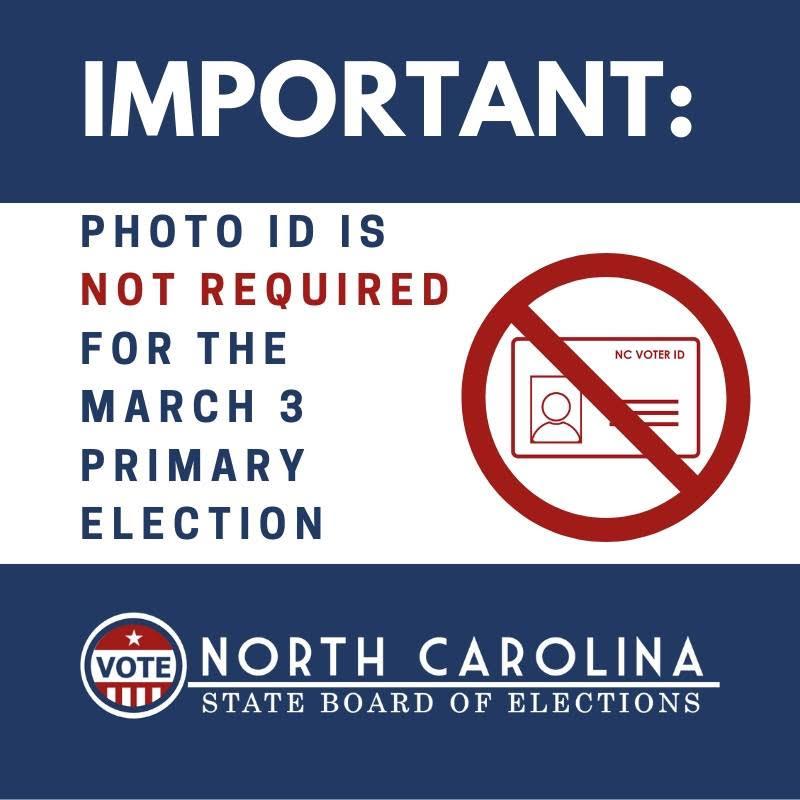 For the March 3

, 

2020 Primary Election in NC 
A Photo ID is NOT REQUIRED to vote either during the early voting period or on Primary Election Day. 
A copy of a photo identification is NOT REQUIRED to request an absentee ballot for the primary election.
For more information please go to the NC State Board of Elections website.
March 3 Primary Voting Schedule
JANUARY 13 - ABSENTEE BY MAIL VOTING BEGINS

FEBRUARY 7 - VOTER REGISTRATION DEADLINE

FEBRUARY 13 - ONE STOP VOTING BEGINS

FEBRUARY 25 - LAST DAY TO REQUEST AN ABSENTEE BALLOT BY MAIL

FEBRUARY 29 - ABSENTEE ONE STOP VOTING ENDS

MARCH 3 - ELECTION DAY
March 3 Locations and Schedules for Early Voting
Note: Due to early closing because of recent bad weather:
Orange County Board of Elections will open all Early Voting sites on Sunday, Feb. 23, 12pm - 4pm.
Durham County Board of Elections will open all Early Voting sites on Sunday, Feb. 23, 12pm - 4pm.
Chatham County Board of Elections have not opened Sunday Early Voting sites.
Board of Elections' Website: Orange, Durham, and Chatham Counties
Voting Resources
How to Contact Your Representatives and See How They Are Voting
Use VOTE411 
Election rules differ state by state, and sometimes change from year to year. Using VOTE411.org, you can confirm your polling location, check if ID is required, and see what your personal ballot will look like.  Confirming this information before heading to the polls saves you time and helps you make more informed decisions. 
Launched by the League of Women Voters Education Fund (LWVEF) in October of 2006, VOTE411.org is a "one-stop-shop" for election related information. It provides nonpartisan information to the public with both general and state-specific information on the following aspects of the election process. Enter your information in VOTE411 on the left side of this webpage for personalized voting information.