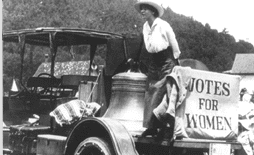 What Is the League of Women Voters' Mission?
The League of Women Voters, a nonpartisan political organization, encourages informed and active participation in government, works to increase understanding of major public policy issues, and influences public policy through education and advocacy.
What Is the League of Women Voters' of Delaware County?
We are an Inter-League Organization (ILO) that focuses on needs and issues of Delaware County, PA in collaboration with the Central Delaware County League and the Radnor Township League.  We work together at the county level to most effectively and responsibly learn about issues and solve problems that transcend political boundaries.  It is a grassroots organization providing every member with opportunities to learn and educate others about government, and take action on public policy.
What We Do?
Advocate for positive change that makes our County strong, safe and vibrant

Encourage all citizens to become empowered voters and defenders of our democracy

Provide Voter Services - Candidate Forums, Voter Registration, Voter Training
Monitor Delaware County government meetings and continuously learn how county goverment operates
Study countywide needs such as the establishment of a Delaware County Public Health Department and prison reform
Present the impact of envirornmental issues throughout Delaware County
Work together with county and municipal government and community organizations to bring about positive change
Promotes Civic Education in schools and communities
Share the history of the League of Women Voters and passage of the 19th Admenment giving women the right to vote
What Can You Do?