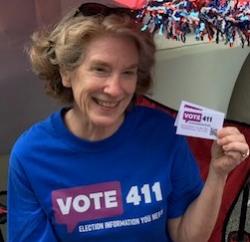 VOTE411 is a national online voter engagement initiative that enables citizens to find all the election information they need. Voters can learn who the candidates are and where they stand on the issues, plus you can register to vote, learn where your precinct is and much more! The VOTE411 Team is raising community awareness of VOTE411.org. 
What We Do:


Develop questions for candidates that are specific to their responsibilities or local issues
Contact candidates by calling, writing, and using social media to encourage their participation in VOTE411
Develop and implement a public outreach program: publicize VOTE411 through participation at local events (which may be virtual during the pandemic); identify and email civic and neighborhood organizations; prepare messages for social media
Disseminate up-to-date information on voter registration, registration deadlines, where to vote, and how to vote
 
Volunteer Benefits (and why we love the VOTE411 Team!!)
Opportunity to encourage citizen involvement in our democratic process and provide nonpartisan information about upcoming elections
Satisfaction from seeing thousands of citizens use the website to learn about voter participation and where the candidates stand on the issues
Engage with the public or work from home, if you prefer
Use or develop your skills
Meet and get to know local officials, members of partner organizations and other league members

Time Commitment:
VOTE411 is most active during years where there are statewide or national elections, and activities are more frequent leading up to primaries or general elections.  Members decide what they want to work on and how much time they can give.
 
From our volunteers:
"VOTE411.org  provides invaluable information on the candidates for whom I will be voting.  It publishes the candidates' answers exactly as they are replied to questions on issues and where they stand.  If I want to follow up with a candidate, I can reach out to them with informed questions of my own.  I encourage all voters to use VOTE411 as a valuable resource for informed voting."  Elizabeth Jones
"Working with the VOTE411 Committee has been surprisingly rewarding.  I did not expect to be learning new technical skills, doing research, developing work plans, speaking publicly, or interacting frequently with candidates as well as voters.  My participation on this team has helped me keep my perspective in a politically divisive year because of the importance of providing nonpartisan, unbiased information to voters."  Rachel Dieter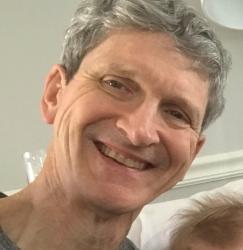 "A pet peeve of mine is voter disenfranchisement.  Following the 2020 primaries amidst a backdrop of widespread and increasing voter misinformation and political spin, I joined the LWV and volunteered for VOTE411 to help do something about it. For democracy to work, voters need to know where their candidates stand on substantive issues, as well as the process for casting their vote.  VOTE411 is a powerful tool for achieving these objectives."  David Smith
 Want to know more?  Submit the form below and a volunteer will follow up.