"Equality of rights under the law shall not be denied or abridged by the United States or by any state on account of sex." - Full text of the Equal Rights Amendment, passed by Congress but not yet ratified.
What is the Equal Rights Amendment (ERA)? 
The ERA is an amendment to the United States Constitution that would guarantee equal rights to all Americans, regardless of sex. The ERA would provide a fundamental and universal legal remedy against discrimination for both women and men.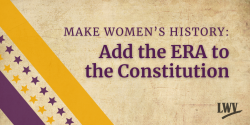 Originally written by suffragist Alice Paul in 1923, Virginia became the 38th state (and the last one needed) to ratify the ERA in January 2020. The new administration has pledged passage of the 28th Amendment, the Equal Rights Amendment, in its first 100 days. 
Despite Abigail Adams's famous advice to her husband to "remember the ladies," he and the rest of the founders left any mention of women out of the founding documents. As a result, the U.S. Constitution does not mention women at all. 
This is ironic, to say the least, in our current day and age, when women fill the halls of Congress and hold leadership positions, from Speaker of the House to Vice President of the United States. 
It's been 101 years since the 19th Amendment granted women the right to vote. 
It's been 98 years since the Equal Rights Amendment was first introduced in Congress. 
It's been 49 years since the ERA was passed by Congress. 
And it's been one year since the ERA was ratified by the required 38 states.  
But the Equal Rights Amendment still needs to be added to the Constitution. 
This year, after a century in the making, the ERA is closer than ever to taking its rightful place in the supreme law of our nation. What stands in our way is an arbitrary, ambiguous, and legally questionable deadline for enactment imposed on the ERA at its pass
Where Are We Now 
US HOUSE
An ERA bill removing the deadline (#HJRes17) was filed on Jan. 21, 2021. So far, the bill is sponsored by 203 Congressional representatives, including Jackie Speier, Tom Reed, and Carolyn Maloney. We need many more sponsors.

US SENATE
An ERA bill removing the deadline (#SJRes1) was filed on Jan. 22, 2021. The bill is sponsored by Senators Ben Cardin and Lisa Murkowski. We need more Senators as sponsors.

NATIONAL ARCHIVIST
The previous administration blocked the National Archivist from certifying the fully-ratified Equal Rights Amendment. Congresswoman Carolyn Maloney asked the Biden/Harris administration to reverse that artificial barrier to equality.

FEDERAL COURT
Attorneys General Mark Herring (Virginia), Kwame Raoul (Illinois) and Aaron Ford (Nevada) filed suit in the U.S. District Court for the District of Columbia to direct the National Archivist to certify the fully-ratified Equal Rights Amendment.
Get involved! 
Contact Barb.hammes [at] gmail.com (Barb Hammes),  ERA Coordinator.