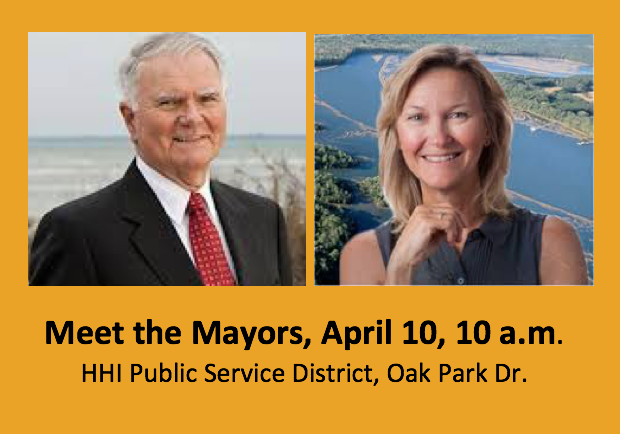 The League of Women Voters of Hilton Head Island-Bluffton Area held its general meeting on Wednesday, April 10 at 10 a.m. the Hilton Head Public Service District community room. The public was invited. There were about 50 people in attendance who had come to hear Mayor Lisa Sulka of the Town of Bluffton and Mayor John McCann of the Town of Hilton Head present their 'State of the Town' reports. Co-presidents Dot Law and Nancy Williams conducted the meeting. 
Committee Chair Updates: 
Before the mayors were introduced, League committee chairs presented updates.
Kathy Quirk, Education,  reported that the Beaufort County Board of Education had narrowed their search for School Superintendent down to two finalists, who would be introduced at a public forum on Saturday, April 13 at 10:00 am at the BCSC office located at 2900 Mink Point Blvd. in Beaufort.She stated that the next meeting of the League's Education Committee will be held on April 25 at 2:00 pm at the Bluffton Library. She is looking for more volunteers to join the group.
Sally McGarry, Local Issues,  reported that Beaufort County Council will be voting on issues related to Rural and Critical Lands and that the League supports a petition to continue with their practice of purchasing land to preserve it from development.
Ruth Wilwerding, Voter Service,  reported on the League's newly updated Guide to Elected Officials available to all in attendance.
Nancy Williams requested League members to join the Observer Corps to attend Town Council and County Council, and Board of Education meetings to learn what is going on and report back to the Board. She also announced that the League's annual spring luncheon/meeting will be held on May 15 at 11:15 am at Moss Creek Club. The theme this year will be 'Celebrating Our Own.' Dot introduced Mayor John McCann; and Nancy introduced Mayor Lisa Sulka (who has been a member of our League for many years.)
Bluffton Mayor Lisa Sulka's Update:
Bluffton Mayor Lisa Sulka began by introducing, Harry Lutz, a member of the Bluffton Town Council, who accompanied her to the meeting. She stated that there are 4 P's that guide her as mayor: Projects, Parks, Parking and Partnerships with People. She spoke about the Old Town's Master Plan that was launched 15 years ago and is still in effect. Basically, the one square mile of Old Town is set up to be a walkable, working/business friendly community. The town has since expanded to 55 square miles through land annexations, and she was proud to announce that it has been ranked the #1 city to retire and the #1 town to raise a family.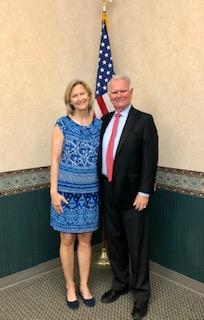 Lisa spoke in detail about the added park space (37 acres for Squire Pope Cottage) and parking (180 additional spaces for restaurants and events) that she and the Town Council have worked on and how they've purchased additional land to maintain the quality of life by reducing development. She reported on specific construction projects under contract that can be found on the town's website. She provided information on the partnerships Bluffton has developed over the years, not only with Hilton Head Island, but also with Hardeeville, Okatie, and Jasper County to work on transportation issues. She stated that relationships with regional groups based on respect and support have enabled the towns to keep up with increased population growth. She mentioned that Bluffton is a strong supporter of the Heritage Foundation.

Lisa concluded by reporting that a huge challenge in the SC Legislature at this time is passage of the 'Hands-free Bill.' She wants Beaufort County to be a leader in passage of this no texting bill.
Hilton Head Island Mayor John McCann's Update: 
Hilton Head Island Mayor John McCann began speaking about his experience about crossing the bridge onto the island and feeling blessed to be living in a world-class residential and resort community. He stated that Hilton Head Island has a high bond rating, but more importantly, that the biggest asset of the town is a wealth of talented people who volunteer – and this should be celebrated. (Our League plans to do just so at our May Luncheon.) He spoke about the penny transportation tax referendum that passed in Beaufort County in November that will raise $80 million and help fray costs for the US 278 Corridor Project – widening the roads and bridges from Moss Creek to Squire Pope Road to alleviate traffic congestion. John once again emphasized how the island people make the difference – their participation on committees, their expertise in a wide range of areas, and their willingness to volunteer their time and services. 
John stated that one of his major focus as mayor will be on workforce issues:
housing : repurposing older building;
transportation: public service running all day long; and,
benefits: provide medical benefits, and educational training to our restaurant workers, hospital staff, fire officers, etc.
He went on to say that there is a need for an overall Master Plan to include all parks as well as the Island Recreation Center. He spoke about the $22 million being spent on developing Celebration Park at Coligny and the cornerstone of the south end area the new USCB campus. He announced the completion of the newly constructed Courtyard by Marriott along Pope Avenue. He added that he wants to promote the Mitchelville Preservation Project. He stated that Mitchelville is part of American history and our island's history and the town should support its endeavors. He mentioned the relocation of St. James Church and Cherry Hill School.
John then reported that the residents of the island have the misconception that the health care facilities and physicians on the island are not up to par with those in neighboring communities. Too many seek treatment and care in Savannah, Charleston, or Jacksonville. He wants to change that impression, "dream big," and create a business model for improved medical care on Hilton Head Island. He wants to educated the public.
The mayor reported that he has restructured Town Council meetings to be held out of Town Hall in various venues on the island. He plans to hold 'Meet & Greets' once a month to get to know the residents and learn about their concerns. He provided the names of each of the Council members and their specific committees and responsibilities. He went on to discuss 'the Arts,' and how there is a need to find a compromise and to work on a plan to maintain and support financially the four major arts groups: the Symphony Orchestra, the Coastal Carolina Arts Center, the Coastal Discovery Museum, and the Mitchelville Preservation Project. The mayor concluded by stating that next year, the town will begin charging for parking in certain areas, and that fees will differ for residents and visitors.
Audience Questions/Comments: 
After the mayors' reports, the Q & A session began with questions from the audience dealing with:
affordable/workforce moderate-income housing projects, Habitat for Humanity property, rezoning, non-government subsidized housing, businesses that house employees, incentives for developers,
transportation to connect the Lowcountry island, and regular busing hours for Palmetto Breeze,
hurricane evacuation of the elderly who do not live in retirement communities,
parking and traffic at the south end of the island, trolley system,
county-wide, island wide recycling plans, clean-up at beaches, sewage treatment,
medical facilities on the island, 'Brain Care' forum,
infrastructure in Bluffton as population grows, expanding Bluffton Parkway to I-95, need for secondary roads, new pathways & connectors for bikers and walkers, no bikes on flyover,
countywide garbage cleanup day July 1st (trash & recycling), Earth Day joint cleanup day.
Equal Rights Amendment Resolution Request:
Barbara Hammes, the Legues' ERA specialist, closed by asking both mayors for their respective town's support to adopt a resolution to pass the Equal Rights Amendment in South Carolina. She stated that one more state is needed to pass the ERA (37 have already passed it) and South Carolina would be state 38. She said that the towns of Charleston and Columbia have already adopted the resolution. The bill is nonpartisan and co-sponsored by both Democrats and Republicans. Both mayors said they would look into it.