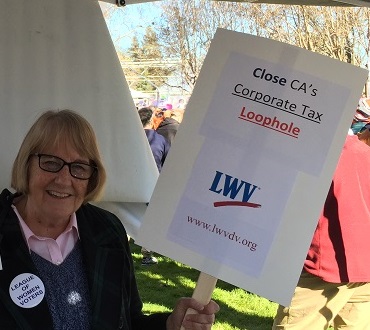 Thanks to a great team of petition circulators and speakers, in 2019 we returned 60+ petitions with  more than 500 signatures. I set our League goal at 1,000 signatures. We have almost 3 more months and I think we can reach this number.
Fortunately, we have several groups helping us. Rossmoor Democrat Club President Katha Hartley and Move-On leaders, Ogie Strogatz and the indomitable Sheilah Fish, invited us to gather signatures at their watch parties, and rallies, several Peace and Justice groups have had or are holding meetings focused on SCF, our local Democratic groups have petitions, our stalwart Rossmoor members show up to Rossmoor meetings, and individual League members have taken petitions to their church groups. Several League members are getting signatures from neighbors and at holiday gatherings. Every signature helps!
In 2020, we are looking forward to the energetic Sue Brandy, Janet Hoy, Peggy Huston, and Bette Felton making the AAUW connections to launch our January push, plus house parties! If you want to get involved, send me an email at LDVCarol [at] gmail.com.
Many thanks to League member Renee Zeimer who got me started with suggestions and her Rolodex. Some of you might need to google that!
Please let Governor Gavin Newsom know you want his support for this important initiative by signing a petition at https://www.evolve-ca.org/petition. Evolve has a great strategy for delivering these effectively.
At a recent townhall, our District 16 State Assemblywoman Rebecca Bauer-Kahan said she gets, at the most, 80 calls [either for or against] on issues. That constituent interest encourages her to look very closely at the topic. This is where you come in!
It can seem intimidating, but all you need to do is tell staffers that as a constituent, you hope to see an endorsement or support for any issue of concern. It is easy, takes less than 5 minutes and no one asks you detailed questions. They just tally responses. If you do this with regard to the Schools and Communities First initiative, please do this as a constituent. The 'SCF Campaign' leadership will handle official legislative outreach but you, as a constituent, always have a voice. There is no proposition number as of yet. This will be on the November 2020 ballot when it qualifies.
Rebecca Bauer–Kahan, Assembly District 16  [Tri-Valley and Lamorinda], 925-328-1515
Tim Grayson, Assembly District 14 [Concord, Pleasant Hill, Martinez, Pittsburg], 925-521-1511
Steve Glazer, Senate District 7 [Antioch, Tri-Valley, San Ramon, Lamorinda], 925-258-1176  in Orinda or 925-754-1461 in Antioch.
If you received a petition for SCF from the State League, please feel free to drop it by the League office. [Yes, it fits in the mail slot in the door!] League headquarters is eager to get them back, even if you haven't filled in all 9 slots. If you would like you can also drop them at one of our 'regional' hubs. If you let me know where you are located, I can send you the 'hub' location – there are too many League volunteers to list all the addresses here.
Want to host a house party? Send Carol Murota some dates. Get your neighbors and friends together and one of our team will answer questions and bring petitions! Easy to host, fun way to get folks together, and a convenient way to be active.
Don't miss out! If you are interested in learning or getting active send me an email at LDVCarol [at] gmail.com or leave a phone message at 925-283-2235.
Issues referenced by this article: