Save the date!
The League of Women Voters of Connecticut is hosting a gala dinner to celebrate the 100th anniversary of the founding of the League of Women Voters and women winning the right to vote. Plan to join us for an evening of celebration and inspiration!
February 22, 2020
5:00 pm
Italian Center, Stamford, CT
Look for an invitation and registration information in December!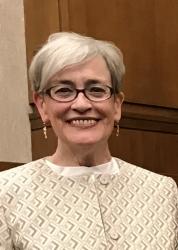 Keynote Speaker: Judge Rosemary M. Collyer
Chief Judge, Foreign Intelligence Surveillance Court & Senior Judge, DC Circuit
The keynote speaker will be Judge Rosemary M. Collyer, Senior United States District Judge, who was appointed by President George W. Bush in 2002, and who currently presides over the U.S. Foreign Intelligence Surveillance Act (FISA) Court in Washington, D.C. Judge Collyer has a special relationship with Connecticut: her father, Thomas C. Mayers was mayor of Stamford from 1963-1967.