The LWVCT Centennial Committee is working to make our anniversary year truly memorable with a Gala Dinner in February and Suffrage Banners to highlight women gaining the right to vote. 
Gala Dinner: The year 2020 will be a busy one as we celebrate the 100th anniversary of both the founding of the League and women winning the right to vote. Mark your calendars now and plan to attend the LWVCT Gala Dinner to be held at the Italian Center in Stamford on February 22, 2020. It will be a special celebration of the centennial.
Special Events: Throughout the year, keep an eye out for all of the events and happenings related to the 100th Anniversary of the League of Women Voters and the passage of the 19th Amendment. 
Centennial News: LWVCT will share news and press releases about all of the Centennial happenings on our website. 
Get Involved: All members of the League of Women Voters of Connecticut are welcome to join in all aspects of the Centennial celebrations.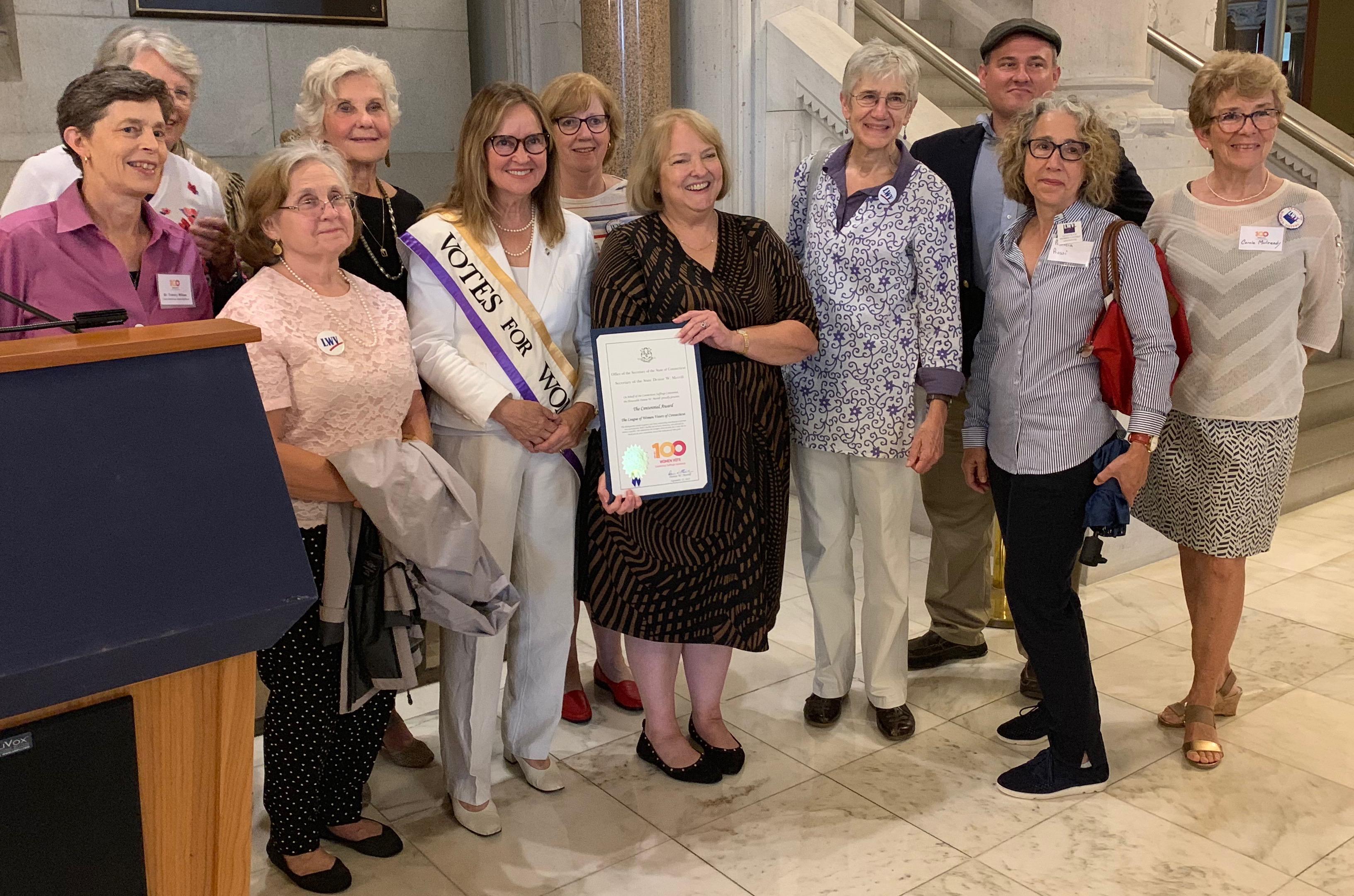 LWVCT Honored at CT Suffrage Centennial Kick Off Event
LWVCT received the CT Suffrage Centennial Award at the Capitol when the Connecticut passage of the 19th Amendment was celebrated as the 100th Anniversary is approaching.  This event was led by Committee co-chairs Secretary of the State, Denise Merrill, Lieutenant Governor, Susan Bysiewicz and First Lady of the State of Connecticut, Annie Lamont.  LWVCT is proud to accept this award on behalf of all the members who have contributed to our mission work for almost 100 years.  League leaders joined President Carol Reimers and Secretary of the State Denise Merrill to mark this special day for LWVCT.