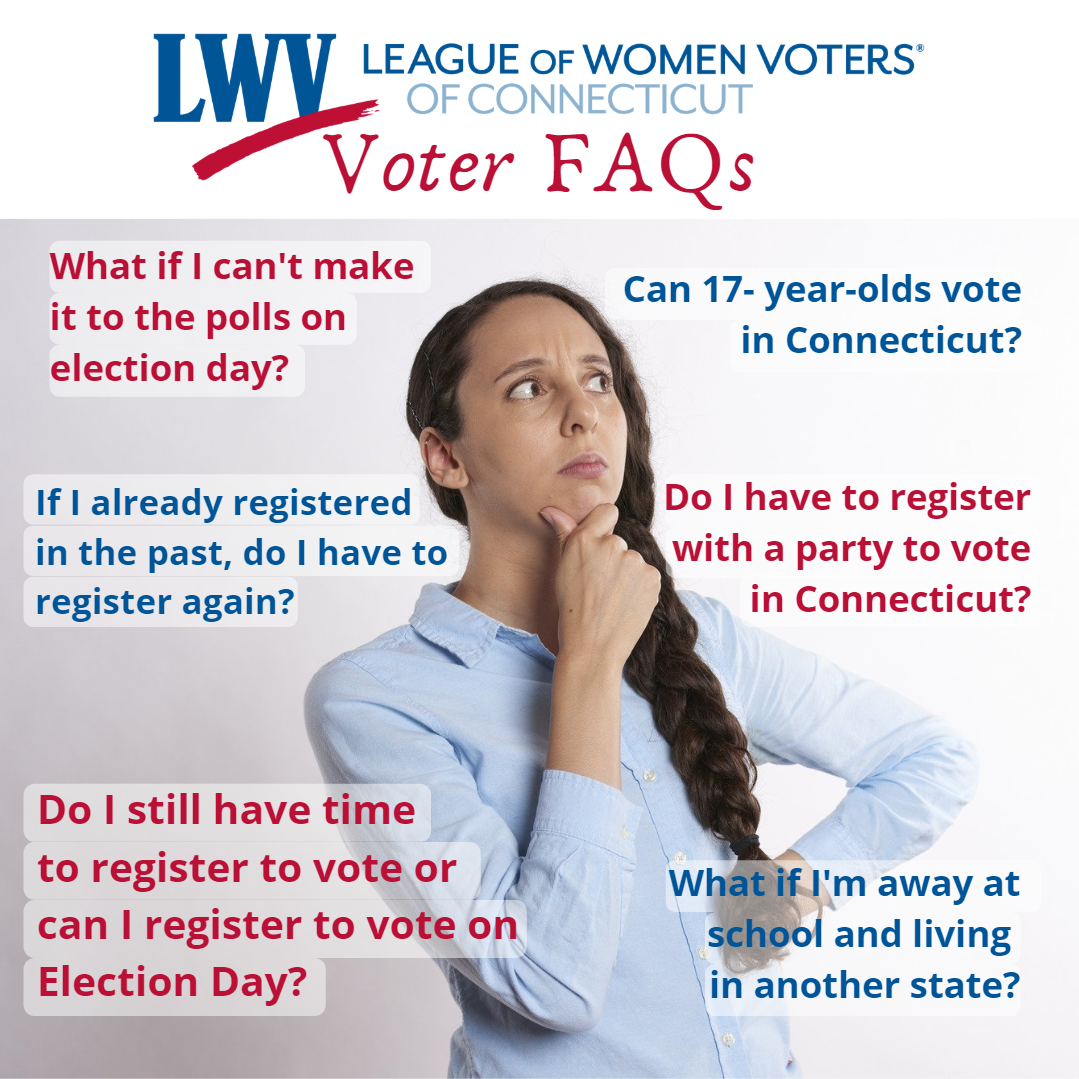 PLEASE NOTE! The Connecticut Primary has been postponed for August 11, 2020. This FAQ was updated on 4/20/2020.

FAQs ABOUT VOTING IN CONNECTICUT
If you are a U.S. citizen and Connecticut resident who will be 18 years of age by November 3, 2020, you may register and vote in Connecticut. 
Not sure if you're registered? Check your status here: https://portaldir.ct.gov/sots/LookUp.aspx
Once the application is processed, an absentee ballot will be mailed to you at the address you've provided. Alternately, the application and the ballot can be completed in person at your Town Clerk's office.  Read the instructions carefully before filling out your ballot, since only ballots that are completed correctly can be counted.
If I'm away at school and living in another state, where should I vote? That's up to you. If you want to register in the state where you are living, go ahead and register there. Or, if you want to vote from your "home" address in Connecticut, you can get an absentee ballot as mentioned above. But you can't do both! One person, one vote is the rule in our democracy.
I registered to vote when I was 18, do I have to re-register? Not unless you moved to a different town in Connecticut than the one you registered in.
Do I have to register with a party to vote in Connecticut? Only if you want to participate in Connecticut's primaries.  Connecticut is a closed primary state, so to participate you must be a member of one of the two major parties: Democratic or Republican. "Unaffiliated" voters (what the state calls voters in Connecticut who are not registered with a party) can always vote in general elections.
If you are registered with a party and want to switch to a different one, there is a 3-month waiting period to do so. For example, if you wanted to change from a party to vote in this year's Presidential primary on August 11th, the deadline to change is May 11th.
You still have time to register for both the primary on August 11, 2020 and the general election on November 3, 2020. The deadline for online and mail registration for the primary is August 6, 2020 and in person until noon on August 10, 2020.  For the general election, the deadline for online and mail-in registration is October 27th. The easiest way to register to vote in Connecticut is online, any citizen with a DMV-issued identification can register here: https://voterregistration.ct.gov/OLVR/welcome.do
You can also download the voter registration application at https://portal.ct.gov/SOTS/Election-Services/Register-to-Vote/Voter-Registration-Application-English-and-Spanish and mail it to your city or town's Registrar of Voters.
If all else fails and you find yourself unregistered at voting time, Connecticut does offer Election Day Registration (EDR) during general elections.  But be prepared to wait a little longer, to protect the integrity of Connecticut's election, EDR takes time and requires extra documentation to prove your residence such as a utility bill or other government issued material. Also, keep in mind, most EDR locations will be different from your polling place and may require extra travel.  
Important dates to remember:
Tuesday, August 11, 2020: Presidential Preference Primary and State Primary

Tuesday, November 3, 2020: Election Day
THIS INFORMATION WILL BE UPDATED ON A REGULAR BASIS TO ENSURE UP-TO-DATE INFORMATION FROM THE SECRETARY OF THE STATE'S OFFICE
To Download or Print these Voter FAQs, CLICK HERE
Issues referenced by this article: