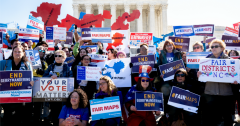 Monthly Meetings I Redistricting Updates I LWVNC Monthly Webinars I LWVNC Video Series  I LWVUS Actions & Resources
Team Leader
For information on our Redistricting Reform program, including upcoming events, media contacts, and how to get involved, please contact bremer.jennifer [at] gmail.com (Jennifer Bremer).
Monthly Meetings
Regular meetings are continuing to be put on pause until the next round of redistricting starts. We're now expecting that the Congressional, State Senate, and probably the State House maps will all be redrawn in time for candidate filing in December. Timing is uncertain:  the legislature will in all likelihood wait for the US and NC Supreme Courts to rule on the cases before them before starting work on new maps. A ruling on the federal case is expected in June, but could be earlier, while the ruling on the state case could come any time. Once the timing is set, we will need to get involved by attending the hearings and pushing for an open process with fair criteria, as well as monitoring the redrawing. Check our Calendar for meeting updates. 
FAIR ELECTIONS UPDATE 
10/2/2022 Redistricting Update: Redistricting battles continue in North Carolina! We also should have more news soon on just when the US Supreme Court will take up Moore v Harper, the legislature's appeal of the Common Cause case. This appeal could upend democratic protections as we know them by taking state courts completely out of federal elections, based on a fringe concept called the "independent legislature theory." The Supreme Court will convene its new session Oct. 3 and should announce its schedule for major cases around that time.  

The lawsuit, brought by SCSJ on behalf of Common Cause NC, protested the General Assembly's decision not to use race-related data and not analyze racially polarized voting. The Court held against the General Assembly as follows: "The General Assembly must assess whether racially polarized voting is legally sufficient in any area of the state such that Section 2 of the Voting Rights Act requires the drawing of districts to avoid diluting the voting strength of African American voters.
1/3/22 The three lawsuits, challenging the heavily gerrymandered maps passed by the legislature, have been bundled together and the trial is scheduled for this week.  While the legal process proceeds, the best thing we can do to promote fair elections in North Carolina is to be sure that as many people as possible are ready andable to vote.
Registering voters in public locations is one of the best ways to further this objective. In addition to registering new voters or updating existing registrations, voter registration offers a chance to educate voters on upcoming elections, inform them about Vote411, answer questions and remind them of how important it is to participate in off-year elections (and every election!).
Three steps you can take to get ready for action:
1.   Signup for Voter Registration Training. YouCanVote regularly offers virtual voter registration training sessions.  Even if you have been doing voter registration, YouCanVote requires everyone participating in one of their registration events to take  their training. The training sessions in January are: January 13, 6:00-7:00 PM, January 22, 10:00-11:00 AM, January 26, 6:00-7:00 PM and January 29, 10:00-11:00 AM.  Sign up 
here
. 
2.   Fill out this 
Questionnaire
.  This will give us a better idea of when/how you would like to participate in voter register and what support you need. 
3.   Recruit a Friend or two to be Registration Buddies. Registration Buddies do not have to be League members, but they do have to take the training.
This delay includes filing for rescheduled municipal contests, and any separate filing period in January for those contests. The Supreme Court also pushed the date of the primary and rescheduled municipal elections back more than two months – to Tuesday, May 17, 2022. It had been scheduled for March 8. Read the NC Supreme Court Ruling.
Per the NC Board of Elections: For any candidate whose filing has been accepted by the State Board of Elections or any county board of elections, that candidate "will be deemed to have filed for the same office" in the May primary, subject to any court rulings that would impact that candidate's eligibility, according to the Supreme Court order.
Those candidates would be able to withdraw their candidacy during the new filing period. Any individual who withdraws their candidacy is free to file for any other office for which they are eligible during the reopened filing period.
Dates for a new filing period have not been set. Candidate filing had begun on Monday at the N.C. State Fairgrounds for state- and federal-level contests and at all 100 county boards of elections for local contests. As of Wednesday evening, more than 1,400 candidates had filed statewide.
LWVNC Redistricting Reform Monthly Webinar
The LWVNC Fair Districts webinar is traditionally held on the 4th Wednesday of the month. Please check our LWV NC Calendar for up-to-date information on our webinars and Zoom link. Webinars are recorded and you can view past webinars here. 
The LWVNC Fair Districts webinar is traditionally held on the 4th Wednesday of the month.  Webinars are recorded and you can view past webinars here.  Join us to hear about the NC fair maps and redistricting criteria bills. A registration link will be provided closer to the events.
The LWVNC Redistricting Reform Team regularly hosts this webinar. The topic may address what is happening in the North Carolina legislature, Supreme Court cases, experiences of groups in other states in their efforts to achieve fair districts, etc. Join us as often as you can to stay informed and learn how you can help get Reasonable Redistricting Reform in NC!
Note: People who call in will be able to hear everything, but it will be a better experience if you link by computer to view the PowerPoint presentation. PS: Mark your calendars and plan to attend these monthly webinars. Check the Calendar for Webinars.
LWVNC Video Series 
This video series features LWVNC board member Jennifer Bremer as she outlines the redistricting process in North Carolina and warns about the dangers of gerrymandering. 
Watch and share the videos – and volunteer with Fair Districts NC! Help end gerrymandering in our state!  Fair Districts NC is a coalition managed by the League of Women Voters of NC. 
LWV US Redistricting Reform Actions & Resources