Redistricting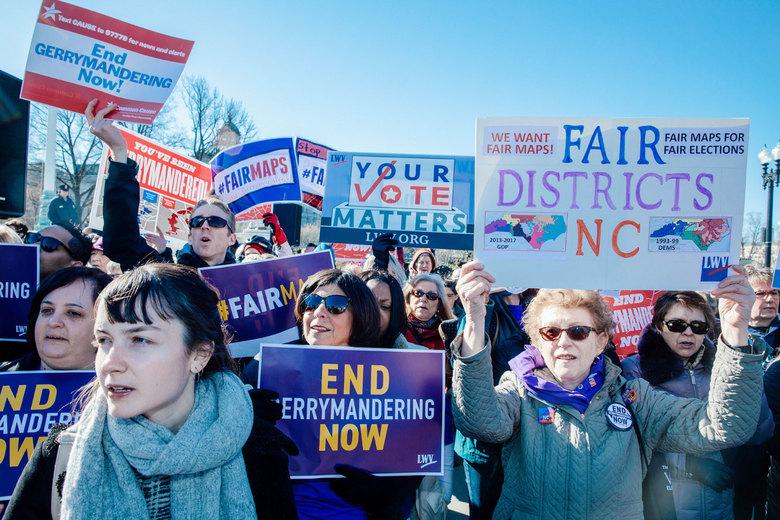 Join Fair Districts NC to get reasonable Redistricting Reform in time for the 2021 Redrawing!
demko [at] lwvnc.org (Get Involved) demko [at] lwvnc.org (Request a Speaker) demko [at] lwvnc.org (Ask a Question)
When politicians draw their own districts, we, the voters, lose! Naturally, they draw safe districts for themselves and their party. That's called gerrymandering. When one party is in charge of drawing the maps, they can rig election outcomes so that the winners of most seats are predetermined and their party is all but guaranteed to keep the majority. As a result, gerrymandering undercuts accountability to the voters, the very essence of democracy.  
We're approaching a critical period:  In 2021, we'll redraw our state and local districts for the next decade. We don't want another decade of gerrymandered districts. Your help is urgently needed to achieve reform that puts voters, not politicians in charge of the redrawing.
The best solution, being adopted by states across the country, is a citizens' commission that draws the maps in an open, participatory process, following strict criteria, and limiting the role of the legislature. Our coalition, Fair Districts NC, is working to educate voters and promote reform. Please join us as we work to:
• 
Get fairer maps for our state
in the 2021 redistricting of congressional, legislative, and local districts.
• 
Establish a
stronger legal basis for the 2021 redrawing
, with real citizen participation and strong criteria.
• 
Work toward adoption of an independent citizens' commission
so voters, not politicians, draw our districts.
• 
Engage and educate NC residents about redistricting
, why it's key to our state's future, and how they can get involved.
6 Things You Can Do to Promote Fair Maps
5. Help FDNC to organize a presentation to your group or community on how gerrymandering undermines our state. 
6. 
Contact your legislators
and tell them to adopt a transparent, participatory, and fair process for the 2021 redistricting.
Latest News 
Nov. 23, 2021 – LWVNC's Phyllis Demko provides an update on the lawsuits against the NC General Assembly related to redistricting. Read it here. 


Oct. 26, 2021 – LWVNC's Phyllis Demko presented remarks to state legislators at yesterday's redistricting hearing. Read her remarks here. 


Oct. 21, 2021 – Update on redistricting and next week's hearings. 


Oct. 11, 2021 – The NCGA is now drawing maps! Observe the map-drawing process taking place in the Legislative Office Building in Raleigh (300 N. Salisbury St, Raleigh, NC 27603). House drawing is in Room 643. Senate drawing is in Room 544. You can also watch live streams from home. Learn more here. 


October 2021 – Read the letter sent to the NCGA by LWVNC and a slew of other organizations, asking to perform map drawing in public view.


September 2021 – See the newly released Redistricting Joint Public Hearing schedule. And get involved! How? Get started by reading this action alert from LWVNC. 


Week of Aug. 23, 2021 – 

League of Women Voters of Wake County

has compiled easy steps you can take, urging General Assembly members to open the redistricting process to more public scrutiny and citizen input. Learn more here. 


August 2021: These criteria will be used by the General Assembly in redistricting legislative seats and Congressional seats. 


August 2021: Week of Aug. 9 – Speak Out for #FairMaps as Redistricting Process in NC Gets Underway 
June 2021: Watch the recording of our June Fair Districts NC webinar – "Speak Out for Fair Districts: Finding Opportunities, Using the Right Tools, Sending the Right Message." 

And please use and share our

"Take Action for Fair Maps" toolkit

, which was unveiled during the webinar.
Local League Highlights
The strength of the League is in its 19 local Leagues, from Henderson and Asheville in the west to Lower Cape Fear, Carteret, Dare, and NE (centered in Elizabeth City) on the coast. Most of the Leagues have a redistricting team, organizing public education programs and working with their elected officials. We're happy to highlight their work. What a great team! 
Action Team Leader
Contact the Team Leader: Phyllis Demko, demko [at] lwvnc.org
Check Out Our YouTube Channel! 
All Posts Related to this Committee