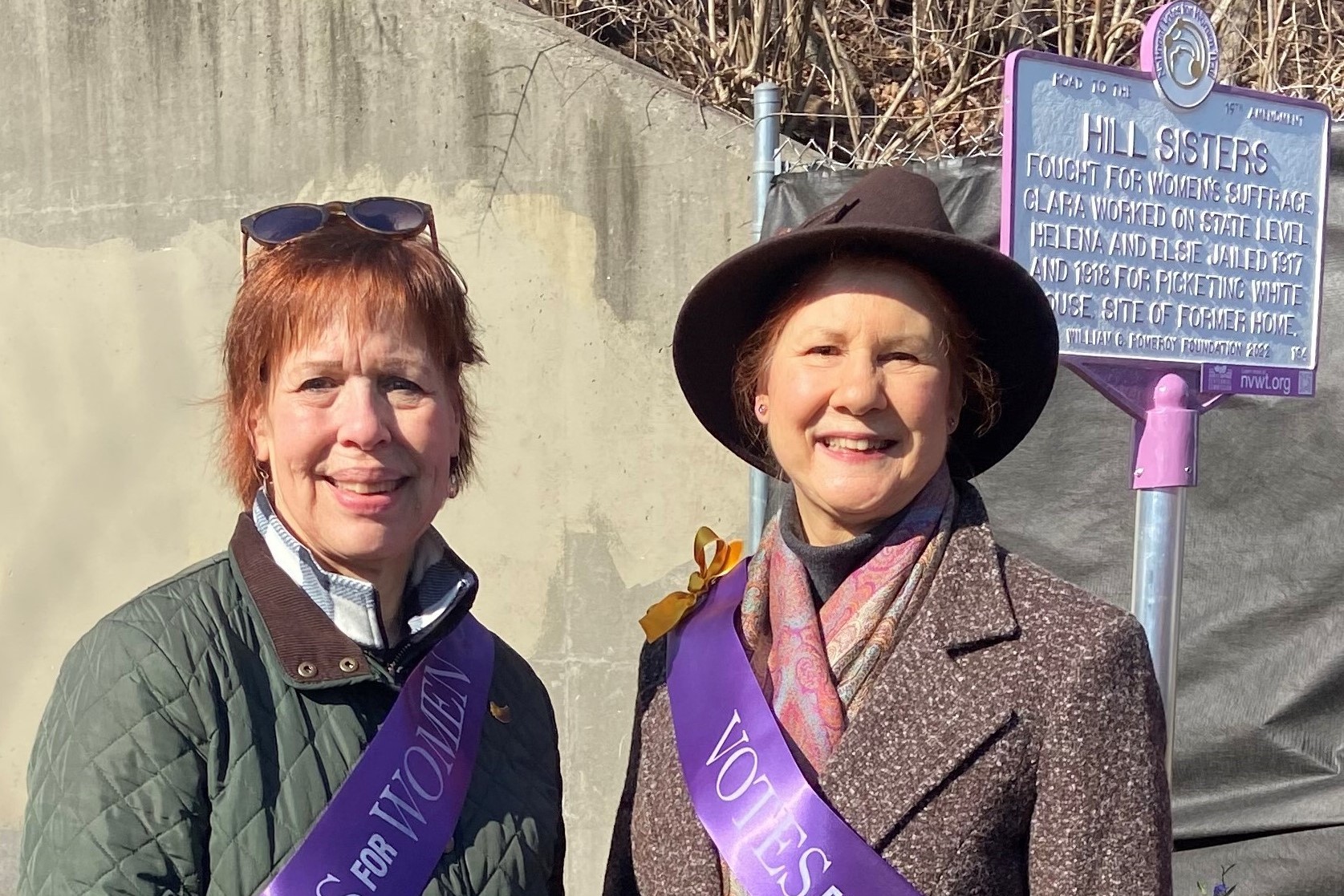 The Norwalk League of Women Voters covers the city of Norwalk, Connecticut.
MEETINGS AND EVENTS

Monthly Steering Committee meetings are continuing via Zoom. Use the CONTACT US link below if you'd like to attend.
Voter Registration/Information events with social distancing and masks are taking place in October. We'll also be planting VOTE TUESDAY signs near Norwalk's polling places during the week before Election Day, November 3. Use the CONTACT US link below if you'd like to help, or would like League volunteers to help you with registration and/or voting information.
STATE HOUSE AND SENATE DISTRICT CANDIDATE FORUM, THURSDAY, OCTOBER 22nd AT 6:30 PM
Watch the October 22, 2020 Norwalk Forums

137th State House District: Chris Perone (D) / Ellen Wink (R) 6:30 PM
140th State House District: John Flynn (R) / Travis Simms (D) 7:00 PM
142nd State House District: Lucy Dathan (D) / Fred Wilms (R) 7:30 PM
143rd State House District-Stephanie Thomas (D) / Patrizia Zucaro (R) 8:00 PM
25th State Senate District: Bob Duff (D) / Ellie Kousidis (R) 8:30 PM
For more information about the forums, contact us at lwv.norwalk [at] gmail.com or 203-394-1710.
4th CONGRESSIONAL DISTRICT DEBATE: SUNDAY, OCTOBER 18TH AT 4:00 PM
The Westport Library and the League of Women Voters of Connecticut and local Leagues of Women Voters from Norwalk and other towns throughout the 4th Congressional District hosted a debate between incumbent Congressman Jim Himes(D) and challenger Jonathan Riddle (R), moderated by Kay Maxwell.
Find More Events on the LWVCT Event Calendar
MONTHLY STEERING COMMITTEE MEETINGS
LWV Norwalk's steering committee meets monthly on a weekday evening TBD. If you'd like to attend, use the CONTACT US link to email us for details and we will notify you of the time and place of the next meeting. All League members, and those thinking of joining the League, are welcome to attend.
VOTER INFORMATION
Check out VOTE411.org for the Connecticut 2020 Voter Guide, or contact us for local information.

Voter Guides 2020
State Senate District 25
State House District 137
State House District 140
State House District 141
State House District 142
State House District 143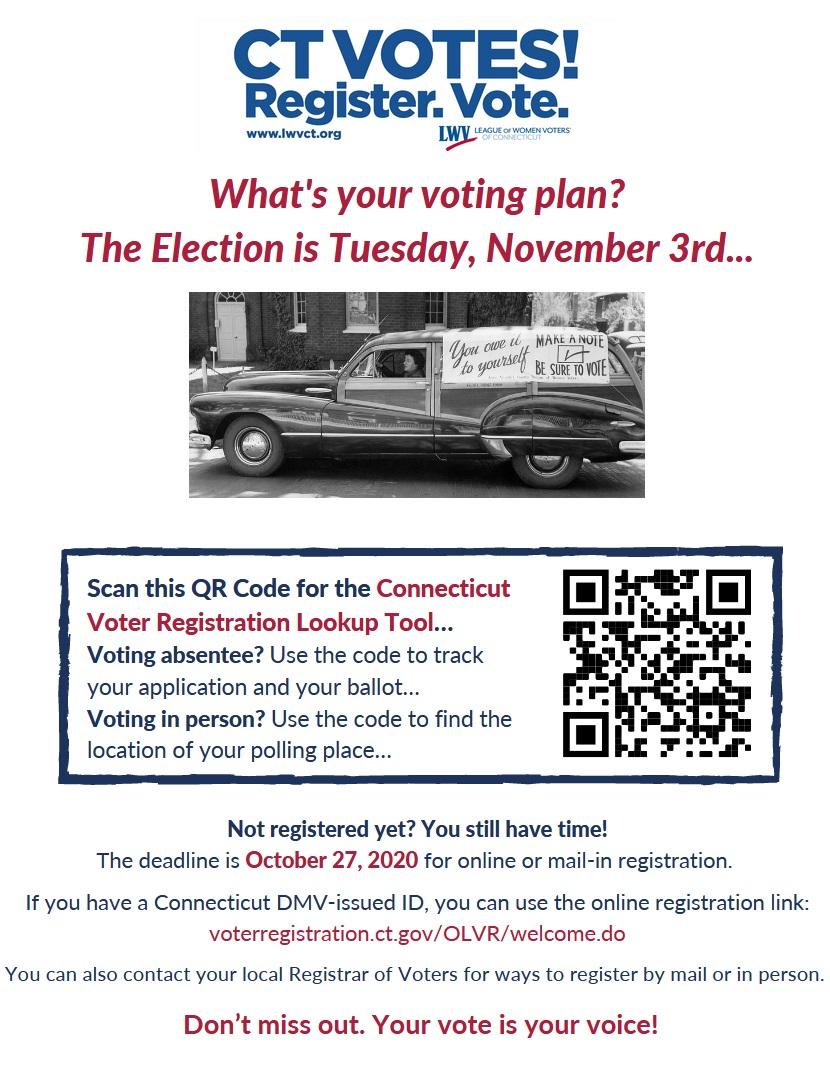 Norwalk Voting Districts / Polling Places
VOTING ABSENTEE? Did you know you can track your ballot online? Visit the Secretary of the State's Voter Registration Lookup and choose Norwalk (or whatever town you live in) from the drop-down menu, type in your last name and first name, and your date of birth MM/DD/YYYY. Click "Search" and you'll see the status of your absentee ballot along with your registration and your polling place. (NOTE: If you've voted absentee, you cannot go vote in person! But your friends & neighbors may want to.) 
NOTE: 
Your polling place may change between even- and odd-numbered years. This is because the boundaries of our State Representative districts are different from the boundaries of our municipal Common Council districts. State/federal elections take place in even-numbered years, and municipal elections take place in odd-numbered years.
To look up your State Representative, see http://www.norwalkct.org/1290/State-Reps-Senate-and-Congress
To look up your Norwalk property information, school and voting districts, school bus routes, and each Norwalk Common Council member in your district, see http://my.norwalkct.org/aboutmyplace/ 
SCHOLAR AWARD PROGRAM
Each year, LWV Norwalk gives an award to one or more college-bound graduating seniors from each of Norwalk's public high schools. This program is funded entirely by donations to the LWV Education Fund. Donate online or send a check payable to LWV Education Fund with "Norwalk" in the memo line, to LWV Norwalk, P.O. Box 644, Norwalk, CT 06852.
CONTACT US
Phone: (203) 846-8331 
Email: lwv.norwalk [at] gmail.com
Facebook: https://www.facebook.com/lwvnorwalk/
Postal mail: League of Women Voters of Norwalk, P.O. Box 644, Norwalk, CT 06852-0644
Join Us: 
membership_application
****************************************
PAST EVENTS 
In-person event CANCELED due to COVID-19 public health advisories, but LWV is still featured in Norwalk Stamp Club's 2020 first-day cover commemorating woman suffrage, the 19th Amendment, and founding of the League.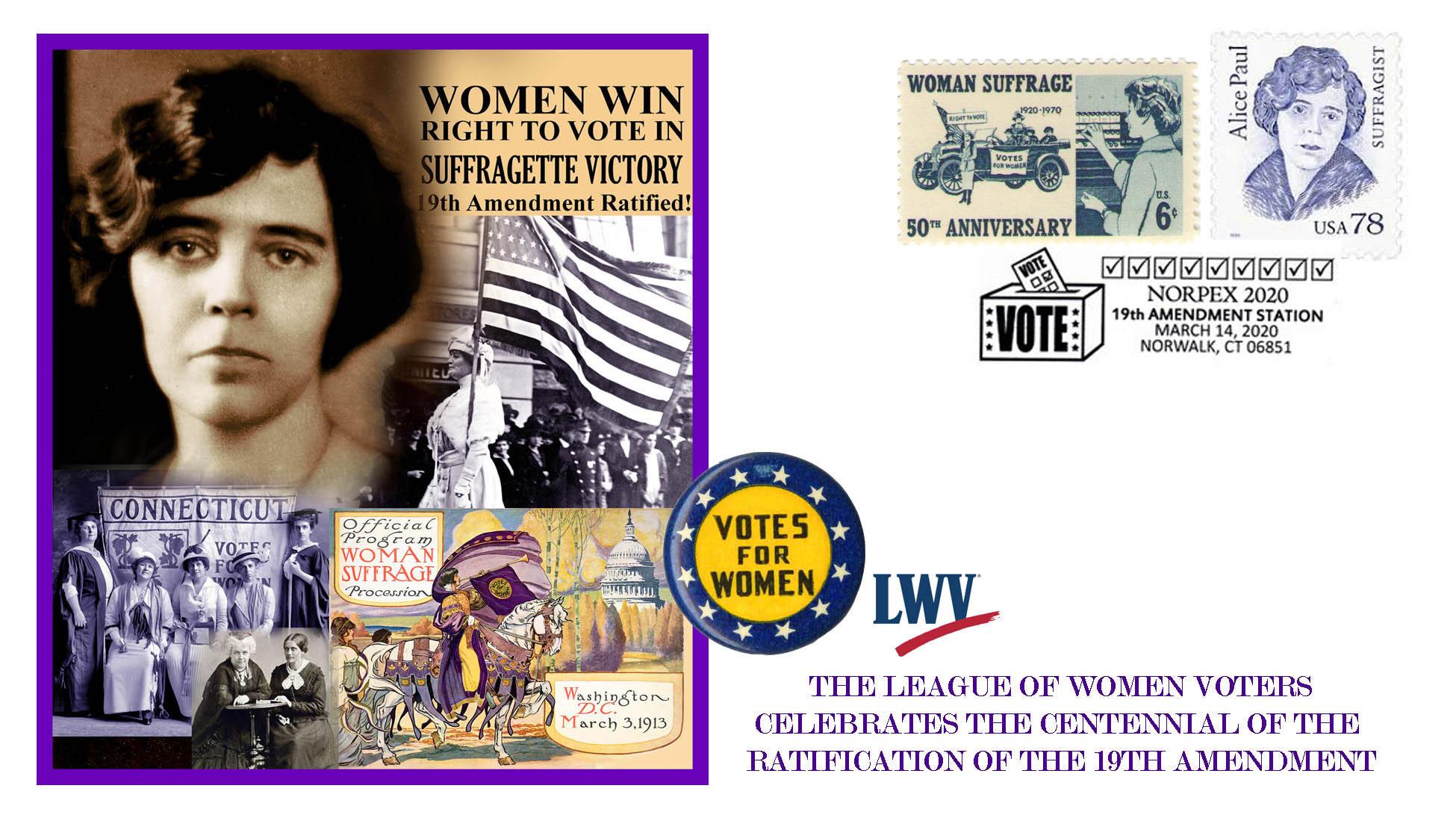 Famed stamp designer Chris Calle created a special envelope for the event, which will be sold online. The colorful cachet design features suffragist Alice Paul (1885-1977), a Connecticut resident. The envelope will have the 78-cent U.S. stamp honoring her, a stamp also designed by Calle, as well as another stamp saluting woman suffrage.
POSTPONED due to COVID-19 public health advisories: LWV Norwalk will participate in the Norwalk Historical Society Women's History Month symposium at Mill Hill, corner of East Avenue and Wall Street, Norwalk, CT 06851. Hoping to reschedule for a date in September. The 2020 theme is Woman Suffrage Centennial and our presentation will be on the struggle to pass the 19th Amendment, what it accomplished, and the work that remained (and still remains) to be done to assure full equity at the ballot box. 
LWV Norwalk's annual "Pie and Politics" legislative forum took place on Saturday, March 7, 2020, 8:30 - 11 AM at Norwalk Police Dept., 1 Monroe St., Norwalk, CT 06851. Norwalk's state senator and our five state representatives will discuss their legislative priorities and take questions from the public. The event is free and open to all. Light breakfast (including "pie" [quiche]) will be served.
pie_and_politics_2020_flyer.pdf
GIVING DAY 2020
LWV Norwalk participated in Fairfield's Community Foundation Giving Day, February 27, 2020. Choose us among your donation recipients and help support our scholarship program and/or our voter engagement efforts!
https://www.fcgives.org/organizations/league-of-women-voters-of-norwalk 
Meet & Greet: Redistricting and Gerrymandering--how do they affect Norwalk?
Sunday, February 9, 2020, 2 - 4 PM at Norwalk High School, 23 Calvin Murphy Dr., Norwalk, CT 06851.
Program: 
Play the fun and informative interactive ReDistricting Game, Led by AITE High School Civics Students
What is redistricting and why do we do it?
Sujata Gadkar-Wilcox, Executive Director, Oxford Consortium for Human Rights Associate Professor of Legal Studies Quinnipiac University Director, Global Engagement Fellows Program
What is gerrymandering and how does it affect Norwalk?
Alex Knopp, Former Mayor of Norwalk, Visiting Clinical Lecturer in Law at Yale Law School
What is prison gerrymandering and what is the NAACP lawsuit?
Alaa Chaker, Yale Law 2020, counsel for the plaintiffs in NAACP constitutional challenge
Free and open to all. Light refreshments served. 
lwv_gerrymander_meet_greet_2020_final.pdf
CANDIDATE FORUMS 2019  (Note that after the event, video of all or part of these forums may be found on local media sites.)
MAYORAL DEBATE (Harry W. Rilling, D / Lisa Brinton, U-R endorsed) Monday, October 21, 2019, 7 - 8 PM. Community Room, Norwalk City Hall, 125 East Ave., Norwalk, CT 06851.
COMMON COUNCIL and BOARD OF EDUCATION FORUMS Monday, October 28, 2019, 7 - 9 PM. At-Large Common Council candidate forum 7 - 7:45 PM. In-District Common Council and Board of Education forums 8 - 9 PM. Community Room and breakout rooms, Norwalk City Hall, 125 East Ave., Norwalk, CT 06851.
Tuesday, September 24, 2019 ◊ Everything You Wanted to Know About Voting...But Were Afraid to Ask  ◊ 6 - 8 p.m. at SoNo Branch Library, 10 Washington St., Norwalk, CT 06854

LWV members team up with Norwalk's Registrars of Voters on National Voter Registration Day to answer questions. Drop by to check your voter registration, verify where your polling place is, see voting apparatus and equipment, and ask questions about elections. All are welcome. 
Saturday, August 24, 2019 ◊ 11:30 a.m.  ◊  Special one-hour tour of Lockwood-Mathews Mansion Museum's "Corsets to Suffrage: Victorian Women Trailblazers" exhibit
Connecticut's first museum show dedicated to the 100th anniversary of the 19th Amendment and founding of the League. $5 LWV members, $10 nonmembers. To reserve for this one-hour tour, call LWV Norwalk at 203-846-8331 or email us at lwv.norwalk [at] gmail.com.
Tuesday, August 6, 2019 ◊  5-8 p.m.  ◊  National Night Out, Norwalk Police Dept.
LWV booth: stop by and say hi!
Saturday, July 6, 2019  ◊  11:00 a.m. – 10:00 p.m.  ◊  Norwalk International Cultural Exchange (NICE) Festival
LWV booth: stop by and say hi!
Tuesday, April 23, 2019  ◊  7:00 – 8:30 p.m. …Pie and Politics
Meet with Legislators ◊ Let your voice be heard ◊ Learn more about what is happening in Hartford
Join League members and State Legislators* for a moderated discussion and citizen Q&A. Join us for this FREE event. Bring your questions! Bring your friends and neighbors! 
Norwalk Community College GenRe Auditorium, East Campus, 188 Richards Ave, Norwalk, CT 06854 
*Invited to participate: State Senator Bob Duff and State Representatives Lucy Dathan, Gail Lavielle, Chris Perone, Travis Simms, and Terrie Wood
For more information call: 203-394-1710 or email: lwv.norwalk [at] gmail.com 
Sunday, May 19, 2019 ◊ 2:00 - 5:00 p.m. ... Fashioning Women's Suffrage: Tea & Lecture by Dr. Prescott at the Lockwood-Mathews Mansion Museum, 295 West Ave., Norwalk, CT 06850 
The Lockwood-Mathews Mansion Museum will host a tea and lecture featuring Dr. Heather Munro Prescott, Professor of History at Central Connecticut State University. "Fashioning Women's Suffrage" will discuss how suffragists used dress and other outward symbols to promote their cause. A buffet of light refreshments and iced tea will be offered in the Mansion's Billiards Room prior to the presentation.
Annual Meet & Greet: Sunday afternoon, January 27, 2019 from 2:00 - 4:00 PM at Norwalk High School Auditorium. Come and meet our legislators, city officials, and members of boards and commissions. Light refreshments will be served. Free of charge; all are welcome. Co-sponsored by the Leagues of Women Voters of Norwalk and Stamford. Our featured speaker, nationally recognized census expert Terri Ann Lowenthal, will explain why it benefits every community to have a complete census count, and how we can promote a complete count in the upcoming 2020 U.S. Census. https://terriannlowenthal.com/
1-19_meet_greet_flyer_20181210.pdf
Help distribute "VOTE TUESDAY" yard signs November 1-5 and retrieve them November 6-7.
On Election Day, stand at the polls with handouts for the 
Ballot Questions (transportation "lockbox" and transparency in sale /conveyance of state property). To volunteer, use CONTACT US below.
CANDIDATE FORUMS 2018 (Note that after the event, video of all or part of these forums may be found on local media sites.)
District

Incumbent

Challenger

Forum Date/Time

Location

143 State House

Gail Lavielle

 

Stephanie Thomas

Tuesday 10/16/18

7-8:30 PM

Wilton Library

137 Old Ridgefield Rd., Wilton

 

4th Congressional

Jim Himes

Harry Arora

Sunday 10/21/18

4:00-6:00 PM

Wilton High School, Clune Auditorium

385 Danbury Rd., Wilton

 

142 State House

 

Fred Wilms

 

Lucy Dathan

Monday 10/22/18

7:00-9:00 PM

New Canaan Town Hall Meeting Room

77 Main St., New Canaan

 

25th State Senate

 

Bob Duff

Marc D'Amelio

Thursday 10/25/18

8:00-9:00 PM

Norwalk City Hall Community Room

125 East Avenue, Norwalk

137 State House

Chris Perone

 

Frank Page

 

Thursday 10/25/18

7:00-7:45 PM

 

Norwalk City Hall Community Room

125 East Avenue, Norwalk

 
NATIONAL VOTER REGISTRATION DAY: SEPTEMBER 25
EVERYTHING YOU ALWAYS WANTED TO KNOW ABOUT VOTING...BUT WERE AFRAID TO ASK
    Bring your questions to to our family-friendly National Voter Registration Day event on Tuesday, September 25 at the SoNo Branch Library community room. Drop by any time from 6:00 to 8:00 PM for this interactive experience. Norwalk's Registrars of Voters will set up a series of educational stations focusing on different aspects of the voting process, and visitors will get a
"passport" booklet. For each station visited, a sticker will be put on the appropriate page of the person's "passport." To make it easier for families to attend, pizza will be provided. The event is free, and all are welcome. The SoNo Branch Library is located at 10 Washington Street, Norwalk CT, 06854.
The CT Mirror will hold a special Election Preview event at Norwalk City Hall on Thursday, March 22, 2018
         CT Mirror Capitol Bureau Chief Mark Pazniokas will preview the upcoming 2018 gubernatorial and other statewide elections: what are the key issues facing the state, what do voters care about, how do national politics affect Connecticut politics, and more. 
        This event starts at 6:30 PM with light refreshments and networking. From 7:15-8:15 including the presentation and Q & A.    Location is Norwalk City Hall, 125 East Avenue, Norwalk, CT 06851. Admission is $10 per person. For more information and to register please visit http://www.CTMirrorEvent.org by Monday, March 19.
LWV Norwalk Annual Pie and Politics Event, Saturday, April 7, 2018  
        Join Norwalk's state legislators for a panel discussion of the issues that affect us. Bring your questions for legislators. 
The event starts at 8:30 AM with a light buffet breakfast and networking. The moderated panel discussion is 9:00-11:00.  Location is the Norwalk Police Station Community Room, 1 Monroe Street, Norwalk, CT 06854.
For more information, use the CONTACT US link to email us for details.