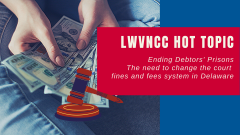 Sharing the Wealth! 
The LWVNCC held its monthly Hot Topics event on October 26, 2020. The topic is a very important one for our state and league. Please watch the video of the presentation Ending Debtors' Prisons in Delaware as well as the PowerPoint slides used by the presenters. 
Presenters:
Lynne Kielhorn is a co-coordinator of Network Delaware's Campaign to End Debtors' Prison which is a grassroots effort to advance state legislation that will fix our current harmful system of court fines and fees. Lynn spent her career in biotech, most notably as co-founder of NanoDrop Technologies, and now is a full-time citizen advocate. She has a leadership role in Delaware Poor People's Campaign, the Peace & Justice Work Group of Westminster Presbyterian Church as well as Delaware Greenways. She is active with the Coalition for Smart Justice and currently serves on the Community Policing subcommittee of the Law Enforcement Accountability Task Force.
Meryem Dede with Lynn, co-coordinates the Campaign to End Debtor's Prisons, working to eliminate the connection between poverty and criminal justice. She also works as an assistant public defender, practicing primarily in Delaware's Court of Common Pleas. Before becoming a Public Defender, she was an associate at Young Conaway Stargatt & Taylor in their corporate litigation practice. Meryem is a graduate of the University of Virginia School of Law.
Meryem has written an article that was published in the Delaware State Bar Association Bar Journal: "Blood From a Turnip: How Delaware's Misdemeanors Compound Poverty (and How to Fix It)."